3 new venues in St. Petersburg (November 2020)
Myasnikov mansion
On Vosstaniya Street, 45, the Myasnikov mansion has opened - concerts of classical music and lectures on art are already being held here, and next summer a whole restaurant cluster with author institutions will appear in the courtyard and the stables building. 37-year-old St. Petersburg businessman Dmitry Zaretsky owns a 3,000 square meter mansion.
The Myasnikov Mansion is a neo-baroque building from 1857-1859. The famous lawyer Nikolai Platonovich Karabchevsky lived here. He was familiar with the entire stellar audience of the capital; Chaliapin, Meyerhold, and many other famous creative figures visited here. Once a year, charity concerts were held here, it was very prestigious to perform at which - the richest people of the city came here.
"The building was restored in the 2000s; Committee for the state preservation of historical and cultural monuments even recognized it as the best restoration object in the city center in 2008. We got it by accident - we were not going to hunt for old real estate. I wanted to buy out our office building, they told me the price, it seemed too high to me, and I decided to see what you can buy in the city for about that kind of money. I came across this mansion, found out that it was up for auction, and we bought it under the hammer for 550 million rubles. This is a very profitable purchase - the previous owners have invested about two billion in the restoration alone. Back in 2003, the building was received from the city by the company "MIM", they wanted to open a hotel here, but went bankrupt. The bank that gave them the loan took this object, completed all the work, and the house was empty. In fact, I bought a dollar for 30 cents - I did it primarily because it is rational, it is a smart investment.
I have no commercial plans for this place - I really love classical music, and therefore I decided that it would sound here. And we would like to give a platform to young musicians, to reveal their talent. Because in the same orchestra of the Mariinsky Theater the same people have been working for decades, you cannot get there, and yesterday's graduates of the conservatory are not tired of music, they want to record, play, compose.
For the audience, this can become an entry point into the world of high music - our concerts are short, and educational lectures are also held. I would also like to hold competitions for pianists and violinists here.
We would like to open a gallery of modern art in the basement and hang reproductions in the halls", says Dmitry Zaretsky.
LOFT №7
LOFT №7 is located in the buildings of the 19th century of the former factory "Arsenal", which has existed from 1711 to the present day in another part of the city. In 2017 there was attempt to open space with offices and halls for exhibitions and concerts but it was not accomplished. In 2018 Placebo/25 came here as a new developer.
Placebo/25 is a part of a conglomerate includes hotel chain LOFT'el, interior brand of furniture Asketi.ca, distribution company Magnitofon, ourself development company, entertainment company, and event-venues company LOFT HALL.
One of venue of LOFT HALL if Loft # 2. Loft # 2 is a space located in the historical building dating back XIX century built by Belgians. The Loft #2 is located in the heart of the city near Moscow river embankment. There are three halls that are perfect for any corporate event: Rockefeller Hall - 450 sq. m with full capacity seated 400 pax, cocktail 650 pax. Rothschild Hall - 350 sq. m with full capacity seated 300 pax, cocktail 500 pax. Backyard Hall (the newest one that opened in October 2016) - 250 sq. m with full capacity seated 120 pax, cocktail 250 pax. Rockefeller and Rothschild Halls are rented out together, with welcome reception at Rothschild Hall and main function at the Rockefeller.
Wawelberg Hall
One of the most unusual buildings on Nevsky Prospekt, the Wawelberg Building was compared on its completion to the Doge's Palace in Venice and the Banco di Santo Spirito in Rome, although the dark, rough granite used to face the building gives it an earlier medieval appearance. In early 2021 there will be an opened luxury Wawelberg 5* Hotel with 78 rooms after long renovation of the famous Wawelberg Building. In the meantime, in November this year they opened Wawelberg hall - a historically reconstructed 740 square meters hall.
The Wawelbergs were a Polish-Jewish family who settled in St. Petersburg in the 1840s. In 1869, Hyppolite Wawelberg founded the Wawelberg Bank, which operated in Russia and Poland and gained rapid success as the main lender to the government of Congress Poland. Hyppolite's son, Michael Wawelberg, took over his father's company in 1903, and in 1912 it was renamed the St. Petersburg Commercial Bank, an accurate reflection of the company's stature and wealth. Although the company was nationalized in Russia by the Bolsheviks, and the Wawelberg family consequently lost their control, its Polish subsidiary Bank Zachodni ( «Western Bank») is still one of the country's main banks today.
We can help you in RUSSIA, UKRAINE, BALTIC STATES, BELARUS with any MICE needs. and with planning, organizing and operating of:
Meeting & Congress
Incentive Program
Cultural or Special Interest Professional Group
Theme Parties & Special Events
Hotel accommodation
Transportation and Staff logistics
Team-Building Activities
Venues & vendors Selection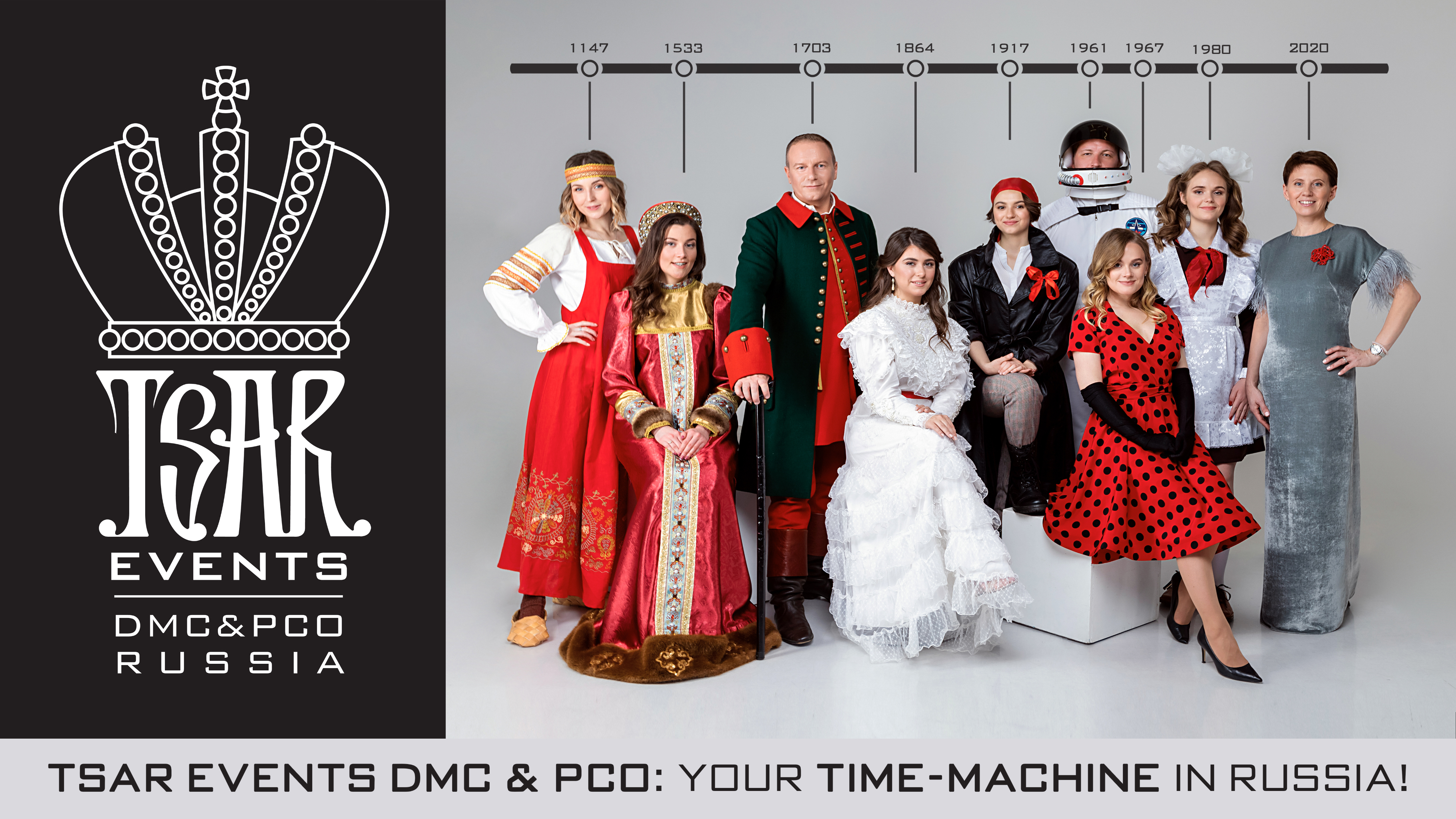 Why Tsar Events Russia DMC & PCO?
The only CMP (Certified Meeting Professional) in Russia. Managing Director & Founder of the company Alexander Rodionov is the only CMP in the country (since 2010)

The first DMCP (Destination Management Certified Professional) in Russia! Managing Director & Founder of the company Alexander Rodionov is the first DMCP in the country (since 2011)

The only CITP (Certified Incentive Travel Specialist) in Russia. Managing Director & Founder of the company Alexander Rodionov is the only CITP in the country (since 2019)

We are the only company in Russia where all project managers are CIS (Certified Incentive specialist) - since 2019

We are the first Accredited Destination Management Company (ADMC) in Russia (since 2015).

We wrote book Russia Survival Guide - first Book-instruction for Meeting planners who is organizing event in Russia. Published in 2013 and available online and in bookstores (sold more than 20 000 books).

We created Russia Survival Guide Vlog – first Russian MICE Theme YouTube Channel with instructions for Meeting planners who is organizing event in Russia (since 2018, more than 300,000 views)

We are winner of 4 (four!) World Travel Awards in category Russia's Leading Destination Management company

Winner of ADME International Recognition Award 2016 in category Destination Management Professional of the Year, won by Alexander Rodionov, DMCP, CMP, CITP, Managing Director & Founder of Company

We are winner of ADMEI Achievements Award 2020 in nomination «Best Tour Program» with incentive BMW Baltics «Dreamland Program» in Moscow

We are finalist of ADMEI Excellence Award 2020 in nomination «Excellence in Meeting Services» with SPIMUN 2019 (St. Petersburg International Model United Nations Conference)

We are finalist of ADMEI Excellence Award 2016 in nomination «Excellence in Entertainment Production» with SPIMUN 2015 (St. Petersburg International Model United Nations Conference)

We are finalist of ADMEI Excellence Award 2019 in nomination «Excellence in Cultural and Tradition Integration» with our event Gala Dinner at Moscow GUM for FIFA World Cup 2018 Coca Cola Global Hospitality Program

We are the first Russian DMC opened Franchised office outside of Russia opening Tsar Events Panama DMC & PCO providing services in Panama Republic

We organized more than 600 events during 10 years of providing MICE services in Russia, CIS countries and Panama

We provided service for more than 90000 clients during 10 years working in Russia, CIS countries and Panama

We are helping to develop MICE industry in Russia collaborating with local Travel universities and colleges providing work places for students and graduates

Our Project Manager Ekaterina Antonova, CIS is the winner of 2019 Linda Thompson Memorial Scholarship supported by ADME International

We are promoting and supporting responsible consuming during planning and program execution process selecting only suppliers and activities answering ethical and ecological requirements

Together with local public schools we are supporting new generation and promoting United Nations values organizing annual non-profit event - SPIMUN (St. Petersburg International Model United Nations Conference) during 10 years already

Our team members never stop personal and professional development regularly participating in global MICE industry educational events like SITE Global conferences, MPI WEC, ICCA Annual congress

Every week we are creating for you new concepts, themes, and activities and select venues vetting and choosing the best suppliers in our destinations

We are small company (only 9 team members) and every projects becomes our "baby" and every clients becomes our family member for life