3 new venues in Moscow (November 2020)
ILONA-K gallery
ILONA-K gallery founder lona Kesaeva tells mission is to support the exchange of art and ideas across nations and to advance the position of Russian contemporary art in the world. We cooperate with galleries and artists of all backgrounds to arrange exhibits in Moscow and promote Russian artists abroad by cultivating and exhibiting their most promising work. Our founder, Ilona Kesaeva, is a graduate of the London School of Economics (Business Studies) and the Sotheby's Institute of Art.
Mercury Tower general manager Aslan Ktsoev says, «World practice shows that a skyscraper is harmonious only when art lives in it. A new interactive museum has recently opened in the Empire State Building in New York, The Mori Art Museum is successfully operating on the top floor of the Mori Tower in Tokyo… The Mercury Tower follows their example. The 2nd floor of the tower house a vast exhibition hall of more than 500 sq m, and on the 40th floor ILONA-K artspace will open up to feature breathtaking panoramic views of Moscow and best of the best of contemporary art."
Ilona Kesaeva is a graduate of the London School of Economics (Business Studies) and the Sotheby's Institute of Art. Ilona is the daughter of Stella Kesaeva, a philanthropist and collector of the arts—as well as the founder and president of the Stella Art Foundation—who has worked to advance awareness of contemporary art in Russia by organizing a series of major exhibits in the country and abroad, and by serving as the commissioner for the Russian pavilion at the Venice Biennale in 2011, 2013 and 2015.
Alina Pinsky Gallery
It specializes in modern and contemporary collectible design and abstract art. Alina Pinsky Gallery aims to present iconic design pieces in their historical context: classics of mid-century featuring purity of lines, warmth of materials and moderate minimalism; important pieces of the 1970-1980-s with their aesthetic protest and colorful images; as well as objects by contemporary authors to the gallery's taste. Abstract paintings of appropriate times – those of the 50-60-s, flourishing of the genre, as well as of later periods – constitute together with design a real synergy.
The collection includes works by prominent artists Yuri Zlotnikov, Boris Turetsky, Marlen Spindler,Vladimir Yakovlev, Igor Chelkovski, Serge Charchoune, Andre Lanskoy, Olivier Debré, Alexander Garbell, Ladislas Kijno, Jean Miotte Jean Messagier and many others, and by important designers, to name a few: Ettore Sottsass, Giò Ponti, Arne Jacobsen, Hans Wegner, Jean Prouvé, Pierre Jeanneret, Charlotte Perriand.
Bla Bla Bar Claster
Bla Bla Bar situated in a separate building on the territory of DEPO food mall and includes 14 bars on the 1250 square meters. The place is - an ideal venue for large-scale events and stadium-level shows.
Here you can taste author's recipe drinks , make new acquaintances and dance all night long to the sets of the capital's mash-up DJs. On weekends, famous artists and musical groups light up in the bar cluster.
If you need assistance with getting tickets or private tour in Erarta Museum, or hotel accommodation you can always ask team of Tsar Events. Also we can help you with planning your special event, cultural or incentive program, conference and congress in Moscow or St. Petersburg.
Tsar Events Destination Management Company & Professional Congress Organizer provides all MICE services in all Russian cities.
Tsar Events Russia DMC & PCO is existing on the market already 9 years and we have very long list of satisfied clients and successful events.
We can help you in RUSSIA, UKRAINE, BALTIC STATES, BELARUS with any MICE needs. and with planning, organizing and operating of:
Meeting & Congress
Incentive Program
Cultural or Special Interest Professional Group
Theme Parties & Special Events
Hotel accommodation
Transportation and Staff logistics
Team-Building Activities
Venues & vendors Selection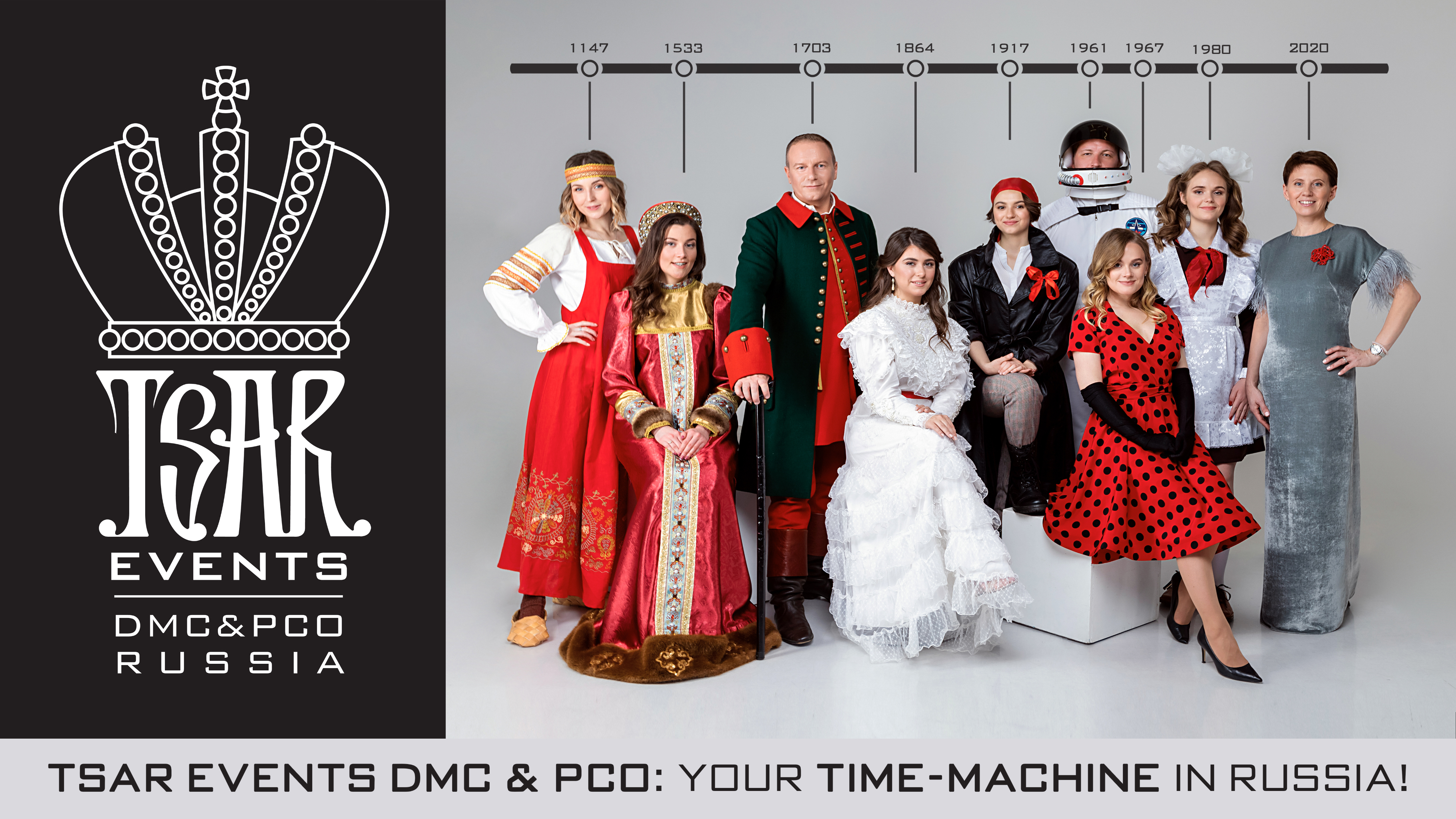 Why Tsar Events Russia DMC & PCO?
The only CMP (Certified Meeting Professional) in Russia. Managing Director & Founder of the company Alexander Rodionov is the only CMP in the country (since 2010)

The first DMCP (Destination Management Certified Professional) in Russia! Managing Director & Founder of the company Alexander Rodionov is the first DMCP in the country (since 2011)

The only CITP (Certified Incentive Travel Specialist) in Russia. Managing Director & Founder of the company Alexander Rodionov is the only CITP in the country (since 2019)

We are the only company in Russia where all project managers are CIS (Certified Incentive specialist) - since 2019

We are the first Accredited Destination Management Company (ADMC) in Russia (since 2015).

We wrote book Russia Survival Guide - first Book-instruction for Meeting planners who is organizing event in Russia. Published in 2013 and available online and in bookstores (sold more than 20 000 books).

We created Russia Survival Guide Vlog – first Russian MICE Theme YouTube Channel with instructions for Meeting planners who is organizing event in Russia (since 2018, more than 300,000 views)

We are winner of 4 (four!) World Travel Awards in category Russia's Leading Destination Management company

Winner of ADME International Recognition Award 2016 in category Destination Management Professional of the Year, won by Alexander Rodionov, DMCP, CMP, CITP, Managing Director & Founder of Company

We are winner of ADMEI Achievements Award 2020 in nomination «Best Tour Program» with incentive BMW Baltics «Dreamland Program» in Moscow

We are finalist of ADMEI Excellence Award 2020 in nomination «Excellence in Meeting Services» with SPIMUN 2019 (St. Petersburg International Model United Nations Conference)

We are finalist of ADMEI Excellence Award 2016 in nomination «Excellence in Entertainment Production» with SPIMUN 2015 (St. Petersburg International Model United Nations Conference)

We are finalist of ADMEI Excellence Award 2019 in nomination «Excellence in Cultural and Tradition Integration» with our event Gala Dinner at Moscow GUM for FIFA World Cup 2018 Coca Cola Global Hospitality Program

We are the first Russian DMC opened Franchised office outside of Russia opening Tsar Events Panama DMC & PCO providing services in Panama Republic

We organized more than 600 events during 10 years of providing MICE services in Russia, CIS countries and Panama

We provided service for more than 90000 clients during 10 years working in Russia, CIS countries and Panama

We are helping to develop MICE industry in Russia collaborating with local Travel universities and colleges providing work places for students and graduates

Our Project Manager Ekaterina Antonova, CIS is the winner of 2019 Linda Thompson Memorial Scholarship supported by ADME International

We are promoting and supporting responsible consuming during planning and program execution process selecting only suppliers and activities answering ethical and ecological requirements

Together with local public schools we are supporting new generation and promoting United Nations values organizing annual non-profit event - SPIMUN (St. Petersburg International Model United Nations Conference) during 10 years already

Our team members never stop personal and professional development regularly participating in global MICE industry educational events like SITE Global conferences, MPI WEC, ICCA Annual congress

Every week we are creating for you new concepts, themes, and activities and select venues vetting and choosing the best suppliers in our destinations

We are small company (only 9 team members) and every projects becomes our "baby" and every clients becomes our family member for life