Alcohol Habits in Russia
Yes, we have to admit that, unfortunately, Russian people consume a lot of alcohol (according to the report of WHO in 2011, Russians were fourth place in the world), especially in small towns and villages. The government is trying to solve this problem by increasing taxes for alcohol and limiting sales (for example, you can buy alcohol in Russia only from 8:00 a.m. till 11:00 p.m., in some cities till 10:00 p.m.). Also you cannot buy alcohol in Russia if you are under eighteen years old. This policy is giving result—in big cities, the problem of alcoholism is not as bad as it was before.
The vodka subject is very important in Russia from different points of view—from economic, cultural, and historical. Real Russian vodka is distilled by using water and pure grain alcohol. It must be 40 percent grain. Real vodka must be clear in appearance and has no particular flavor (except ethanol). It is very rare when vodka has added flavor. It is very often foreigners call by mistake flavored vodka with cranberry or cherry nas
toiki (usually 23 percent alcohol) or pepper and horseradish samogon (can be 80 percent alcohol).
When we speak about vodka, you need to know that we have real drinking rituals that we have been following for centuries. Read about them next week or in our book RUSSIA SURVIVAL GUIDE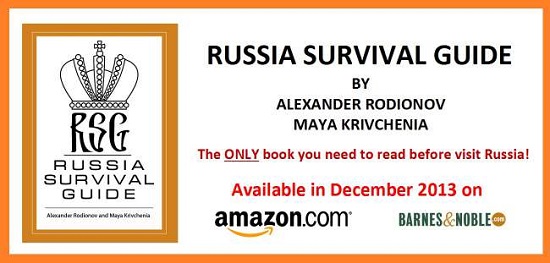 Tsar Events DMC & PCO has become first DMC who wrote book-instruction for tourists and professional travel planners who are going to Russia!
New book offers a mesmerizing slice of life in Russia. Alexander Rodionov & Maya Krivchenia shares an informative and enjoyable guide to enjoying the historical and cultural wealth of the world's largest country.