Citizens of 59 countries can visit Russia now without quarantine.
Russian Federation Federal Agency for Tourism published a list of countries and rules for entry to the territory of Russia.
There are two main rules. The first: you have to be a citizen or have a residence permit of one of the countries down below. And the second: you can get to Russia only by plane and only from your country.
List of countries for which the Russian Federation opens borders:
1. Abkhazia
2. Austria
3. Azerbaijan
4. Albania
5. Armenia
6. Bahrain
7. Belarus
8. Belgium
9. Bulgaria
10. United Kingdom
11. Hungary
12. Venezuela
13. Viet Nam
14. Germany
15. Greece
16. Dominican Republic
17. Egypt
18. India
19. Iceland
20. Jordan
21. Ireland
22. Italy
23. Kazakhstan
24. Qatar
25. Cyprus
26. Kyrgyzstan
27. China
28. Korea
29. Cuba
30. Lebanon
31. Liechtenstein
32. Luxembourg
33. Mauritius
34. Maldives
35. Malta
36. Morocco
37. Mexico
38. Moldova
39. United Arab Emirates
40. Portugal
41. Saudi Arabia
42. Northern Macedonia
43. Seychelles
44. Serbia
45. Singapore
46. Syria
47. USA
48. Tajikistan
49. Tanzania
50. Turkey
51. Uzbekistan
52. Finland
53. France
54. Croatia
55. Czech Republic
56. Switzerland
57. Sri Lanka
58. Ethiopia
59. Japan
Also for travel to Russia do not forget about documents.
- You need to have your international passport, 6 months valid after the arrival date and Visa
- A certificate with a negative test result for COVID-19 was selected no earlier than 3 calendar days (72 hours) prior to arrival in Russia. You do not need to stay in quarantine if you have a certificate
- Application form to the Russian Federation for border crossing
- Insurance policy, that must operate throughout Russia and cover a possible case of COVID-19 infection
- Confirmation of hotel reservation
- Return tickets
We recommend you should follow when traveling in Russia
- be sure to wear a medical mask and gloves in public places: shops, transport, public institutions and museums;
- keep a distance of 1.5-2 meters to other people;
- use taxis and private transport instead of public transport.
And of course, Tsar Events team is always happy to help you with any questions just to write us.
Also, you can follow our accounts in other social media:
Instagram in English: https://www.instagram.com/tsarevents/ (on English)
Instagram in Spanish https://www.instagram.com/tsar.events.espanol/
Facebook: https://www.facebook.com/tsareventsdmc/
Pinterest: https://www.pinterest.ru/tsarevents/
Youtube: https://www.youtube.com/user/TsarEventsDMC
Twitter in English: https://twitter.com/TsarEvents
Twitter in Spanish: https://twitter.com/TsarEventsRusEs
LinkedIn: https://www.linkedin.com/company/1337311/admin/
Also, we can help you in RUSSIA, UKRAINE, BALTIC STATES, BELARUS with any MICE needs. and with planning, organizing and operating of:
Meeting & Congress
Incentive Program
Cultural or Special Interest Professional Group
Theme Parties & Special Events
Hotel accommodation
Transportation and Staff logistics
Team-Building Activities
Venues & vendors Selection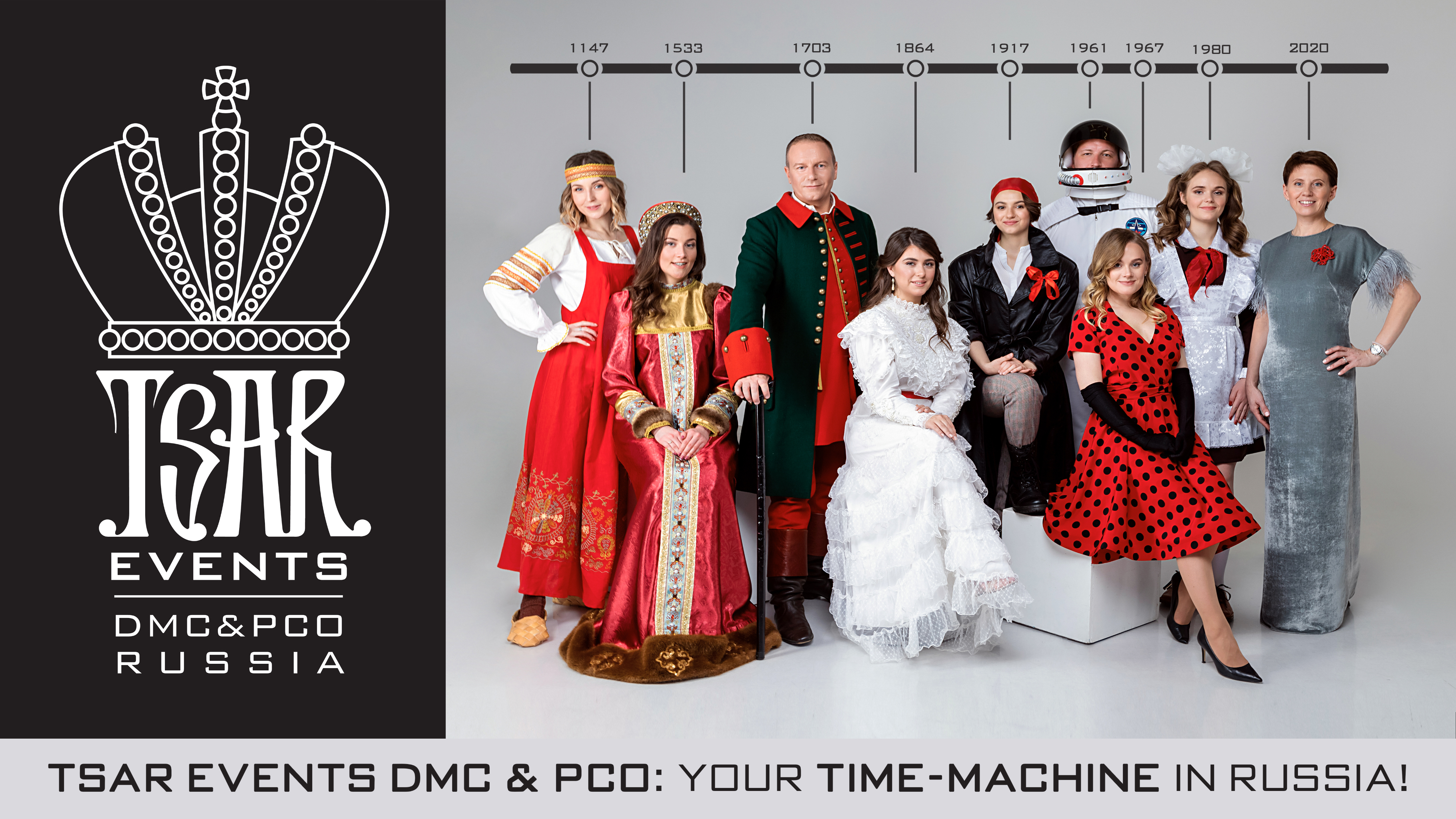 Why Tsar Events Russia DMC & PCO?
The only CMP

(Certified

Meeting Professional) in Russia. Managing Director & Founder of the company Alexander Rodionov is the only CMP in the country

(since

2010)
The first DMCP

(Destination

Management Certified Professional) in Russia! Managing Director & Founder of the company Alexander Rodionov is the first DMCP in the country

(since

2011)

The only CITP

(Certified

Incentive Travel Specialist) in Russia. Managing Director & Founder of the company Alexander Rodionov is the only CITP in the country (since

2019)

We are the only company in Russia where all project managers are CIS

(Certified

Incentive specialist) — since 2019

We are the first Accredited Destination Management Company

(ADMC

) in Russia

(since

2015).

We wrote book Russia Survival Guide — first Book-instruction for Meeting planners who is organizing event in Russia. Published in 2013 and available online and in bookstores

(sold

more than 20 000 books).

We created Russia Survival Guide Vlog – first Russian MICE Theme YouTube Channel with instructions for Meeting planners who is organizing event in Russia

(since

2018, more than 300,000 views)

We are winner of 4

(four

!) World Travel Awards in category Russia's Leading Destination Management company

Winner of ADME International Recognition Award 2016 in category Destination Management Professional of the Year, won by Alexander Rodionov, DMCP, CMP, CITP, Managing Director & Founder of Company

We are winner of ADMEI Achievements Award 2020 in nomination

«Best

Tour Program» with incentive BMW Baltics

«Dreamland

Program» in Moscow

We are finalist of ADMEI Excellence Award 2020 in nomination

«Excellence

in Meeting Services» with SPIMUN 2019

(St

. Petersburg International Model United Nations Conference)
We are finalist of ADMEI Excellence Award 2016 in nomination

«Excellence

in Entertainment Production» with SPIMUN 2015

(St

. Petersburg International Model United Nations Conference)

We are finalist of ADMEI Excellence Award 2019 in nomination

«Excellence

in Cultural and Tradition Integration» with our event Gala Dinner at Moscow GUM for FIFA World Cup 2018 Coca Cola Global Hospitality Program

We are the first Russian DMC opened Franchised office outside of Russia opening Tsar Events Panama DMC & PCO providing services in Panama Republic

We organized more than 600 events during 10 years of providing MICE services in Russia, CIS countries and Panama

We provided service for more than 90000 clients during 10 years working in Russia, CIS countries and Panama

We are helping to develop MICE industry in Russia collaborating with local Travel universities and colleges providing work places for students and graduates

Our Project Manager Ekaterina Antonova, CIS is the winner of 2019 Linda Thompson Memorial Scholarship supported by ADME International

We are promoting and supporting responsible consuming during planning and program execution process selecting only suppliers and activities answering ethical and ecological requirements

Together with local public schools we are supporting new generation and promoting United Nations values organizing annual non-profit event — SPIMUN

(St

. Petersburg International Model United Nations Conference) during 10 years already

Our team members never stop personal and professional development regularly participating in global MICE industry educational events like SITE Global conferences, MPI WEC, ICCA Annual congress

Every week we are creating for you new concepts, themes, and activities and select venues vetting and choosing the best suppliers in our destinations

We are small company

(only

9 team members) and every projects becomes our «baby» and every clients becomes our family member for life