40 transportation ideas in Russia
We have selected 40 transportation ideas that will help you to make an incentive program of your dream in Russia. Just by adding few of them to the program will make the whole experience more unforgettable and exciting for your clients. For your convenience we have grouped all of them by themes and added our recommendations. Clients are free to choose any of the theme depending on their interests. Please, contact Tsar Events DMC & PCO team for more details: www.tsar-events.com info@tsar-events.com
NEW GENERATION:
MONOWEEL
HYROSCOOTER
SEGWAY
RETRO
HISTORICAL STEAM TRAIN: We are offering you unique experience – take HISTORICAL STEAM TRAIN dated beginning of 20th century and repeat rout of Russian Tsars along the first rail road.
VINTAGE CARS
RETRO SOVIET BUS: Start your evening program with some action and take a short tour on Soviet retro buses before dinner! This can ideally go with soviet themed dinner. We can invite actors to create this special historical atmosphere of the evening.
CHAIKA RETRO CAR: Chaika which means Gull is a luxury car from the Soviet Union times made by GAZ – main Soviet automobile factory. The vehicle is one step down from the ZIL limousine. As a limousine-class car, Chaikas were available only to the Soviet government, and could not be purchased by average citizens. However, citizens were allowed to rent Chaikas for weddings. Chaikas were used by Soviet ambassadors and communist party first secretaries
RETRO TRAM: One can call St. Petersburg a «City of Trams» because it has more trams, than any city in the world as per the «Guinness» Book information. Retro Trams & Trolleybuses can be used for excursions, lessons of St. Petersburg history, corporate events, Birthday parties, weddings, dancing parties, competitions etc.
SOVIET KOPEJKA CAR: Kopejka (means Penny- smallest coin) is car produced by the Soviet manufacturer AvtoVAZ and introduced in 1970, the company's first product. The estate version was known as the VAZ-2102. The 2101 is a re- engineered version of the Fiat 124 produced under license from Fiat and tailored for the nations of the Eastern Block
RETRO TROLLEYBUS
BLACK VOLGA: Volga is an automobile brand that originated in the Soviet Union, with modern in design, it became a symbol of higher status in the Soviet nomenklatura (politbureau). Use this unique opportunity to be transferred by Volga cars, give some nostalgic Soviet touch to your stay, these cars cannot be easily found or bought anywhere else but in Russia.
WATER
STANDUP PADDLE: Stand up paddle boarding (SUP) is an offshoot of surfing that originated in Hawaii. St. Petersburg is famous for it numerous islands, canals and rivers that make it perfect location for Standup paddle boarding.
WATER CANOE
WATER BIKE
CANAL & RIVER BOAT: Boat trip on St. Petersburg's canals is one of the highlights of any visit to the city. Canal boats are available from many docking stations around the city and provide a wonderful way to see the historic city from different perspective. The boats circle through many of the 64 canals, under beautiful bridges and past magnificent palaces and other landmarks dating back to the 20th, 19th and 18th century.
SPEED BOAT
HYDROFOIL
WINTER
RUSSIAN TROIKA: The Russian troika is a Russian carriage or sleigh turnout, which became a symbol of Russia. What is more, it joined many languages. Foreigners who tried riding a troika, all said that the experience was unforgettable for the breath-taking speed of such a dashing ride.
SNOWMOBILE
VATRUSHKI
SNOWBOARDING
MILITARY
MILITARY JEEPS: You have a unique chance to experience Russian Military Jeeps (UAZ) driving in St. Petersburg or countryside. You will use a military car – UAZ. The UAZ-469 (and its modifications) has earned a reputation as a very reliable and capable 4x4. It has gained huge popularity among off-road enthusiasts within Russia, former Soviet republics as well as Europe.
BTR
MILITARY TRUCK
PUBLIC
SUBWAY: Due to the city's unique geology, the Saint Petersburg Metro is the deepest metro system in the world. Serving nearly three million passengers daily, it is also one of world's busiest metro system.
VELOTAXI
TRAM & TROLLEY BUS
SPORT
OTHERS
HELICOPTER: See the historic city from a birds point of view with helicopter. You can take a flight to Pushkin and enjoy Catherine's Palace & Park, which can be combined with Pavlosk palace & park tour. We recommend an unforgettable flight to Peterhoff with its palace, parks and fountains (can be combined with Konstantinovsky Palace (President Putin's residence)
HORSE CARRIAGE
QUARDOCYCLE
PARTY BUS
STRETCH LIMOUSINE
CONVERTIBALE CARS
Also If you need asistance with museums visit or accommodation booking, planning your special event, cultural or incentive program, conference and congress in Moscow or St. Peterbsurg, please, contact team of Tsar Events Destination Management Company & Professional Congress Organizer that provide all MICE services in all Russian cities.
Why TSAR EVENTS DMC & PCO?
1) Tsar Events DMC & PCO has become first DMC who wrote book-instruction for tourists and professional travel planners who are going to Russia! https://www.amazon.com/Russia-Survival-Guide-Alexander-Rodionov/dp/1493125710/ref=tmm_hrd_swatch_0?_encoding=UTF8&qid=&sr=
2) The FIRST DESTINATION MANAGEMENT CERTIFIED PROFESSIONAL (DMCP) in Russia http://www.admeinternational.org/aws/ADME/pt/sp/what_is_dmcp
3) The only CERTIFIED MEETING PROFESSIONAL (CMP) in Russia http://www.eventscouncil.org/CMP/AboutCMP.aspx
4) RUSSIA'S LEADING DESTINATION MANAGEMENT COMPANY World travel awards 2012 & 2013 & 2014 & 2015 WINNER
5) The FIRST Russian DMC to earn Accredited Destination Management Company (ADMC) Designation http://www.admeinternational.org/aws/ADME/pt/sp/what_is_admc
6) The BEST DMC 2011 award winner by New European Economy magazine, UK
7) Winner of ADME International Recognition Award 2016 as Destination Management Professional of the Year http://www.admeinternational.org/aws/ADME/pt/sp/awards
From »concept to reality», our services & events are designed to meet the creative, motivational and budgetary needs of the professional meeting planner or executive. We work with you from concept and design through successful program execution.
Through one point of contact we are proud to provide our clients with:
• Collaborative Creativity
• Consistency in Services
• Destination Communication
• Imaginative Corporate Incentive Programs
• Innovative Theme Parties and Special Events
• Comprehensive Meeting Planning Services
• Ground Transportation Services
Tsar Events DMC & PCO has become first DMC who wrote book-instruction for tourists and professional travel planners who are going to Russia! New book offers a mesmerizing slice of life in Russia. Alexander Rodionov & Maya Krivchenia shares an informative and enjoyable guide to enjoying the historical and cultural wealth of the world's largest country.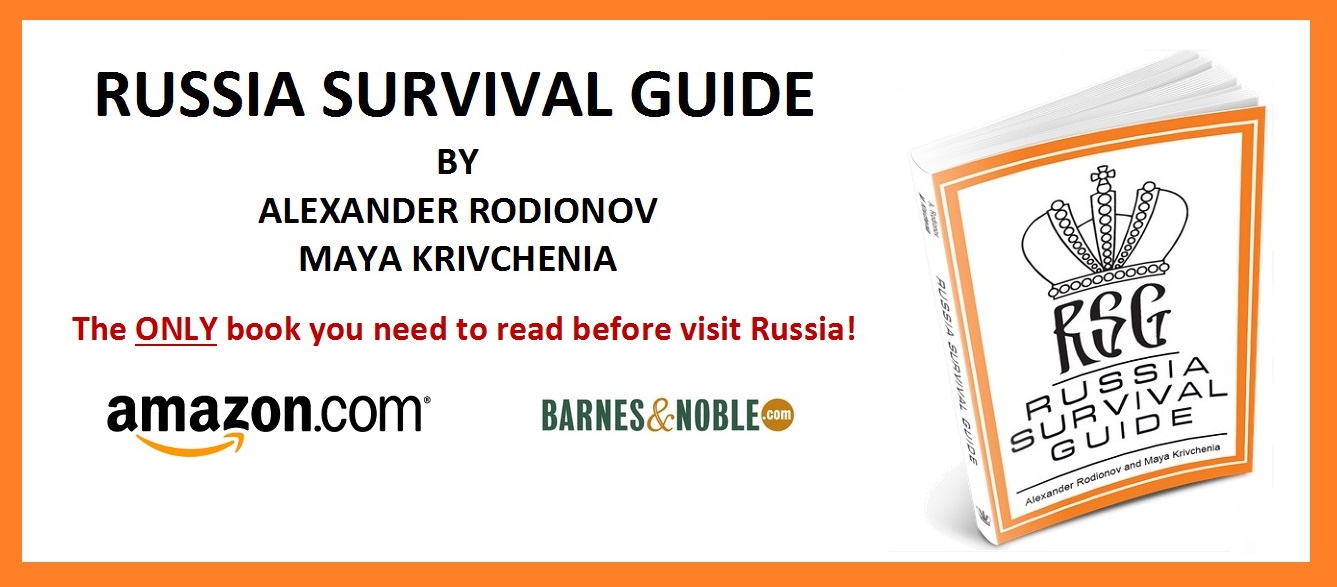 Why ST. PETERSBURG?
The most CULTURAL city in Russia
The 4th biggest city in Europe with the population of 6 million people
City with largest number of palaces and the deepest metro in the world
The cradle of Russian Literature, Art and Education.
Ideal places for Tsar's Events:
— Gala Dinner at Faberge Museum –with biggest collection of Faberge Eggs
— Congress for 1000 guests in Smolny Cathedral
— Lunch at a single long table for 600 persons inside of the biggest Artillery museum in the world
— Exclusive night visit to Hermitage (Winter Palace)
— Transfer from airport by BTR, stretch limousine or Russian Troika
— Gala dinner with Rasputin in Yusupoff Palace
— Water and Fire Fairytale in Peterhoff Palace
— Hockey game against Russian team
— Politburo meeting in Political Dacha K2
Want to hear 1000 more ideas?
Get in contact with Tsar Events DMC.
We are excited to announce that we are growing and spreading our expertise globally. Please, welcome TSAR EVENTS PANAMA DMC & PCO!!! We have opened our new office in Panama City to help our clients with their events in Republic of Panama.
http://www.panama.tsar-events.com/
Panama is quickly becoming a popular destination for holding conventions and international events. A modern infrastructure, which is often cited as the best in the region, direct flights to more than 50 cities in the region and 13 in the U.S, world-class attractions nearby, meeting facilities, hotels, excellent restaurants, a globalized populace, and a vibrant metropolis with more than 100 banks and exciting nightlife, all make Panama the perfect place to host first-class events.
No matter what you're looking for…in terms of climate, budget, convenience, or anything else… Panama is likely to check all the boxes.
Panama is located at the center of Latin America, at the very point where Central and South America meet. It is home to one of the world's fastest growing economies, which is built largely on the country being a primary provider of financial, logistic and commercial services to all the nations of the region. Its central role in Latin America is vested in its being a business friendly nation, and that is complemented by its attractive and comfortable lifestyle.
Panama is a captivating mix of the historical and the modern, the natural and the manmade, the indigenous cultures and the international.
Since Panama is historically a crossroads, people and cultures from all over the world meet and mix here, resulting in friendly atmosphere, fantastic restaurants, galleries and cultural events showcasing the world's best art, cuisine, and more. Panama has none of the disastrous hurricanes and earthquakes that plague its Central American neighbors.