Places to be in 2021: Restaurants
COCOCOuture in St.Petersburg
COCOCOuture is Matilda Shnurova project located in a former warehouse for ship scaffolding of 18th century on manmade New Holland Island – Сenter for shipbuilding in the past and Modern place dedicated to the pursuit of fun, art and outdoor activities in present.
The restaurant Interiors combine extremely sophisticated and fancy furniture, designer mirrors and chandeliers, wallpaper, historical masonwork, high-ceilinged interiors with 11 meters oak sash windows.
COCOCOuture is a project thought out to the last detail from dishes and services to light and smells.
The main dishes of COCOCOuture is the big set dinner of 15 meals or 10 meals short set, thay allow to go throw 11 centuries and feel teste of Russia. The dishes made from traditional goods and inspired by Russian fairytales and prepared accordingly to history recipes cooked by the chef Igor Grishechkin.
A-la-carte menu at the bar offers daintith snacks as accompaniment for more than 150 bottles of vine from the best vineyard of the World and classical and signature cocktails prepared from seasonal fruits, berries, wild herbs and flowers. As some significant dishes from main sets as scrumptious deserts famous from previous COCOCO restaurant history that had located in SO Sofitel 5* Hotel.
Down below you can see an episode about COCOCO restaurant located in SO Sofitel St.Petersburg Hotel in the past, it's conception was partly moved to New Holland Island for COCOCO bistro and COCOCOuture
Gastro theatre Krasota in Moscow
Krasota is the first immersive WRF gastronomic project in Russia that combines visual art, gastronomy, space design and the new concept of Gastro theatre.
This exclusive restaurant was opened in the end of 2020 and during the first few month of working was succeed to get merit from the most exacting audience of Moscow by the absolutely extraordinary performance and high-class cousin
The first performance is called Imaginary Russia. Different stages of our country are intertwined in one space. On the same stage can live the holiday of Ivan Kupala, and Pushkin's fairy tales, and Soviet combat robots. This is a kind of time machine that transports us from paganism to the future, continuing to make a stop in tsarist, imperial, communist and modern Russia.
Ruski Restaurant in Moscow
The highest restaurant in Europe with russian cuisine and breathtaking views is situated in Moscow City. The restaurant with a panoramic view occupies the 85th floor of the "OKO" skyscraper in Moscow City and it seems to be floating in the air - the space is bright and breathing. The elegant and modern atmosphere of Ruski perfectly corresponds to the spirit of the restaurant, offering its guests traditional russian cuisine from chef Alexander Volkov-Medvedev.
In the heart of the restaurant is a completely open russian cuisine with no analogues. Guests can watch the work of cooks, in whose arsenal, in addition to traditional restaurant equipment, there is a real functioning eight-meter russian oven, created by all the canons of stove art. In this oven cooks are bake bread, ripen soup and porridge, make melted milk.
Ruski boasts the highest Ice bar in the world: here, guests dressed in fur coats, and can drink vodka, biting beluga caviar, behind a bar of ice blocks. For a reminder of the famous russian winter, the ice-bar maintains a constant temperature of -15 ° C, and a cold bluish backlight intensifies the frosty effect.
Russian Ampir Restaurant in St.Petersburg
The Russian Ampir Restaurant is housed in one of the oldest and most luxurious mansions of St. Petersburg, in the Stroganov Palace that stands in Nevsky Prospect, the main street of the city. Originally, Empire (in Russia "Ampir") is the architectural style, it originated in and took its name from the rule of Napoleon I in the First French Empire, in the following, this architectural style was adopted and altered by Russian architects and got the name the Russian Empire.
The restaurant consists of five opulent halls; each of them has its own style and character. The attention to detail is breathtaking, the finest porcelain, gold cutlery and the engraved walnut furniture amaze. The cellars have been totally transformed.
The interior was designed with 24 Carat Gold Cutlery and Gianni Versace Porcelain. Restaurant has three dining rooms and impressive wine cellar. Wine cellar has an interesting stock of Armagnac (the oldest from 1812) and impressive and luxury interior. Restaurant has Russian cuisine; many dishes were created according to the tsar's menu recipes: Cigal Lobster, imperial oysters and the Count's beef Stroganoff. The wine cellar boasts one of the finest wine collections in Europe.
Flat №7 restaurant in St.Petersburg
Kvartira 8 is a restaurant and tearoom with a small bar in-between. All this goodness is located in a city attic-type apartment located on Nevskiy Prospekt, which offers a charming view overlooking Petersburg's roofs and sky.
One of the peculiarities is an individual electronic key for each client. No strangers can be met here: it is most likely that the neighboring table will be occupied by either your friend or a friend's friend who is also a potential friend of yours.
Balzi Rossi restaurant in Moscow
This restaurant is an example of a high Italian cousine located in one of Seven Stalin skyscrapers or Seven Sisters – famous landmarks of Moscow.
Space decorated in Stalinist Ampir style of the restaurant preserves the memory of Soviet Union era. Here was the legended Gastronome № 15 in the past, but in present - luxury interiors with original marble columns and huge chandeliers, floor-to-ceiling windows are combined with elements of modern design in one of monumental restaurant interiors.
Italian team crew is headed by Italian senior chef Emanuele Mongillo. Emanuele is a young and talented professional, who worked all over the world. In New York he worked in Manhattan 'Sistina' and in Broadway 'San Pedro'. And in Australia he worked in the most popular restaurants 'Quay', 'BakoMato Osteria'. Emanuele has his own Mediterranean culinary style which he has improved working in different continents. He and his professional Italian team tern this style into reality in Moscow restaurant Balzi Rossi.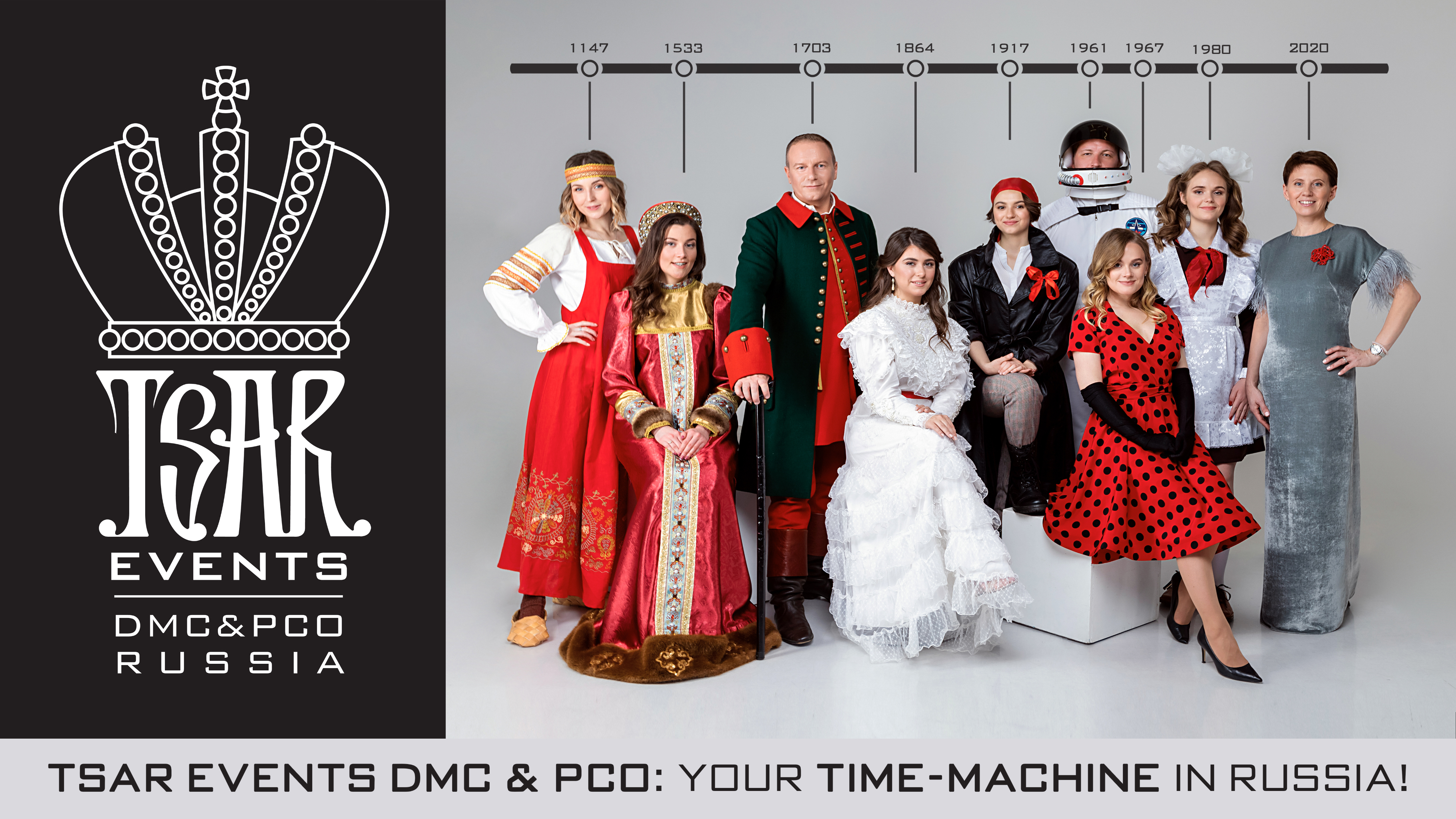 Why Tsar Events Russia DMC & PCO?
The only CMP

(Certified

Meeting Professional) in Russia. Managing Director & Founder of the company Alexander Rodionov is the only CMP in the country

(since

2010)
The first DMCP

(Destination

Management Certified Professional) in Russia! Managing Director & Founder of the company Alexander Rodionov is the first DMCP in the country

(since

2011)

The only CITP

(Certified

Incentive Travel Specialist) in Russia. Managing Director & Founder of the company Alexander Rodionov is the only CITP in the country

(since

2019)

We are the only company in Russia where all project managers are CIS

(Certified

Incentive specialist) — since 2019

We are the first Accredited Destination Management Company

(ADMC

) in Russia

(since

2015).

We wrote book Russia Survival Guide — first Book-instruction for Meeting planners who is organizing event in Russia. Published in 2013 and available online and in bookstores

(sold

more than 20 000 books).

We created Russia Survival Guide Vlog – first Russian MICE Theme YouTube Channel with instructions for Meeting planners who is organizing event in Russia

(since

2018, more than 300,000 views)

We are winner of 4

(four

!) World Travel Awards in category Russia's Leading Destination Management company

Winner of ADME International Recognition Award 2016 in category Destination Management Professional of the Year, won by Alexander Rodionov, DMCP, CMP, CITP, Managing Director & Founder of Company

We are winner of ADMEI Achievements Award 2020 in nomination

«Best

Tour Program» with incentive BMW Baltics

«Dreamland

Program» in Moscow

We are finalist of ADMEI Excellence Award 2020 in nomination

«Excellence

in Meeting Services» with SPIMUN 2019

(St

. Petersburg International Model United Nations Conference)
We are finalist of ADMEI Excellence Award 2016 in nomination

«Excellence

in Entertainment Production» with SPIMUN 2015

(St

. Petersburg International Model United Nations Conference)

We are finalist of ADMEI Excellence Award 2019 in nomination

«Excellence

in Cultural and Tradition Integration» with our event Gala Dinner at Moscow GUM for FIFA World Cup 2018 Coca Cola Global Hospitality Program

We are the first Russian DMC opened Franchised office outside of Russia opening Tsar Events Panama DMC & PCO providing services in Panama Republic

We organized more than 600 events during 10 years of providing MICE services in Russia, CIS countries and Panama

We provided service for more than 90000 clients during 10 years working in Russia, CIS countries and Panama

We are helping to develop MICE industry in Russia collaborating with local Travel universities and colleges providing work places for students and graduates

Our Project Manager Ekaterina Antonova, CIS is the winner of 2019 Linda Thompson Memorial Scholarship supported by ADME International

We are promoting and supporting responsible consuming during planning and program execution process selecting only suppliers and activities answering ethical and ecological requirements

Together with local public schools we are supporting new generation and promoting United Nations values organizing annual non-profit event — SPIMUN

(St

. Petersburg International Model United Nations Conference) during 10 years already

Our team members never stop personal and professional development regularly participating in global MICE industry educational events like SITE Global conferences, MPI WEC, ICCA Annual congress

Every week we are creating for you new concepts, themes, and activities and select venues vetting and choosing the best suppliers in our destinations

We are small company

(only

9 team members) and every projects becomes our

«baby

» and every clients becomes our family member for life