Moscow VS St. Petersburg. Part 1. Architecture
Competition between these cities started immediately after of foundation of St. Petersburg. And it never stopped. That's why visiting Russia be prepaid to see two different faces of Russia, two different way of mind and different life style.
Historically both cities were different – Moscow was a village that grown from small settlement to the biggest city in Europe. Meanwhile St. Petersburg from the very beginning was created as capital of the biggest country in the world with target to impress and show wealth and power of Russian Ampire.
Peter the Great, founder of St. Petersburg, didn't like anything traditional Russian and loved highly developed Europe (especially Amsterdam where he studied) and that's why he wanted to build new European city. Specially for this reason he invited best western architectures to plan and build St. Petersburg. Peter the Great made every Russian noble person and merchant to build their residence in St. Petersburg - and as a results there are about 600 incredibley beautifull palaces in St. Petersburg and only dozen in Moscow. St. Petersburg had general plan of development with big squares and wide prospects, with separate districts for palaces of Tsar's family, for nobles and for merchant houses. In some areas streets don't have names – just numbers in New York fashion.
Moscow was formed starting from fortress Kremlin where tsars were sitting, and city was growing around it and getting it's circle (ring) form – Bulvarnoe Ring, Garden ring, Moscow Ring Highway.
St. Petersburg city center is under protection of UNESCO that's why you will not find modern building in downtown part. It was big scandal when Gazprom wanted to build it's 300 meter tower not far from city center and people of St. Petersburg had demonstrations against it and made construction to be was cancelled. Meanwhile in Moscow rules are not so strict about mixture of historical and modern building and that's why general image of Moscow is modern glass and stone constructions are standing to old historical mansions and cathedrals.
Interesting fact that basically all old churched and cathedrals in St. Petersburg were created in western style. The only Russian style churches in historical center is Spilled blood church that's look like main Moscow symbol – St. Basic Cathedral. But in Moscow – all churched are built according to Russian orthodox traditions. When we speak about Russian Orthodox churches we mean building with vertical structure, very bright colors and multiply domes.
So, generally we can say that St. Petersburg from architectural point of view is very European and international city frozen in a state as it was in 19th century. Moscow is in opposite – it is dynamically developing megapolis, caraccteraized by combination of traditional Russian style and highteck buildings.
Good example of different articetrure style and people perception could be peoples's opinon about famous Moscow artist and architector Zurab Tseritely who who was very close friend of Moscow mayor Yuriy Luzhkov. And thanks to his friendship (productivity and talent, of course) Tseritely was involved in almost all governmental projects – for example he created all decorations of newly rebuilt Christ the Savior church, complex of Manezh square etc. But general population in Moscow, I would say, dislikes him and his works due to ugliness, lack of taste etc. They always say that his work ruined historical and stylish look of the city, but for people from St. Petersburg it is difficult to understand because in our opinion (comparison with St. Petersburg) there is no style in Moscow at all. And for people form St. Petersburg actually all Zurab Zheritely's sculptures and works are pretty nice. For me this topic always brings a lot of conflicts with Moscow guides, driver etc.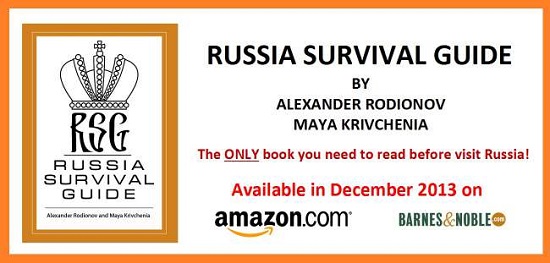 Tsar Events DMC & PCO has become first DMC who wrote book-instruction for tourists and professional travel planners who are going to Russia!
New book offers a mesmerizing slice of life in Russia. Alexander Rodionov & Maya Krivchenia shares an informative and enjoyable guide to enjoying the historical and cultural wealth of the world's largest country.