ST.PETERSBURG CONFERENCE SUMMER PROGRAM (4* FOR 250 PAX)
Country / city
: Russia / St. Petersburg
Theme
: Conference & Congresses
 

Morning Activities
08:00 — 13:00

Lunch
13:00 — 14:00

Afternoon Activities
14:00 — 19:00

Dinner Evening Activities
19:00 — 00:00

Day 1
4 Jun
2021
Fri

MUST KNOW: St. Petersburg Description

MUST KNOW: St. Petersburg WeatherForecast

 

Arrival to Pulkovo Airport (New Terminal)

Welcome dinner at Gymnasium restaurant

Day 2
5 Jun
2021
Sat

10:00 — 18:00 Full day Conference at Russian Railways Museum

13:00 — 14:00 Lunch at Russian Railways Museum

 

19:00 — 22:00 Dinner at St. Petersburg Projection Museum  (Lumiere Hall)

Day 3
6 Jun
2021
Sun

10:00 — 13:00 Half day Conference at Officer's House

13:30 — 15:00 Lunch at Stroganoff Steak House

15:00 — 19:00 Afternoon City Sightseeing

Hermitage State Museum

Kazan Cathedral

Spilled Blood Church

20:00 — 23:00 Gala dinner at SOFIT Event House

Day 4
7 Jun
2021
Mon

Pulkovo Airport (New Terminal) Departure

 

 

 
DAY 1 — 4th June 2021, Friday
 Arrival to Pulkovo Airport (New Terminal)
 Welcome dinner at Gymnasium restaurant
The restaurant 'Gymnasium' is located in the historical heart of the city, within several minutes walk of St. Isaac Cathedral. The restaurant has been settled in the house of the former girl's gymnasium in Konnogvardeisky boulevard. It has been established recently, but the restaurant has been highly appraised by Petersburg citizens and city guests.
Spacious restaurant halls house 400 visitors. The main hall is decorated in classical style resembling palace interiors: elegant columns along the hall, cozy elite furniture made according to historical patterns, fine lamps decorate the walls. In such luxury even everyday life with its bustle and problems gets the shade of aristocratism.
The bar hall interior is modern. The color scale is elegant black. Massive red chandeliers brighten up this dark space with soft illumination. So the atmosphere of aristocratic exquisiteness is created in the hall. Cozy leather sofas, plasma panels promote to the comfortable rest. VIP cabins suit ideally to have a private talk or meeting.
When the weather is fine it is a great pleasure to have a rest at summer veranda located in the restaurant yard. Pleasant gentle breeze and low leaves rustle are going to awoke inimitable sensation of calmness and solitude.
The restaurant cuisine is international; there is a wide choice of the best dishes from Russia, Asia, East and Europe. The rich wine list deserves special guests' attention. Every night the atmosphere of the brightest holiday reigns in the restaurant: captivating laser show, live music is going to raise your spirits. As soon as you hear your favorite tunes you can't help singing or dancing.
Restaurant 'Gymnasium' is the perfect place to have a nice rest, to admire fine interiors, to enjoy tasty dishes and pleasant music.
DAY 2 — 5th June 2021, Saturday
 10:00 — 18:00 Full day Conference at Russian Railways Museum
This museum is located a few steps from the Baltiyskiy Station, and part of the exhibition includes a great collection of old steam engines, coaches, and other rolling stock on the disused platforms and tracks behind the station. Indoors, railway buffs will find a treasure trove of Soviet and Russian railway uniforms and other train-related memorabilia, but the pride of the collection is the Scalpel (SS-24) rail-mounted missile system.
The museum was established in 1978, its current site and exhibition opened to public on November 1, 2017. The museum utilizes the nineteenth century locomotive shed of the Peterhof Railway built in 1857 – 1858, however a large second exhibition building and open exhibition areas have been added.
This Russian Railway Museum maintained by the Russian Railways. The museum provides lecturing and educational facilities.
Most of the locomotives and cars may be only watched from the outside, but there are ones that may be boarded. The environment of the museum is designed to be disabled-friendly. Full descriptions of exhibits are provided in both Russian and English.
Museum offers a unique opportunity to hold an event for up to 250 guests on its territory, using both historical and a new block of the museum including a courtyard. Themed events, quests, product launches and many more events can be held on its premises.
 13:00 — 14:00 Lunch at Russian Railways Museum
 19:00 — 22:00 Dinner at St. Petersburg Projection Museum  (Lumiere Hall)
St. Petersburg Projection Museum  (Lumiere Hall) is located inside of the building the largest gasholder of the 19th century in the very center of St. Petersburg. Gasholder has long been abandoned and could not find his destiny but in 2015 it was turned into a Museum of projections – the First in Russia.
A new cultural facility is equipped with the most modern projection equipment on a regular basis will be transformed into an atmospheric place where you can plunge into the works of great artists, learn interesting facts about their life and just get aesthetic pleasure from being in a spherical space.
The main feature of the Museum is that there are 30 screens and more than 40 projectors,
which transmit the image with 3D animation in Full HD, making your heart beat more often,
and surround sound in 20 KV take the visitors to the exciting events of the picture.
The projection Museum «Lumiere lounge» has welcome area that can be used for welcome reception (600 sq. m) and hall with 30 projections screens (925 sq. meters)
30 huge screens allow to create any atmosphere you want. You can project at them:
DAY 3 — 6th June 2021, Sunday
 10:00 — 13:00 Half day Conference at Officer's House
OFFICERS' HOUSE (20 Liteyny Avenue), a cultural educational establishment of the Russian Federation Ministry of Defence, and professional military servicemen's club. Founded in 1918 as the Red Army House, it was given the name of S.M. Kirov in 1934; its official name changed to Officers' House in 1972. In the 1920s, the Officers' House carried out large-scale educational work among Red Army soldiers; during the Great Patriotic War it served as a base for a number of special military preparatory courses, front-line concert and propaganda brigades. It is located in the former Public Building of Army and Navy Officers' Assembly (1895-98, military engineers V.K. Gauger, A.D. Donchenko).
 13:30 — 15:00 Lunch at Stroganoff Steak House
Stroganoff steak House is located in the very heart of the city, just a few steps from St. Isaacs Cathedral. It is one of the best high level steak houses in the city. You can try here truly American steak, Russian beef Stroganoff, Russian olivier salad and many others. Restaurant Interior created in American steak house style, with natural woods and leather. Rooms decorated by old photos, advertising production of 20th century. The leather furniture, sofas and oak floors creates comfortable atmosphere for restaurant guests. Restaurant is 1230 square meters, it has 8 rooms with total capacity of 350 places.
 15:00 — 19:00 Afternoon City Sightseeing
St. Petersburg city tour includes general city tour with main city attractions. You will pass the Canals, view of the many beautiful palaces facing the Neva River. St. Petersburg is the fourth largest city in Europe, has its old city part and modern part. City in spite of according to European measurements is a rather young city. During the tour you will get acquainted with the rather small and concentrated city center (around the Nevsky Prospect, Neva River, St. Isaacs Square and peter & Paul Fortress with its many canals and bridges and land marks such as St. Isaacs Cathedral, The Church on Spilled Blood, the Kazan Cathedral, the Singer Sewing machine Head Quarters- today the House of books — Dom Knigi, the Neva River, The Hermitage and the Winter Palace to mentioned a few of the possible spots that you will be surrounded of. During the tour several picture stops are done as well as an eventual opportunity to stop for souvenirs if time allows. City tour could be combined with a short visit to one of the many museums or canal trip by boat in summer.
 Hermitage State Museum
The State Hermitage is one of the largest and oldest museums of the world; it was founded in 1764 by Catherine the Great and open to the public since 1852. Its collections, of which only a small part is on permanent display, comprise nearly 3 million items, including the largest collection of paintings in the world. The collections occupy a large complex of six historic buildings along Palace Embankment, including the Winter Palace, a former residence of Russian emperors. Apart from them, the Menshikov Palace, Museum of Porcelain, Storage Facility at Staraya Derevnya and the eastern wing of the General Staff Building are also part of the museum. The museum has several exhibition centers abroad. The Hermitage is a federal state property. Since 1990, the director of the museum has been Mikhail Piotrovsky.
Out of six buildings of the main museum complex, four, namely the Winter Palace, Small Hermitage, Old Hermitage and New Hermitage, are partially open to the public. The other two are Hermitage Theatre and the Reserve House. The entrance ticket for foreign tourists costs several times as much as the fee paid by Russian citizens. However, the entrance is free of charge the first Thursday of every month for all visitors and daily for students and children. The museum is closed on Mondays. Entrance is in the Winter Palace from Palace Embankment or the Courtyard.
The experts say that if you were to spend a minute looking at each exhibit on display in the Hermitage, you would need 11 years before you'd seen them all.
 Kazan Cathedral
Whilst taking a stroll along Nevsky Prospekt you cannot fail to notice the impressive Cathedral of Our Lady of Kazan. Kazan Cathedral, constructed between 1801 and 1811 by the architect Andrei Voronikhin, was built to an enormous scale and boasts an impressive stone colonnade, encircling a small garden and central fountain. The cathedral was inspired by the Basilica of St. Peter's in Rome and was intended to be the country's main Orthodox Church.
After the war of 1812 (during which Napoleon was defeated) the church became a monument to Russian victory. Captured enemy banners were put in the cathedral and the famous Russian Field Marshal Mikhail Kutuzov, who won the most important campaign of 1812, was buried inside the church.
The cathedral was named after the «miracle-making» icon of Our Lady of Kazan, which the church housed till the early 1930s. The Bolsheviks closed the cathedral for services in 1929, and from 1932 it housed the collections of the Museum of the History of Religion and Atheism, which displayed numerous pieces of religious art and served anti-religious propaganda purposes. A couple of years ago regular services were resumed in the cathedral, though it still shares the premises with the museum, from whose name the word «atheism» has now been omitted.
 Spilled Blood Church
The Church of the Savior on Spilled Blood (Spilled Blood Cathedral) is one of the main sights of St. Petersburg. It is also variously called the Church on Spilt Blood and the Cathedral of the Resurrection of Christ. The Church of Resurrection was built as a historical and memorial center of all Russian people. This Church was built on the site where Tsar Alexander II was assassinated and was dedicated in his memory. The Church was commissioned by Alexander III to commemorate the death of his father, Alexander II, and is built on the exact spot where Alexander II was assassinated on this spot. Five cupolas of the church, some 1000 square meters in area are covered with jewelry enamel. The belfry is decorated with mosaic coats-of-arms of cities and regions of the Russian empire. The facades of the church are lined with ceramic tiles, and colored glazed bricks; in the interior decoration the Italian marbles and different sorts of semi-precious Russian stones were used. The Cathedral has outstanding and breath taking mosaic exterior and interior!
 20:00 — 23:00 Gala dinner at SOFIT Event House
SOFIT Event House i located in the reconstructed gas holder and equipped with the latest sound and light equipment of the European level will be a perfect venue for your event.
The Main Hall is ideal for great events such as gala dinners, congresses or conferences.
DAY 4 — 7th June 2021, Monday
 Pulkovo Airport (New Terminal) Departure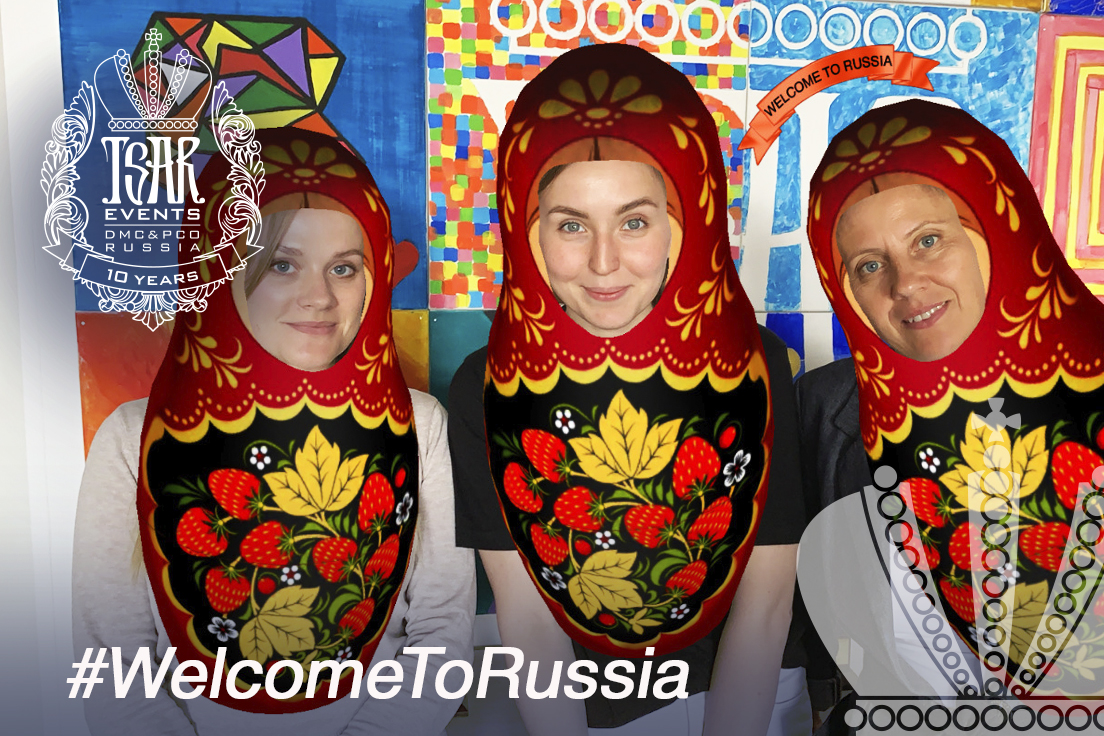 Tsar Events Russia DMC & PCO Team has created Instagram Mask   «Welcome to Russia» to raise awareness about Russia Travel Potential and started Instagram flash mob to promote possibilities of Russia for Meetings, Incentives, Congresses, Events and Leisure tourism. 
We invite you to become part of our flash mob on Instagram and other social media using our masks and putting hashtag #WelcomeToRussia.
You can add our mask from Tsar Events account @tsarevents to your Instagram camera and upload video or picture to your stories or your feed.
 Also, you can follow our accounts in other social media:
Instagram in English: https://www.instagram.com/tsarevents/    (on English)
Instagram in Spanish https://www.instagram.com/tsar.events.espanol/  
Facebook: https://www.facebook.com/tsareventsdmc/
Pinterest: https://www.pinterest.ru/tsarevents/
Youtube: https://www.youtube.com/user/TsarEventsDMC
Twitter in English: https://twitter.com/TsarEvents
Twitter in Spanish: https://twitter.com/TsarEventsRusEs
LinkedIn: https://www.linkedin.com/company/1337311/admin/
 If you need assistance with getting tickets or private tour in St. Isaac Cathdral or other museums, or hotel accommodation you can always ask team of Tsar Events. Also we can help you with planning your special event, cultural or incentive program, conference and congress in Moscow or St. Petersburg.
Tsar Events Destination Management Company & Professional Congress Organizer provides all MICE services in all Russian cities.
Tsar Events Russia DMC & PCO is existing on the market already 10 years and we have very long list of satisfied clients and successful events.
We can help you in RUSSIA, UKRAINE, BALTIC STATES, BELARUS with any MICE needs. and with planning, organizing and operating of:
Meeting & Congress
Incentive Program
Cultural or Special Interest Professional Group
Theme Parties & Special Events
Hotel accommodation
Transportation and Staff logistics
Team-Building Activities
Venues & vendors Selection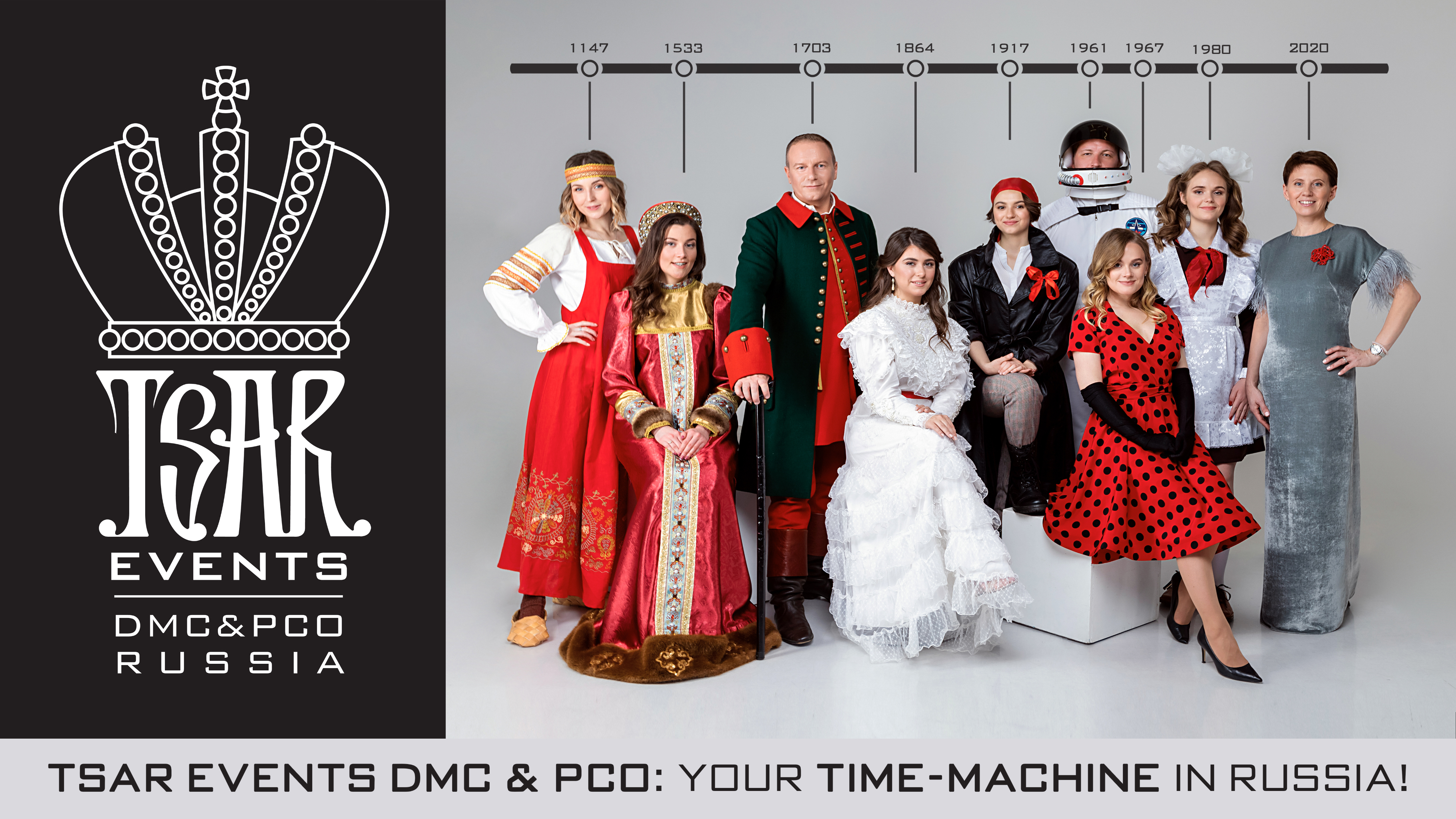 Why Tsar Events Russia DMC & PCO?
The only CMP 

 

 

(Certified

 Meeting Professional) in Russia. Managing Director & Founder of the company Alexander Rodionov is the only CMP in the country

 

 

(since

 

2010)
The first DMCP

 

 

(Destination

 Management Certified Professional) in Russia! Managing Director & Founder of the company Alexander Rodionov is the first DMCP in the country

 

 

(since

 

2011)

 

The only CITP

 

 

(Certified

 

Incentive Travel Specialist) in Russia. Managing Director & Founder of the company Alexander Rodionov is the only CITP in the country

 

 

(since

 

2019)

 

We are the only company in Russia where all project managers are CIS

 

 

(Certified

 

Incentive specialist) — since 2019

 

We are the first Accredited Destination Management Company

 

 

(ADMC

) in Russia

 

 

(since

 

2015).

 

We wrote book Russia Survival Guide — first Book-instruction for Meeting planners who is organizing event in Russia. Published in 2013 and available online and in bookstores

 

 

(sold

 

more than 20 000 books).

 

We created Russia Survival Guide Vlog – first Russian MICE Theme YouTube Channel with instructions for Meeting planners who is organizing event in Russia

 

 

(since

 

2018, more than 300,000 views)

 

We are winner of 4

 

 

(four

!) World Travel Awards in category Russia's Leading Destination Management company

 

Winner of ADME International Recognition Award 2016 in category Destination Management Professional of the Year, won by Alexander Rodionov, DMCP, CMP, CITP, Managing Director & Founder of Company

 

We are winner of ADMEI Achievements Award 2020 in nomination 

 

 

«Best

 Tour Program» with incentive BMW Baltics 

 

 

«Dreamland

 Program» in Moscow

 

We are finalist of ADMEI Excellence Award 2020 in nomination 

 

 

«Excellence

 in Meeting Services» with SPIMUN 2019 

 

 

(St

. Petersburg International Model United Nations Conference)
We are finalist of ADMEI Excellence Award 2016 in nomination 

 

 

«Excellence

 in Entertainment Production» with SPIMUN 2015 

 

 

(St

. Petersburg International Model United Nations Conference)

 

We are finalist of ADMEI Excellence Award 2019 in nomination 

 

 

«Excellence

 in Cultural and Tradition Integration» with our event Gala Dinner at Moscow GUM for FIFA World Cup 2018 Coca Cola Global Hospitality Program

 

We are the first Russian DMC opened Franchised office outside of Russia opening Tsar Events Panama DMC & PCO providing services in Panama Republic

 

We organized more than 600 events during 10 years of providing MICE services in Russia, CIS countries and Panama

 

We provided service for more than 90000 clients during 10 years working in Russia, CIS countries and Panama

 

We are helping to develop MICE industry in Russia collaborating with local Travel universities and colleges providing work places for students and graduates

 

Our Project Manager Ekaterina Antonova, CIS is the winner of 2019 Linda Thompson Memorial Scholarship supported by ADME International

 

We are promoting and supporting responsible consuming during planning and program execution process selecting only suppliers and activities answering ethical and ecological requirements

 

Together with local public schools we are supporting new generation and promoting United Nations values organizing annual non-profit event — SPIMUN 

 

 

(St

. Petersburg International Model United Nations Conference) during 10 years already

 

Our team members never stop personal and professional development regularly participating in global MICE industry educational events like SITE Global conferences, MPI WEC, ICCA Annual congress

 

Every week we are creating for you new concepts, themes, and activities and select venues vetting and choosing the best suppliers in our destinations

 We are small company

 

 

(only

 

9 team members) and every projects becomes our

 

 

«baby

» and every clients becomes our family member for life