ST.PETERSBURG CONFERENCE SUMMER PROGRAM (4* FOR 120 PAX)
Country / city
: Russia / St. Petersburg
Theme
: Conference & Congresses
 

Morning Activities
08:00 — 13:00

Lunch
13:00 — 14:00

Afternoon Activities
14:00 — 19:00

Dinner Evening Activities
19:00 — 00:00

Day 1
4 Jun
2021
Fri

MUST KNOW: St. Petersburg Description

MUST KNOW: St. Petersburg WeatherForecast

 

Arrival to Pulkovo Airport (New Terminal)

Welcome dinner at Russian Sadko Restaurant with Singing waitress

Day 2
5 Jun
2021
Sat

10:00 — 13:00 Conference at House of Architects (100 pers)

13:00 — 14:30 Lunch at Oak Room of House of Architects

14:30 — 18:00 Continuation of Conference at House of Architects

19:00 — 22:00 Dinner at The Last Palace

Day 3
6 Jun
2021
Sun

10:00 — 13:00 Conference at Beloselsky-Belozersky Palace

14:00 — 15:30 Lunch at Stroganoff Steak House

16:00 Afternoon Hydrofoil (Speed Boat) Transfer from St. Peterburg City Center to Peterhoff Park (30 minutes)

16:30 — 18:00 Afternoon Peterhoff Park visit

20:00 — 23:00 Gala dinner at Palma Mansion

Entertainment for dinner: Dancing Band

Day 4
7 Jun
2021
Mon

Pulkovo Airport (New Terminal) Departure

 

 

 
HOTEL ACCOMMODATION
 Sokos Hotel Olympia Garden Saint Petersburg 4*
Sokos Hotel Olympia Garden was opened in June 2008 and is the perfect choice for the business traveler because of its location on the Moscow Prospect which leads directly to the airport. The hotel has 348 rooms, and 13 halls for various events that can accommodate a total of 350 people. Sokos Hotel Olympia Garden offers 13 multifunctional conference rooms, the largest of which will be a hall for 270 people.The magnificent conference hotel Original Sokos Hotel Olympia Garden has 14 multi-functional meeting rooms that can accommodate up to 350 people and that can easily be transformed depending on the needs of the event. The hotel is an excellent choice whether you want to organize a conference, smaller meetings, a training session or for example a corporate anniversary party. All meeting rooms are located on the same level, on the Mezzanine floor and have natural daylight.
The hotel's charming restaurant Fransmanni offers the best of Provencal cuisine. Fransmanni's homely and unpretentious French country cooking coupled with warm and rustic décor and a relaxed atmosphere works perfectly.
DAY 1 — 4th June 2021, Friday
 Arrival to Pulkovo Airport (New Terminal)
Pulkovo Airport  (IATA: LED, ICAO: ULLI) is an international airport serving Saint Petersburg, Russia. Pulkovo is the 3rd busiest in Russia after Moscow's Domodedovo and Sheremetyevo airports. A new terminal is located directly to the north of the Terminal 1 and contains 18 gates, it is capable of supporting up to 17 million passengers annually. The new terminal is easier to navigate, compared to most of the other European airports, and is the most aesthetically pleasing terminal in Northern Europe. Airport is located on the way to Pushkin (Catherine's Palace) and Pavlovsk. It takes approximately from 30 min to 1 hour and half to go from city center to the airport, depending on traffic situation.
 Welcome dinner at Russian Sadko Restaurant with Singing waitress
Sadko restaurant was opened in 2006 as a Russian Russian restaurant with separate wine bar and high level of service and food.
Restaurant Sadko is located in the very city center, close to Marinsky Theater. Walking distance is approximately 5 minutes. You will be impressed by restaurants interior, which include and stylishly combine modern and folklore elements. Ceilings are covered with Russian authentic patterns with huge red crystal chandeliers and colorful food plates for the food. The restaurant is famous for its singing waiters. Breathtaking singing of a few waiters during dinner or lunch will make your event unforgettable. Singing waiters take palace every Friday and Saturday. For supplement charge they can be invited to sing on other days. Maximum restaurant capacity is 160 persons. (Including separate banquet hall for 50 persons). Maximum size of the group is 60 persons. Bigger groups only upon separate requested. Restaurant offers wide variety of Russian traditional cuisine, starting from Russian Borch (beetroot soup), «Herring under fur coat», Chicken Kiev and many others. All food is cooked according to Old Russian recipes and there are no doubts that you will enjoy this restaurant.
DAY 2 — 5th June 2021, Saturday
 10:00 — 13:00 Conference at House of Architects
The House of Architect is a former mansion of Alexander Polovtsev, the Secretary of State during the reign of Alexander III. This is one of the most interesting buildings in Saint-Petersburg with well-preserved interiors. The palace was built in the XIX century with very impressive architecture and decoration of the interiors. The marble staircase, Oak room, White hall with beautiful stucco molding in combination with gold are perfect for the high style evening, combined with classical entertainment. It is located in the historical part of the city and can be suggested for the Gala dinner for up to 110 pax (124 sq.m.). 
The welcome cocktail can be arranged at the Oak room (104 sq.m) for 70 guests standing. Recommended decoration & entertainment in the classical style. There is a Bronze Hall with stage construction with the capacity 165 sq.m which can be used for private performance for up to 200 guests. As theme the evening can be dedicated to the Russian Classical ballet performance, with harp playing for the cocktail and classical quartet for dinner. There is a restaurant «Mantion of Polovtsev» located within the ground floor of the Palace with Russian cousine specialisation. The restaurant makes catering in Gala Rooms of the Palace and can be considered for budget oriented groups. In case the International standard is required the recommended catering is «Concord Catering and Banqueting» or «Potel & Chabot».
 13:00 — 14:30 Lunch at Oak Room of House of Architects
 14:30 — 18:00 Continuation of Conference at House of Architects
 19:00 — 22:00 Dinner at The Last Palace
The palace of Prince Abamelek-Lazarev happened to be the last building erected in St. Petersburg before the 1917 Bolshevik Revolution. Located in the most magnificent part of St. Petersburg's historical downtown, the building has retained its dazzling palatial interiors. The palace is an ideal place for hosting exhibitions, presentations, conferences, gala parties and banquets. There is a convenient boat landing in front of the palace's main entrance so as an option guests can arrive to the restaurant by boat, or embark from here on an exciting tour of St. Petersburg's enchanting rivers and canals. The specious lobby on the ground floor is ideal for gala receptions.
The Banquet Hall (250 sq.m.) accommodate up to 150 guests capacity for seates dinner and up to 200 guests for coctail. Hall has a painted ceiling, molds, marble pillars and balcony is the palace's pride and joy.
The Theatre Hall is adorned with red-brown Corinthian pilasters with white capitals and painted ceilings. The hall is fitted with a stage, a make-up room, a floor area of 180 square metres.
DAY 3 — 6th June 2021, Sunday
 10:00 — 13:00 Conference at Beloselsky-Belozersky Palace
Belosselsky-Belozersky Palace is a Neo-Baroque palace at the intersection of the Fontanka River and Nevsky Prospekt in Saint Petersburg. Palace is located on Nevsky Prospect behind the Anichkov bridge. It is located in 3 minutes walk from Corinthia Nevsky Palace, Radisson SAS Royal Hotel and Novotel St. Petersburg Center. All other centrally located hotels are in 5-10 minutes drive from the Palace.
Beloselsky-Belozersky Palace was constructed in 1800 by the architect Demertsov and later was re-constructed by the famous Russian designer Schtakenschneider. It is one of the most outstanding buildings on Nevsky prospect, famous for its' bright red color.
Beloselsky-Belozersky Palace includes two big concert halls where it is possible to have conferences and dinners: Oak room that can accommodate 180 persons maximum for seated dinner and Mirror room where it is possible to serve dinner for 252 persons. Also for coffee-breaks and welcome cocktails it is possible to use Pink Foyer (for 200 persons). All rooms are decorated in Classical baroque style and were recently completely renovated.
Oak room is located on the fist floor; entrance to the room is through Pink Foyer. Room was recently renovated. Oak Room can be useed for Conferences (maximum capacity 250 theater style) and Dinners for 180 persons. Room has fixed small stage.
 14:00 — 15:30 Lunch at Stroganoff Steak House
Stroganoff steak House is located in the very heart of the city, just a few steps from St. Isaacs Cathedral. It is one of the best high level steak houses in the city. You can try here truly American steak, Russian beef Stroganoff, Russian olivier salad and many others. Restaurant Interior created in American steak house style, with natural woods and leather. Rooms decorated by old photos, advertising production of 20th century. The leather furniture, sofas and oak floors creates comfortable atmosphere for restaurant guests. Restaurant is 1230 square meters, it has 8 rooms with total capacity of 350 places.
 16:00 Afternoon Hydrofoil (Speed Boat) Transfer from St. Peterburg City Center to Peterhoff Park (30 minutes)
If you do not want to spend about 1 hour (depending on traffic situation) seating in bus (car, minivan and etc), going to Peterhoff Palace and Park –you can use hydrofoil! It takes about 30 – 40 min to go from the city center to Peterhoff (or vice versa). Hydrofoil makes trips only with right weather conditions. It embarks at the pier of Peterhoff (15 minutes walk through the park to the Grand Palace). Maximum capacity is 120 passengers. Hydrofoil terminals are within the city center: 1) Near the State Hermitage Museum 2) Opposite the Dekabrist Square. Walking from the landing to the Palace & Park might include areas with slight difficult access for guests in special dresses and shoes. Limited access for people with mobility difficulties — no elevators to the exhibition areas. Late departure (delay) will include extra charges for the pre-arranged transport and guides. Navigation on Neva River and Baltic Sea available only upon Sea Port restrictions and if weather conditions allows. Navigation season is from middle May to the end of September /beginning of October.
 16:30 — 18:00 Afternoon Peterhoff Park visit
Peterhof is one of the world's most famous palace-park ensembles.
The Peterhof Museum Complex is one of the most popular museums not only in Russia, but in the whole world. Even a few hours here are enough to feel the spirit of history, which still lives on and breathes in this magnificent place.
As a former residence of the Russian monarchs, Peterhof brings together the finest achievements in national and international culture. This unique complex was created by outstanding architects, decorators and sculptors, whose spectacular works of art slot perfectly into the natural beauty of the coastal landscape.
Peter the Great planned Peterhof as the residence of a sea king. This was to be his incarnation of Russia as a great European power, with a foothold on the shores of the world's oceans, capable of competing with the finest Western courts — above all, with Versailles.
The history of Peterhof begins back in 1705, when travelling chambers were built for Peter the Great on the southern shore of the Gulf of Finland. Soon, not far from this place, work began on the creation of a new imperial residence, which, Peter determined, would one day outshine all the other royal palaces of Europe. The tsar deliberately built his new residence by the sea, as a triumphant symbol of the successful conclusion of Russia's long struggle for an outlet to the Baltic Sea. Peterhof was officially opened in the presence of the tsar and foreign diplomats in August 1723.
The architecture and decor of Peterhof reflects all the artistic styles of the past and the personal tastes and preferences of every Russian monarch.
One of the world's most famous palace-park ensembles, Peterhof was virtually destroyed during the Second World War. The post-war resurrection of the entire complex was one of the finest chapters in the history of restoration in Russia. The present-day beauty of Peterhof is the result of decades of painstaking work by architects, painters and masters of decorative and applied art. Restoration work continues even to this day, in the Chapel Royal of the Grand Palace, which ought to be completed by May 2011.
Today, the museum complex stretches across five hundred hectares of territory, embracing Strelna, Peterhof and Oranienbaum. Dotted with sparkling fountains, the Lower Park and Upper Gardens flow effortlessly into the shady and romantic glades of Alexandria, forming a unique fusion of regular and landscape parks. Every day, more than twenty museums — vastly different in their origins, ideas and contents — delight visitors with exciting new discoveries and the joy of their handsome treasures.
The Peterhof Museum Complex is rightfully regarded as the «capital of fountains.» Included in the state register of most valuable cultural objects of the Russian Federation, Peterhof now bears the proud title of one of the «Seven Wonders of Russia.»
Peterhoff Palace and Park is reachable by hydrofoils, which depart from the city center and it takes 30 min one way. Visit duration is approximately 2 hours. Photo & video is prohibited in the Palaces.
 20:00 — 23:00 Gala dinner at Palma Mansion
The mansion of the Society of German Artisans «Palma Palace» was built in 1886 by architect Ivan Aristarkhov. The building had a chess club, a mutual aid fund, a library, lecture and ballrooms, workshops. A century later, «Palma» had not only the name, but also the appearance. The building was re-built in 2014-2016, the facade and interiors were restored and music was played again in the Theater Hall. A luxurious Theater Hall with a unique interior has an area of 250 m2. The adaptability of space allows to use it for various purposes: film shows, festivals, markets, fairs, wedding celebrations, dinner parties and corporate events.
 Entertainment for dinner: Dancing Band
A great dance band will make the reception, corporate party, or special event come alive. Dance bands (sometimes called variety bands or cover bands) perform the top dance hits that you and your party guests know and love. A truly versatile dance band plays everything from jazz, soul, motown, disco, R&B, blues, pop, contemporary, swing, to current dance music hits. A dance band will typically include male and female vocalists, a saxophone, keyboards, bass, guitar, drums and percussion, and even a brass section if required. Good dance music creates a potent sound and energy that ensures the musical success of your event. Guests will be dancing and singing along to their favorite dance music from start to finish.
DAY 4 — 7th June 2021, Monday
 Pulkovo Airport (New Terminal) Departure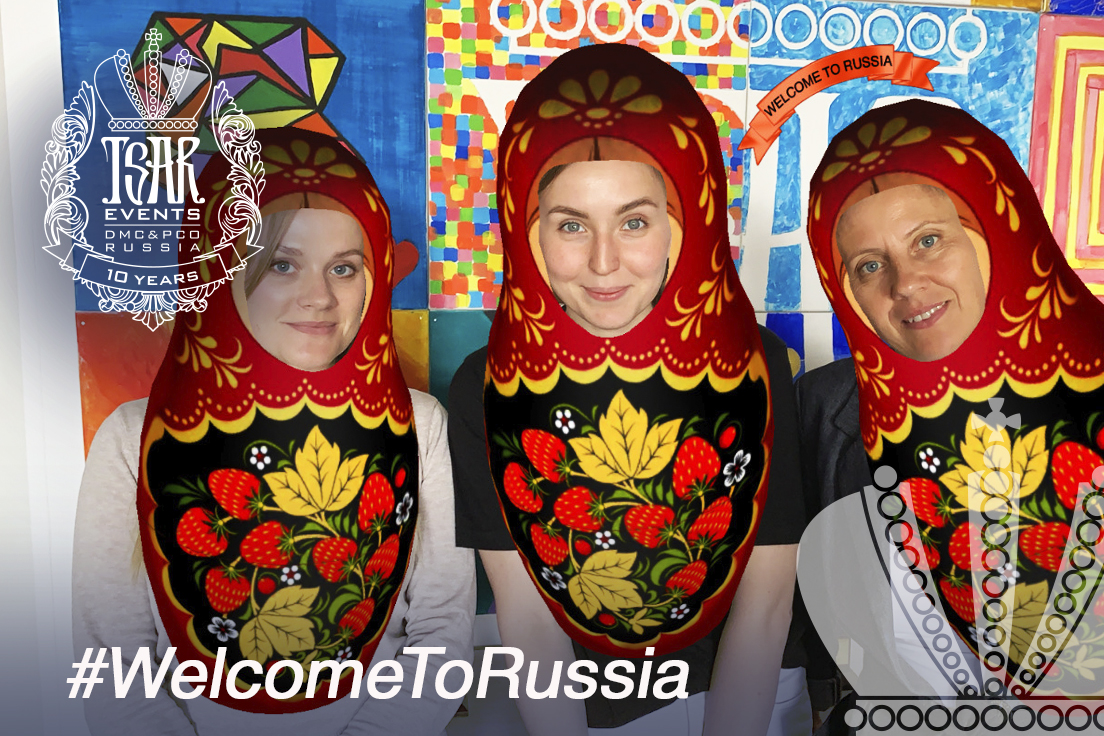 Tsar Events Russia DMC & PCO Team has created Instagram Mask  «Welcome to Russia» to raise awareness about Russia Travel Potential and started Instagram flash mob to promote possibilities of Russia for Meetings, Incentives, Congresses, Events and Leisure tourism. 
We invite you to become part of our flash mob on Instagram and other social media using our masks and putting hashtag #WelcomeToRussia.
You can add our mask from Tsar Events account @tsarevents to your Instagram camera and upload video or picture to your stories or your feed.
 Also, you can follow our accounts in other social media:
Instagram in English: https://www.instagram.com/tsarevents/   (on English)
Instagram in Spanish https://www.instagram.com/tsar.events.espanol/  
Facebook: https://www.facebook.com/tsareventsdmc/
Pinterest: https://www.pinterest.ru/tsarevents/
Youtube: https://www.youtube.com/user/TsarEventsDMC
Twitter in English: https://twitter.com/TsarEvents
Twitter in Spanish: https://twitter.com/TsarEventsRusEs
LinkedIn: https://www.linkedin.com/company/1337311/admin/
 If you need assistance with getting tickets or private tour in St. Isaac Cathdral or other museums, or hotel accommodation you can always ask team of Tsar Events. Also we can help you with planning your special event, cultural or incentive program, conference and congress in Moscow or St. Petersburg.
Tsar Events Destination Management Company & Professional Congress Organizer provides all MICE services in all Russian cities.
Tsar Events Russia DMC & PCO is existing on the market already 10 years and we have very long list of satisfied clients and successful events.
We can help you in RUSSIA, UKRAINE, BALTIC STATES, BELARUS with any MICE needs. and with planning, organizing and operating of:
Meeting & Congress
Incentive Program
Cultural or Special Interest Professional Group
Theme Parties & Special Events
Hotel accommodation
Transportation and Staff logistics
Team-Building Activities
Venues & vendors Selection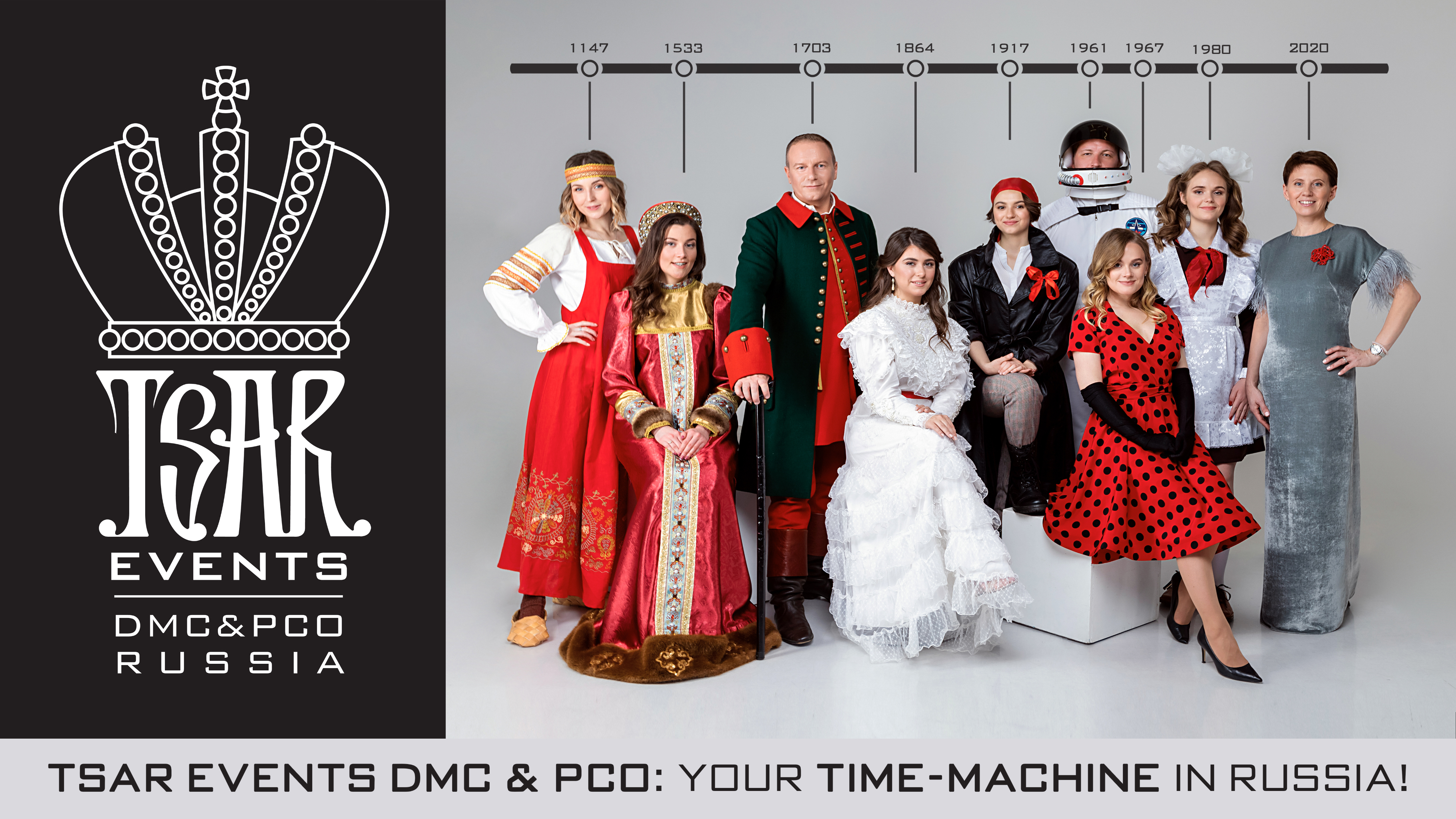 Why Tsar Events Russia DMC & PCO?
The only CMP 

 

(Certified

 Meeting Professional) in Russia. Managing Director & Founder of the company Alexander Rodionov is the only CMP in the country

 

(since

 

2010)
The first DMCP

 

(Destination

 Management Certified Professional) in Russia! Managing Director & Founder of the company Alexander Rodionov is the first DMCP in the country

 

(since

 

2011)

 

The only CITP

 

(Certified

 Incentive Travel Specialist) in Russia. Managing Director & Founder of the company Alexander Rodionov is the only CITP in the country

 

(since

 

2019)

 

We are the only company in Russia where all project managers are CIS

 

(Certified

 Incentive specialist) — since 2019

 

We are the first Accredited Destination Management Company

 

(ADMC

) in Russia

 

(since

 

2015).

 

We wrote book Russia Survival Guide — first Book-instruction for Meeting planners who is organizing event in Russia. Published in 2013 and available online and in bookstores

 

(sold

 more than 20 000 books).

 

We created Russia Survival Guide Vlog – first Russian MICE Theme YouTube Channel with instructions for Meeting planners who is organizing event in Russia

 

(since

 2018, more than 300,000 views)

 

We are winner of 4

 

(four

!) World Travel Awards in category Russia's Leading Destination Management company

 

Winner of ADME International Recognition Award 2016 in category Destination Management Professional of the Year, won by Alexander Rodionov, DMCP, CMP, CITP, Managing Director & Founder of Company

 

We are winner of ADMEI Achievements Award 2020 in nomination 

 

«Best

 Tour Program» with incentive BMW Baltics 

 

«Dreamland

 Program» in Moscow

 

We are finalist of ADMEI Excellence Award 2020 in nomination 

 

«Excellence

 in Meeting Services» with SPIMUN 2019 

 

(St

. Petersburg International Model United Nations Conference)
We are finalist of ADMEI Excellence Award 2016 in nomination 

 

«Excellence

 in Entertainment Production» with SPIMUN 2015 

 

(St

. Petersburg International Model United Nations Conference)

 

We are finalist of ADMEI Excellence Award 2019 in nomination 

 

«Excellence

 in Cultural and Tradition Integration» with our event Gala Dinner at Moscow GUM for FIFA World Cup 2018 Coca Cola Global Hospitality Program

 

We are the first Russian DMC opened Franchised office outside of Russia opening Tsar Events Panama DMC & PCO providing services in Panama Republic

 

We organized more than 600 events during 10 years of providing MICE services in Russia, CIS countries and Panama

 

We provided service for more than 90000 clients during 10 years working in Russia, CIS countries and Panama

 

We are helping to develop MICE industry in Russia collaborating with local Travel universities and colleges providing work places for students and graduates

 

Our Project Manager Ekaterina Antonova, CIS is the winner of 2019 Linda Thompson Memorial Scholarship supported by ADME International

 

We are promoting and supporting responsible consuming during planning and program execution process selecting only suppliers and activities answering ethical and ecological requirements

 

Together with local public schools we are supporting new generation and promoting United Nations values organizing annual non-profit event — SPIMUN 

 

(St

. Petersburg International Model United Nations Conference) during 10 years already

 

Our team members never stop personal and professional development regularly participating in global MICE industry educational events like SITE Global conferences, MPI WEC, ICCA Annual congress

 

Every week we are creating for you new concepts, themes, and activities and select venues vetting and choosing the best suppliers in our destinations

 We are small company

 

(only

 9 team members) and every projects becomes our

 

«baby

» and every clients becomes our family member for life