Gamma Festival 2021 was postponed to September 2021
27 June 2021
The main program of the GAMMA festival will take place in St. Petersburg from 18 to 19 September, over 5 years the festival has earned the status of one of the main musical and cultural events of the year, representing the domestic and world electronic scene.
The musical format of the festival is diverse and covers many genres of electronic music. Within the framework of the festival, media art exhibitions and various cultural events are held. The GAMMA festival in 2017 launched irreversible processes and today continues to be a catalyst for the most important changes at the plant. Stepan Razin. The first brewery in the Russian Empire in its new history has already gone through several stages of transformation, changing forms and acquiring new meanings. And today this evolutionary process is gaining momentum.
This year, GAMMA will present to the public new spaces, a new environment for the implementation of ideas in contemporary culture. On several floors of the two buildings of the plant, 5 stages will be located, each of which is filled with its own concept, format, light installations, performances and an interesting international line-up representing various facets of the vast musical world. Plant them.
The new dates for the Gamma Festival in 2021 are September 18 and 19. The traditional opening concert of the festival will take place on July 9. The organizers promise that it will be "a bright, but intimate event, which will be held taking into account the current restrictions." The Gamma_PRO conference will also take place in July. A professional community is invited to the conference space - representatives of local creative industries and like-minded people, and for interested listeners there will be a live broadcast on the website.
"Friends, in this situation, we are forced to postpone the main program of the Gamma 2021 festival to September 18-19! The entire previously published line-up, the venue and the scale of the festival are preserved, tickets do not need to be changed. We know that many people have planned their vacation, bought tickets to St. Petersburg, booked accommodation, and some will no longer be able to change their plans. Therefore, we are currently preparing a small outdoor event with a limited number of guests, which we plan to hold on July 10th. We will be back with details shortly, "the organizers say. We will remind, earlier the Roots United team also announced the dates and the start of ticket sales for Present Perfect Festival in 2021. So far, the transfer of the festival has not been announced. But VK Fest will take place a month later than planned - at the end of August 2021.
Location: Stepana Razin, Obvodny Canal Embankment, 229
Source: https://www.sobaka.ru/entertainment/music/122108
Also we have other great news! The whole Tsar Events' Team has got Sputnik V Vaccine (and feel very good).
13th of January was the first day of Phase 2 Russian Vaccination program and Travel & Hospitality industry workers are among those who eligible to be vaccinated (also there are IT & Science specialists, Social workers, Real estate staff). It's already more than 2 million vaccinated people in Russia and it make all of us happy to see the process of coming back to normal life!
We cannot wait when we start working in full and see our beloved clients in Russia or Panama.
If you need assistance with getting tickets or private tour in Erarta Museum, or hotel accommodation you can always ask team of Tsar Events. Also we can help you with planning your special event, cultural or incentive program, conference and congress in Moscow or St. Petersburg.
Tsar Events Destination Management Company & Professional Congress Organizer provides all MICE services in all Russian cities.
Tsar Events Russia DMC & PCO is existing on the market already 9 years and we have very long list of satisfied clients and successful events.
We can help you in RUSSIA, UKRAINE, BALTIC STATES, BELARUS with any MICE needs. and with planning, organizing and operating of:
Meeting & Congress
Incentive Program
Cultural or Special Interest Professional Group
Theme Parties & Special Events
Hotel accommodation
Transportation and Staff logistics
Team-Building Activities
Venues & vendors Selection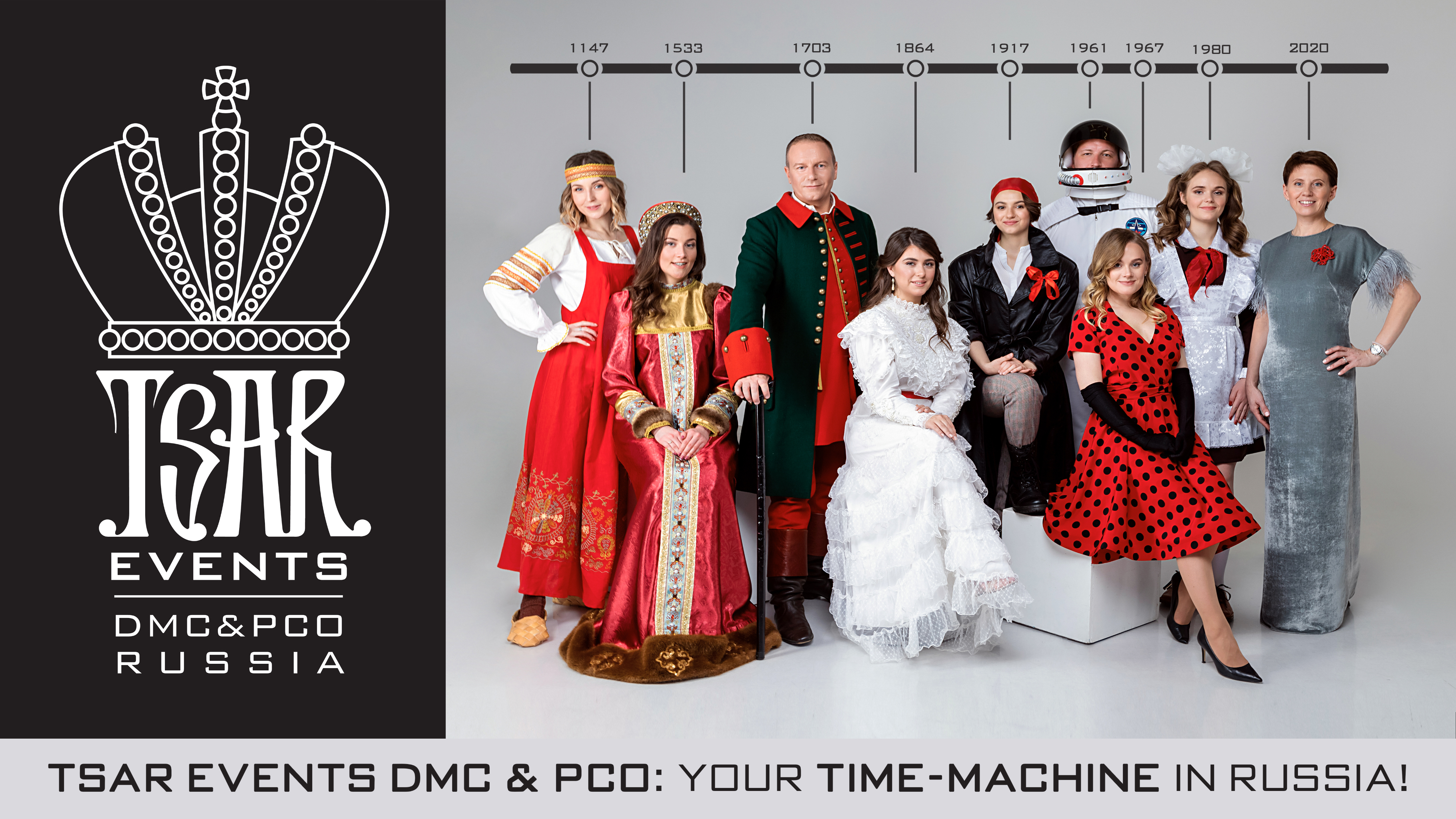 Why Tsar Events Russia DMC & PCO?
The only CMP (Certified Meeting Professional) in Russia. Managing Director & Founder of the company Alexander Rodionov is the only CMP in the country (since 2010)

The first DMCP (Destination Management Certified Professional) in Russia! Managing Director & Founder of the company Alexander Rodionov is the first DMCP in the country (since 2011)

The only CITP (Certified Incentive Travel Specialist) in Russia. Managing Director & Founder of the company Alexander Rodionov is the only CITP in the country (since 2019)

We are the only company in Russia where all project managers are CIS (Certified Incentive specialist) - since 2019

We are the first Accredited Destination Management Company (ADMC) in Russia (since 2015).

We wrote book Russia Survival Guide - first Book-instruction for Meeting planners who is organizing event in Russia. Published in 2013 and available online and in bookstores (sold more than 20 000 books).

We created Russia Survival Guide Vlog – first Russian MICE Theme YouTube Channel with instructions for Meeting planners who is organizing event in Russia (since 2018, more than 300,000 views)

We are winner of 4 (four!) World Travel Awards in category Russia's Leading Destination Management company

Winner of ADME International Recognition Award 2016 in category Destination Management Professional of the Year, won by Alexander Rodionov, DMCP, CMP, CITP, Managing Director & Founder of Company

We are winner of ADMEI Achievements Award 2020 in nomination «Best Tour Program» with incentive BMW Baltics «Dreamland Program» in Moscow

We are finalist of ADMEI Excellence Award 2020 in nomination «Excellence in Meeting Services» with SPIMUN 2019 (St. Petersburg International Model United Nations Conference)

We are finalist of ADMEI Excellence Award 2016 in nomination «Excellence in Entertainment Production» with SPIMUN 2015 (St. Petersburg International Model United Nations Conference)

We are finalist of ADMEI Excellence Award 2019 in nomination «Excellence in Cultural and Tradition Integration» with our event Gala Dinner at Moscow GUM for FIFA World Cup 2018 Coca Cola Global Hospitality Program

We are the first Russian DMC opened Franchised office outside of Russia opening Tsar Events Panama DMC & PCO providing services in Panama Republic

We organized more than 600 events during 10 years of providing MICE services in Russia, CIS countries and Panama

We provided service for more than 90000 clients during 10 years working in Russia, CIS countries and Panama

We are helping to develop MICE industry in Russia collaborating with local Travel universities and colleges providing work places for students and graduates

Our Project Manager Ekaterina Antonova, CIS is the winner of 2019 Linda Thompson Memorial Scholarship supported by ADME International

We are promoting and supporting responsible consuming during planning and program execution process selecting only suppliers and activities answering ethical and ecological requirements

Together with local public schools we are supporting new generation and promoting United Nations values organizing annual non-profit event - SPIMUN (St. Petersburg International Model United Nations Conference) during 10 years already

Our team members never stop personal and professional development regularly participating in global MICE industry educational events like SITE Global conferences, MPI WEC, ICCA Annual congress

Every week we are creating for you new concepts, themes, and activities and select venues vetting and choosing the best suppliers in our destinations

We are small company (only 9 team members) and every projects becomes our "baby" and every clients becomes our family member for life