Experimental Music and Art (EMA) Expo 2021
09 May 2021
From April 20 to May 16, 2021, the Experimental Music and Art (EMA) Expo project will be held at the Educational Center of the Moscow Museum of Modern Art, in which 11 artists from Switzerland, Germany, Argentina and Russia study the current aspects of the social agenda through the language of sound, digital and technological art.
Together with an international team of curators, they reflected on "superfluidity" - constantly mutating forms of feeling of oneself and time and the unpredictability of external and internal processes, at the epicenter of which is the modern man. Five floors of MMOMA in Ermolaevsky will turn into a border space between the physical and digital worlds.
The focus of the exhibition is the combination of modern man and technology in a moment that artists rethink in their works. The unpredictability of processes, constantly changing forms of feeling oneself and the perception of time merge into the so-called superfluidity: mobile, inhomogeneous, not closed on itself. Technology allows artists to advance faster than the crises facing society. According to exhibition curator Peter Kirn, electronic media art has already gone through phases of self-reinforcing novelty, self-referential irony and even retro-mania. Now these tools are merging with cultural language, a powerful tool for influencing changes in society as a whole.
Boris Shershenkov's research project examines the processes of the origin and development of the first representatives of technobiological forms of life: the viewer will see samples of electroflora collected in various regions of St. Petersburg, and will be able to hear the electromagnetic manifestations of their vital activity. Sarah Kuhlman's work explores various aspects of bias as an insurmountable phenomenon that distorts the perception of information and imbalances collective knowledge. Imperfect Simulations by Anna Titovets Intektra explores the concept of "time" in today's "digital" world. A separate line of artistic research is based on the theory of hazard modeling (Threat Simulation Theory) of the Finnish psychologist Antti Revonsuo, in which he expressed the idea that dreams are not an accidental by-product of evolution. Their original function could be to reproduce and simulate dangerous situations of reality, giving additional experience. Birke Lou explores the history of Milky Way explanations and ponders the ability to distinguish fact from fiction. The work at MMOMA will be a continuation of the artist's research on the study of the Milky Way by humanity as an object in space. As a result of ten exhibition projects, the result of the study will be published in the author's book. The installation Local Power by the Aebersold x Handberg group describes the city as a living organism in which various processes take place between the government and the townspeople. Lucas Gutierrez views the process of waiting and narcissism as a constantly evolving form of human existence in space and time. In Sergei Kostyrko's work, computer vision algorithms for observing living things generate data that are then used to control an algorithmic musical composition. Group! Mediengruppe Bitnik examines the relationship of intelligent personal assistants - the brain of a smart home - with its immediate owner and how a person can rely on these semi-autonomous devices. The work of Roman Golovko is based on the moment of coincidence of 4 notes and the correspondence of the designation of their letter notation to 4 letters of the Latin alphabet, forming the word C A G E (cell). The chord from Do-La-Sol-Mi creates a massive sound canvas in which the word C-A-G-E sounds and a situation of collective artistic communication arises. Mikhail Myasoedov in his work reflects on how media art technologies can be used to relax and switch a person's attention from everyday routine experience.
Source: https://kudamoscow.ru/event/experimental-music-and-art-ema-expo-2021/
https://daily.afisha.ru/cities/19612-20-glavnyh-koncertov-premer-vystavok-spektakley-i-drugih-sobytiy-dlinnyh-vyhodnyh/
We can help you in RUSSIA, UKRAINE, BALTIC STATES, BELARUS with any MICE needs. and with planning, organizing and operating of:
Meeting & Congress
Incentive Program
Cultural or Special Interest Professional Group
Theme Parties & Special Events
Hotel accommodation
Transportation and Staff logistics
Team-Building Activities
Venues & vendors Selection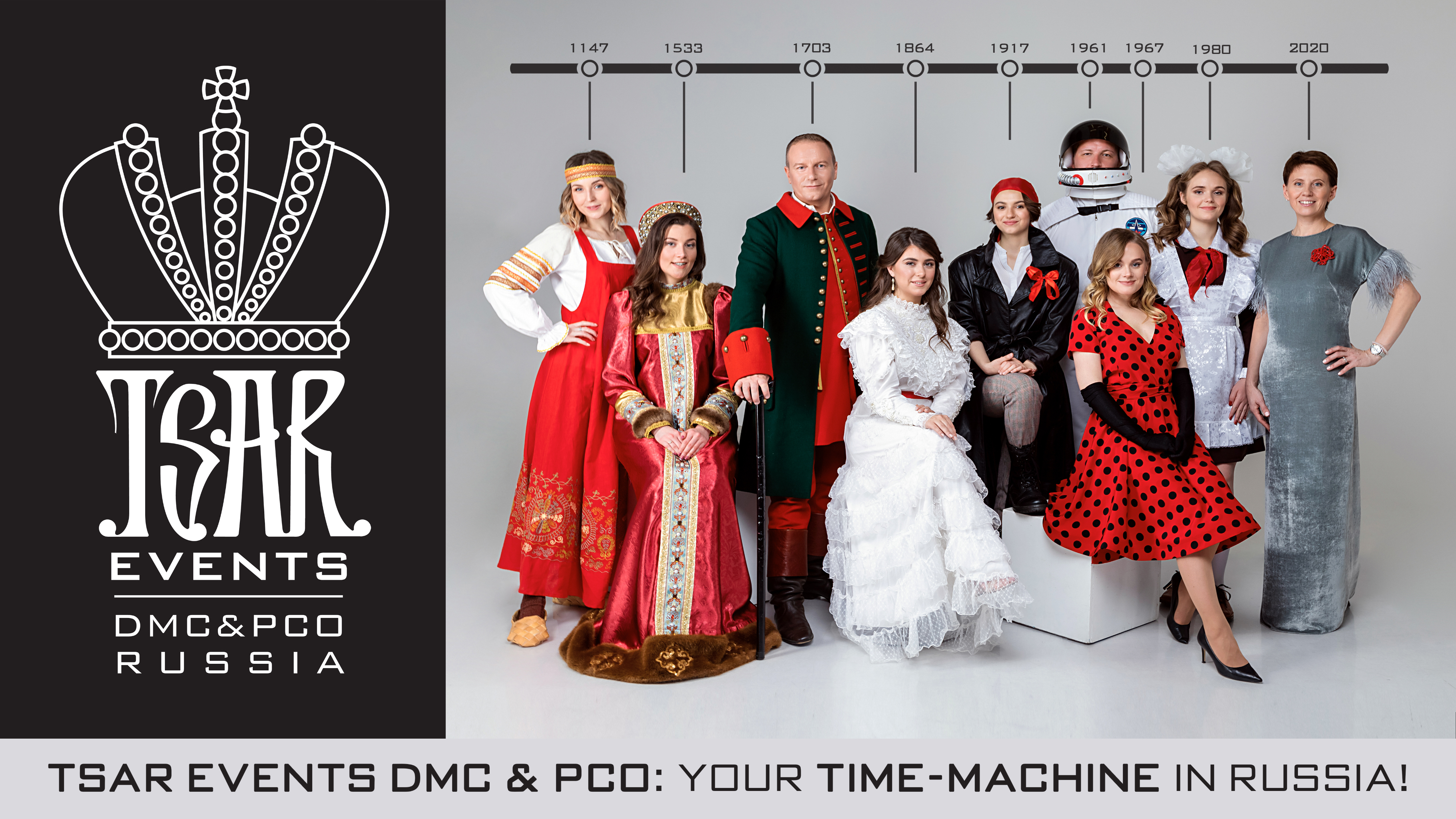 Why Tsar Events Russia DMC & PCO?
The only CMP (Certified Meeting Professional) in Russia. Managing Director & Founder of the company Alexander Rodionov is the only CMP in the country (since 2010)

The first DMCP (Destination Management Certified Professional) in Russia! Managing Director & Founder of the company Alexander Rodionov is the first DMCP in the country (since 2011)

The only CITP (Certified Incentive Travel Specialist) in Russia. Managing Director & Founder of the company Alexander Rodionov is the only CITP in the country (since 2019)

We are the only company in Russia where all project managers are CIS (Certified Incentive specialist) - since 2019

We are the first Accredited Destination Management Company (ADMC) in Russia (since 2015).

We wrote book Russia Survival Guide - first Book-instruction for Meeting planners who is organizing event in Russia. Published in 2013 and available online and in bookstores (sold more than 20 000 books).

We created Russia Survival Guide Vlog – first Russian MICE Theme YouTube Channel with instructions for Meeting planners who is organizing event in Russia (since 2018, more than 300,000 views)

We are winner of 4 (four!) World Travel Awards in category Russia's Leading Destination Management company

Winner of ADME International Recognition Award 2016 in category Destination Management Professional of the Year, won by Alexander Rodionov, DMCP, CMP, CITP, Managing Director & Founder of Company

We are winner of ADMEI Achievements Award 2020 in nomination «Best Tour Program» with incentive BMW Baltics «Dreamland Program» in Moscow

We are finalist of ADMEI Excellence Award 2020 in nomination «Excellence in Meeting Services» with SPIMUN 2019 (St. Petersburg International Model United Nations Conference)

We are finalist of ADMEI Excellence Award 2016 in nomination «Excellence in Entertainment Production» with SPIMUN 2015 (St. Petersburg International Model United Nations Conference)

We are finalist of ADMEI Excellence Award 2019 in nomination «Excellence in Cultural and Tradition Integration» with our event Gala Dinner at Moscow GUM for FIFA World Cup 2018 Coca Cola Global Hospitality Program

We are the first Russian DMC opened Franchised office outside of Russia opening Tsar Events Panama DMC & PCO providing services in Panama Republic

We organized more than 600 events during 10 years of providing MICE services in Russia, CIS countries and Panama

We provided service for more than 90000 clients during 10 years working in Russia, CIS countries and Panama

We are helping to develop MICE industry in Russia collaborating with local Travel universities and colleges providing work places for students and graduates

Our Project Manager Ekaterina Antonova, CIS is the winner of 2019 Linda Thompson Memorial Scholarship supported by ADME International

We are promoting and supporting responsible consuming during planning and program execution process selecting only suppliers and activities answering ethical and ecological requirements

Together with local public schools we are supporting new generation and promoting United Nations values organizing annual non-profit event - SPIMUN (St. Petersburg International Model United Nations Conference) during 10 years already

Our team members never stop personal and professional development regularly participating in global MICE industry educational events like SITE Global conferences, MPI WEC, ICCA Annual congress

Every week we are creating for you new concepts, themes, and activities and select venues vetting and choosing the best suppliers in our destinations

We are small company (only 9 team members) and every projects becomes our "baby" and every clients becomes our family member for life