E-visa to enter the whole territory of Russia will be available for citizens of 52 countries starting from 01st of January 2021
23 November 2020
In 31 July 2020 Russian president Vladimir Putin signed the Federal Law allow to foreigners from 52 countries visit all regions of Russia with E-Visa since 1st January 2021. Mikhail Mishustin the Prime Minister of Russia approves the procedure for issuing unified e-visas on 11 November 2020.
E-visas allow visitors to get visas simply by applying for their Russian visa entirely online. In recent few years Russian government has been testing E-Visa for specific Russian regions to simplify visa procedures. This has started from visa-free entry for foreigners attending FIFA World Cup in 2018 and Electronic Visa to Far Eastern Federal District, Kaliningrad Oblast, Saint‑Petersburg and Leningrad Oblast in 2019.
Applications for electronic visas can be submitted on a special website of the Foreign Ministry. Electronic visas will be issued to foreign nationals for tourism, business, private visits or humanitarian purposes. Applicants will only need to fill out a special form, upload a personal digital image and a copy of his or her foreign travel passport, pay a consular fee to wait for notification. E-visas will be applicable throughout Russia.
The list of countries whose citizens will be able to use the e-visa in 2021 includes:
Austria,
Andorra,
Bahrain,
Belgium,
Bulgaria,
Vatican,
Hungary,
Germany,
Greece,
Denmark,
India,
Indonesia,
Iran,
Ireland,
Iceland,
Spain,
Italy,
Cyprus,
China (including Taiwan),
Democratic People's Republic of Korea,
Kuwait,
Latvia,
Lithuania,
Liechtenstein,
Luxembourg,
Malaysia,
Malta,
Mexico,
Monaco,
Netherlands,
Norway,
Oman,
Poland,
Portugal,
Romania,
San Marino,
Saudi Arabia,
North Macedonia,
Serbia,
Singapore,
Slovakia,
Slovenia ,
Turkey,
Philippines,
Finland,
France,
Croatia,
Czech Republic,
Switzerland,
Sweden,
Estonia
Japan
Accordingly, to the law e-visa is single-entry, let stay in Russia for a maximum period of 16 days and issued for 60 calendar days from the date of its issuance.
ATTENTION! The allowed period of stay in the Russian Federation of up to 16 days under an e-visa does not imply that one can stay for the entire 384 hours (24 hours multiplied by 16). The period of stay in the Russian Federation always starts at midnight of the day of passage through passport control upon entry regardless of the actual time of passage through passport control. For example, you have an e-visa valid from June 15 to August 13 and you pass through passport control upon entry at 8:00 pm on July 29. In that case, you need to pass through passport control upon exit until 11:59 pm on August 13 (rather than until 8:00 pm on August 13). You should also note that if you passed through passport control upon entry, for instance, on August 10 with the e-visa mentioned in the example above, you need to pass through passport control upon exit until 11:59 pm on August 13, i.e. until the e-visa expires.
Visa processing will take no more than 4 calendar days. You can fill in an application form for an e-visa on this website not earlier than 20 days and no later than 4 days before the intended date of entry into the Russian Federation.
The cost of issuing a single electronic visa to Russia will be $ 40. For children under 6 years old, the visa will be issued free of charge.
Your passport must be valid for at least 6 months from the date you applied for an e-visa. Your passport must have free space for border crossing stamps.
Foreign citizens who have arrived in the Russian Federation with e-visas are required to have medical insurance valid in the Russian Federation's territory for the entire period of stay.
Before you apply for an e-visa you are required to agree to the automatic processing, transfer, and storage of data provided in your application for the purpose of the e-visa issuance.
Your application must contain full and valid data. Any incorrect information, including passport data and photo, could cause visa rejection or revocation of an already issued visa at the national border checkpoint of the Russian Federation.
The list of border points through which it will be possible to cross border of Russian Federation includes 29 points including the main airports of Moscow and St.Petersburg.
Air checkpoints
Belgorod
Volgograd (Gumrak)
Yekaterinburg (Koltsovo)
Kazan
Krasnodar (Pashkovsky)
Krasnoyarsk (Emelyanovo)
Moscow (Vnukovo)
Moscow (Domodedovo)
Moscow (Sheremetyevo)
Nizhny Novgorod (Strigino)
Novosibirsk (Tolmachevo)
Rostov-on-Don (Platov)
Samara (Kurumoch)
Saint Petersburg (Pulkovo)
Automobile checkpoints
Bagrationovsk
Gusev
Ivangorod
Mamonovo (Grzechotki)
Mamonovo (Gronovo)
Marine
Sovetsk
Smirk
Railway checkpoints
Pogranichny on the border between Russia and China
Hasan on the border between Russia and North Korea
Maritime checkpoints
Big Port of Saint Petersburg (Morskoy Vokzal section)
Vladivostok
Zarubino port on the Sea of Japan
Passenger Port Saint Petersburg
Pedestrian checkpoints
Ivangorod
Text source: http://government.ru/en/docs/40554/ , http://government.ru/en/docs/40817/, http://government.ru/en/docs/40698/
If you need assistance with getting tickets or private tour in Erarta Museum, or hotel accommodation you can always ask team of Tsar Events. Also we can help you with planning your special event, cultural or incentive program, conference and congress in Moscow or St. Petersburg.
Tsar Events Destination Management Company & Professional Congress Organizer provides all MICE services in all Russian cities.
Tsar Events Russia DMC & PCO is existing on the market already 9 years and we have very long list of satisfied clients and successful events.
We can help you in RUSSIA, UKRAINE, BALTIC STATES, BELARUS with any MICE needs. and with planning, organizing and operating of:
Meeting & Congress
Incentive Program
Cultural or Special Interest Professional Group
Theme Parties & Special Events
Hotel accommodation
Transportation and Staff logistics
Team-Building Activities
Venues & vendors Selection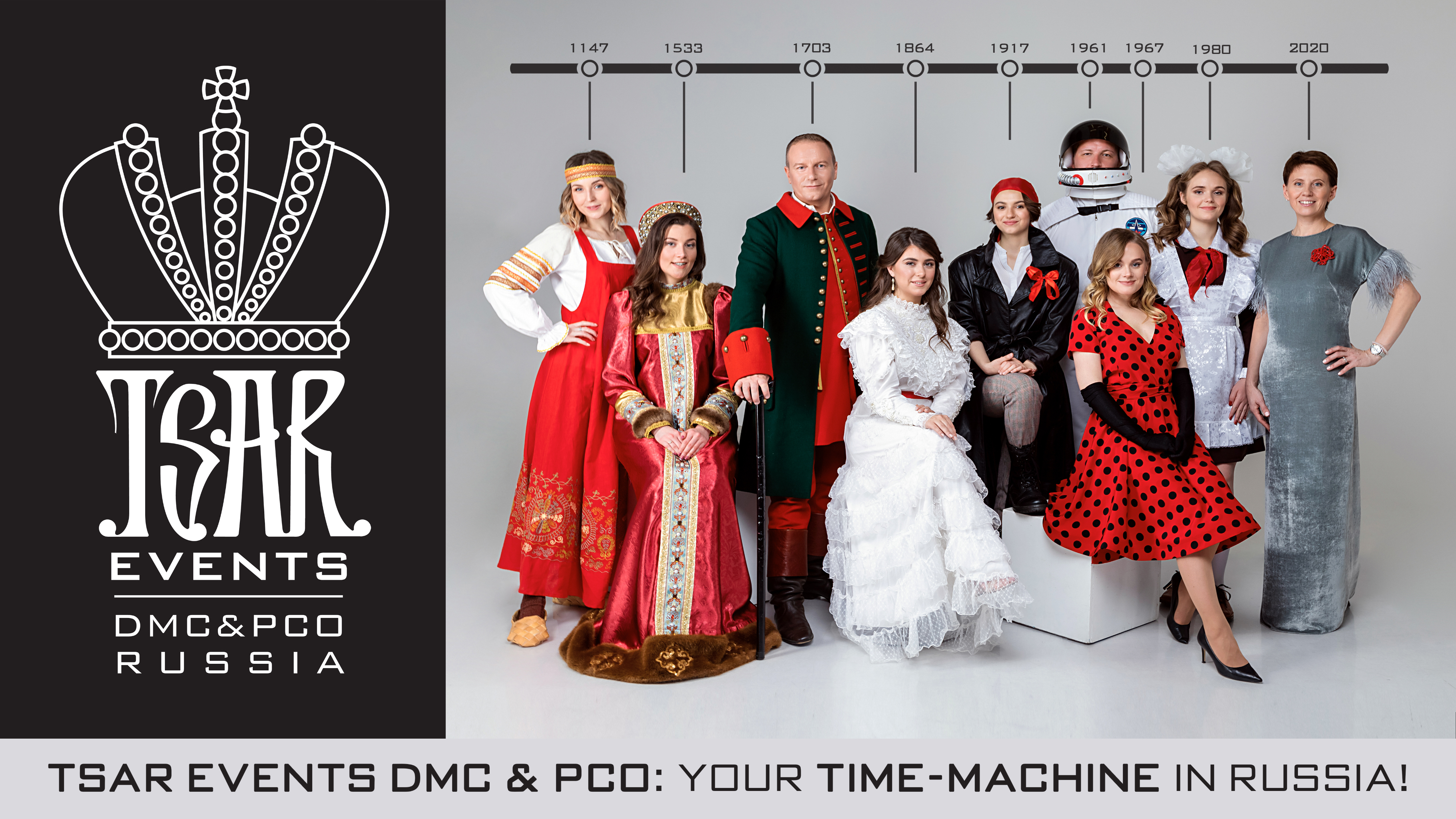 Why Tsar Events Russia DMC & PCO?
The only CMP (Certified Meeting Professional) in Russia. Managing Director & Founder of the company Alexander Rodionov is the only CMP in the country (since 2010)

The first DMCP (Destination Management Certified Professional) in Russia! Managing Director & Founder of the company Alexander Rodionov is the first DMCP in the country (since 2011)

The only CITP (Certified Incentive Travel Specialist) in Russia. Managing Director & Founder of the company Alexander Rodionov is the only CITP in the country (since 2019)

We are the only company in Russia where all project managers are CIS (Certified Incentive specialist) - since 2019

We are the first Accredited Destination Management Company (ADMC) in Russia (since 2015).

We wrote book Russia Survival Guide - first Book-instruction for Meeting planners who is organizing event in Russia. Published in 2013 and available online and in bookstores (sold more than 20 000 books).

We created Russia Survival Guide Vlog – first Russian MICE Theme YouTube Channel with instructions for Meeting planners who is organizing event in Russia (since 2018, more than 300,000 views)

We are winner of 4 (four!) World Travel Awards in category Russia's Leading Destination Management company

Winner of ADME International Recognition Award 2016 in category Destination Management Professional of the Year, won by Alexander Rodionov, DMCP, CMP, CITP, Managing Director & Founder of Company

We are winner of ADMEI Achievements Award 2020 in nomination «Best Tour Program» with incentive BMW Baltics «Dreamland Program» in Moscow

We are finalist of ADMEI Excellence Award 2020 in nomination «Excellence in Meeting Services» with SPIMUN 2019 (St. Petersburg International Model United Nations Conference)

We are finalist of ADMEI Excellence Award 2016 in nomination «Excellence in Entertainment Production» with SPIMUN 2015 (St. Petersburg International Model United Nations Conference)

We are finalist of ADMEI Excellence Award 2019 in nomination «Excellence in Cultural and Tradition Integration» with our event Gala Dinner at Moscow GUM for FIFA World Cup 2018 Coca Cola Global Hospitality Program

We are the first Russian DMC opened Franchised office outside of Russia opening Tsar Events Panama DMC & PCO providing services in Panama Republic

We organized more than 600 events during 10 years of providing MICE services in Russia, CIS countries and Panama

We provided service for more than 90000 clients during 10 years working in Russia, CIS countries and Panama

We are helping to develop MICE industry in Russia collaborating with local Travel universities and colleges providing work places for students and graduates

Our Project Manager Ekaterina Antonova, CIS is the winner of 2019 Linda Thompson Memorial Scholarship supported by ADME International

We are promoting and supporting responsible consuming during planning and program execution process selecting only suppliers and activities answering ethical and ecological requirements

Together with local public schools we are supporting new generation and promoting United Nations values organizing annual non-profit event - SPIMUN (St. Petersburg International Model United Nations Conference) during 10 years already

Our team members never stop personal and professional development regularly participating in global MICE industry educational events like SITE Global conferences, MPI WEC, ICCA Annual congress

Every week we are creating for you new concepts, themes, and activities and select venues vetting and choosing the best suppliers in our destinations

We are small company (only 9 team members) and every projects becomes our "baby" and every clients becomes our family member for life