An exhibition space opens in the House of Radio on Italyanskaya
28 May 2021
The first exhibition space opens in the St. Petersburg House of Radio on Italyanskaya Street. The exhibition will include works by Russian and international contemporary art stars - among them Bill Viola, Erik Bulatov, Pipilotti Rist, Olga Chernysheva and others.
Eric Bulatov. Armenian landscape. 1962
The Summer Exhibition is the first collaboration between musicAeterna and the Aksenov Family Foundation in the field of contemporary visual art, organized with the participation of the viennacontemporary art fair. It follows the tradition of the Summer Exhibition of the Royal Academy of Arts in London, the longest-running regular art exhibition in the world since 1769, with a feature that most of the works on display are available for purchase. The exposition will include works by Russian and international contemporary art stars. Among them are Tatyana Akhmetgalieva, Sergey Bratkov, Erik Bulatov, Erwin Wurm, Mat Collishaw, Ilya Kabakov, Pipilotti Rist, Olga Chernysheva and others. Participants of the Summer Exhibition have been represented at the viennacontemporary stands over the years. The partners of the exhibition are Artwin gallery, Anna Nova gallery, Iragui gallery, Marina Gisich gallery, Myth gallery, Ovcharenko Art, Pop / off / art gallery and Syntax gallery. In addition, within the framework of a special project musicAeterna and the Pushkin State Museum of Fine Arts, from June 2 to 20, in the space of the House of Radio, works by Bill Viola from the Martyrs series will be presented, which were shown at the artist's personal exhibition at the Pushkin Museum.
The summer exhibition will run from June 3 to June 20; it will open for visitors as part of excursion groups from June 4. Visiting the exhibition is possible as part of an excursion group. Tours start every hour from 12:00 to 18:00. During the Summer Exhibition, under the patronage of viennacontemporary, there will also be a series of open discussions on various aspects of contemporary culture:
Tanya Akhmetgalieva, "If you want I can disappear"
June 4, 19:00, "International art fairs after the pandemic"
Discussion participants:
Margarita Pushkina, Founding Director of the Cosmoscow International Contemporary Art Fair.
Ekaterina Iragi, gallery owner, owner of the Iragui gallery, curator, member of the expert council of the viennacontemporary fair.
Discussion moderator:
Alan Serve, art collector and entrepreneur. Lives and works in Belgium.
21:00, "St. Petersburg as a platform for art fairs"
Discussion participants:
Anton Belov, director of the Garage Museum of Contemporary Art. The speaker is confirmed.
Pavel Prigara, director of the Manezh Central Exhibition Hall. The speaker is confirmed.
Boris Piotrovsky, Vice Governor of St. Petersburg. The speaker is confirmed.
Discussion moderator:
Alan Serve, art collector and entrepreneur. Lives and works in Belgium.
June 5, 12:00, Master class on creating objects in augmented reality
The host of the master class - the founder of the Austrian platform Artivive Sergiu Ardelean - will show representatives of museums, digital artists and everyone interested in new technologies in culture how AR can be created using Artivive: a second layer of meanings, images and information for any visual object. Sergiu will share how this affordable technology is creating a huge market for digital artists and taking museum user engagement (and beyond) to the next level.
14:00, Artist Talk: Polina Kanis
Polina Kanis, video artist, laureate of the Kandinsky Prize, the Sergei Kuryokhin Prize and the Innovation Prize, participant in the residence program of the Rijks Academy (Amsterdam).
16:00, "Drops instead of exhibitions: from tension to acceptance. How the traditional contemporary art market is adapting to NFT technology "
Discussion participants
Joe Vickery, editor-in-chief of the online magazine Russian Art Focus.
Andrey Belyakov, co-founder of The Art Exchange blockchain platform.
Andrey Alekhin, co-founder of the Snark.Art platform.
Marat Gelman, collector, curator, co-founder of the Gelman Recommends blockchain gallery.
Olga Dvoretskaya, founder of the Disartive digital art fair.
Katya Novichkova, artist, co-founder of the Mutagen NFT platform.
Alexander Salnikov, co-founder of the Rarible platform. The speaker is confirmed.
Discussion moderator:
Alexander Burenkov, curator of the Cosmoscow non-profit foundation for the support of contemporary art, art critic, researcher, teacher.
18:00. "Present and future of NFT. How technology change will affect business processes in culture "
Discussion participants:
Patrick Tresset, artist, NFT enthusiast.
Jason Bailey, Collector, Author of Artnome.com and GreenNFTs Green NFT Rewards.
Sandyip Sangli, founder of Kalamint, NFT's sustainable marketplace.
Pavel Burian, co-founder of Mosaic Media agency.
Discussion moderator:
Pierre-François Marteau, Venture Investor, Secretary of the Board of Directors of the Immaterial Future Association.
The program is subject to change. Details and tickets can be found here.
Source: https://www.sobaka.ru/entertainment/art/129479
Tsar Events Russia DMC & PCO has got #SafeTravel Global Safety Stamp as recognition of following WTTC's Global Safe Travels Protocols
Saint Petersburg became the first city in Russia joining the international WTTC program for safe tourism - Safe Travels. As part of this initiative key players of city tourism industry receive a special sign Safe Travels SPB, recognizing them as organizations implemented health and hygiene protocols that are aligned with WTTC's Global Safe Travels Protocols.
For tourists, this sign is a guarantee that the services provided by city tourism organizations meet the requirements of sanitary hygienic standards and safety standards. By receiving the Safe Travels SPB sign, city tourism organizations become participants of the unified Saint Petersburg marketing program to promote the city as the safe destination for travel. You can find all information of the #SafeTravels program in this section
Saint Petersburg joins the word Safe Tourism movement, becoming the first city in Russia which developed and offered its solutions for safe stay in the city.
The Committee for tourism development of Saint Petersburg has developed and agreed with the Russian Federal Service for Surveillance on Consumer Rights Protection and Human Wellbeing (Rospotrebnadzor) safety standards for city tourism organizations. The documents contain basic requirements for sanitary conditions, access features, and other necessary measures. All organizations will have to ensure compliance with standards and post information about its implementation on their official websites before starting work.
Implementation of these actions and a special sign issued by WTTC to Saint Petersburg – Saint Petersburg Safety Stamp/Safe Travels SPB – allow Saint Petersburg to be a destination which guarantees safeness and wellbeing for tourists.
Safe Travels WTTC Protocols
WTTC alongside with Members, governments, health experts and other industry associations are working together to achieve effective recovery protocols by developing meaningful action plans that optimize sector-wide recovery efforts.
WTTC has developed a number of protocols in the following areas: Leading Global Protocols for the New Normal, Hospitality, Outdoor Shopping, Airports, Convention Centres, Meetings & Events, Aviation, Attractions, Car Rental, Tour Operators and Short Term Rental.
In the Protocols you will find recommendations and instructions for implementation during the recovery phase. These protocols are result-oriented and fair to countries around the world.
Following the instructions of the protocols will help ensure a safe stay of tourists in Saint Petersburg and restore the trust of potential travelers.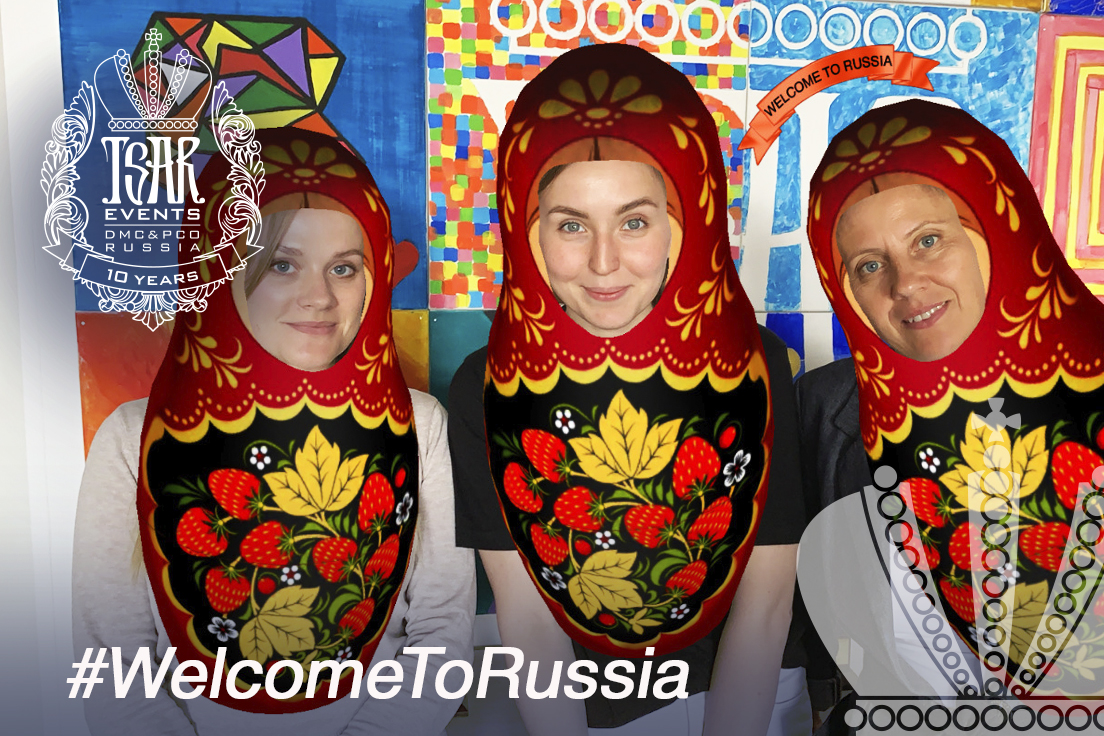 Tsar Events Russia DMC & PCO Team has created Instagram Mask "Welcome to Russia" to raise awareness about Russia Travel Potential and started Instagram flash mob to promote possibilities of Russia for Meetings, Incentives, Congresses, Events and Leisure tourism.
We invite you to become part of our flash mob on Instagram and other social media using our masks and putting hashtag #WelcomeToRussia.
You can add our mask from Tsar Events account @tsarevents to your Instagram camera and upload video or picture to your stories or your feed.
Also, you can follow our accounts in other social media:
Instagram in English: https://www.instagram.com/tsarevents/ (on English)
Instagram in Spanish https://www.instagram.com/tsar.events.espanol/
Facebook: https://www.facebook.com/tsareventsdmc/
Pinterest: https://www.pinterest.ru/tsarevents/
Youtube: https://www.youtube.com/user/TsarEventsDMC
Twitter in English: https://twitter.com/TsarEvents
Twitter in Spanish: https://twitter.com/TsarEventsRusEs
LinkedIn: https://www.linkedin.com/company/1337311/admin/
If you need assistance with getting tickets or private tour in St. Isaac Cathdral or other museums, or hotel accommodation you can always ask team of Tsar Events. Also we can help you with planning your special event, cultural or incentive program, conference and congress in Moscow or St. Petersburg.
Tsar Events Destination Management Company & Professional Congress Organizer provides all MICE services in all Russian cities.
Tsar Events Russia DMC & PCO is existing on the market already 10 years and we have very long list of satisfied clients and successful events.
We can help you in RUSSIA, UKRAINE, BALTIC STATES, BELARUS with any MICE needs. and with planning, organizing and operating of:
Meeting & Congress
Incentive Program
Cultural or Special Interest Professional Group
Theme Parties & Special Events
Hotel accommodation
Transportation and Staff logistics
Team-Building Activities
Venues & vendors Selection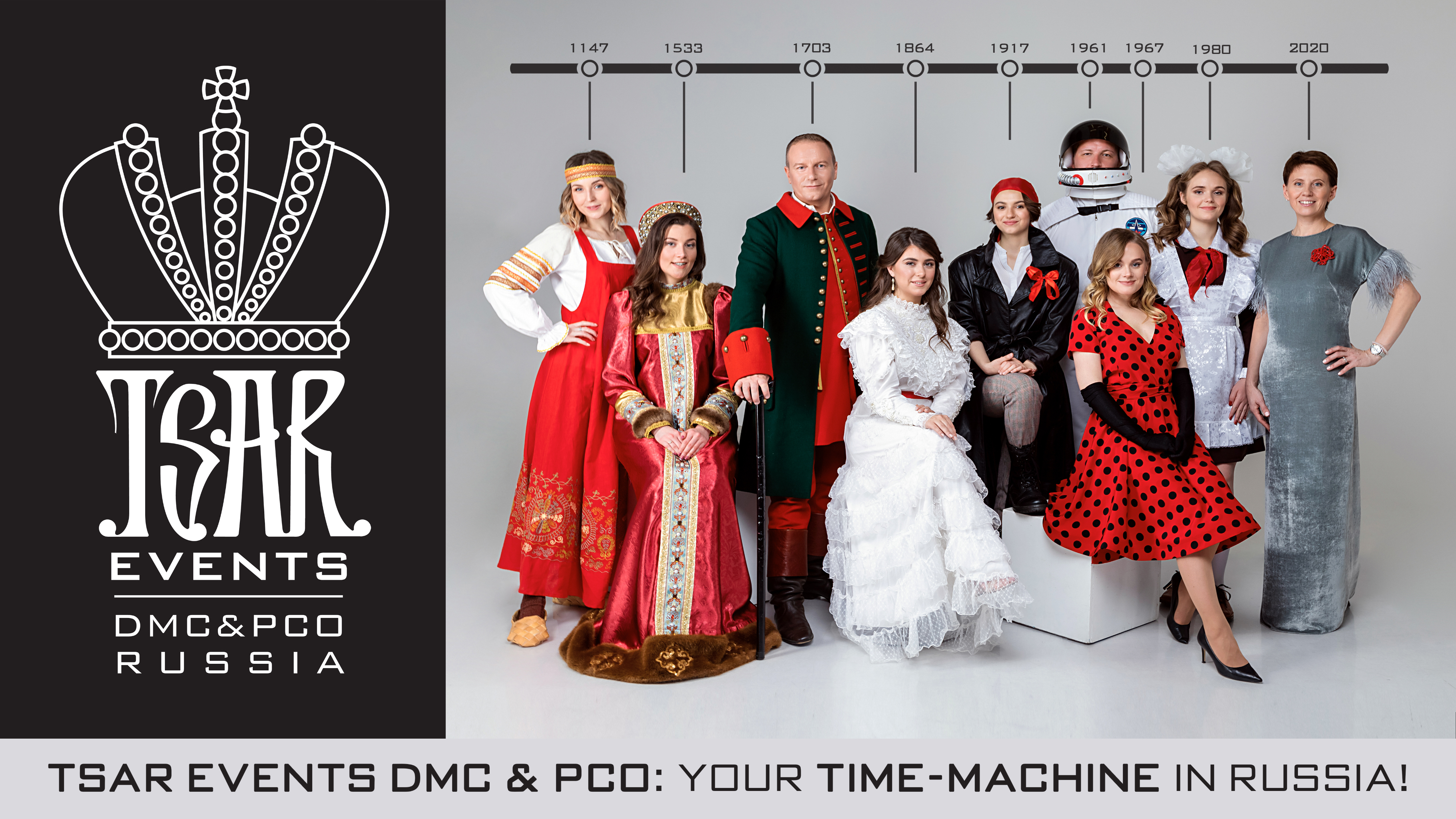 Why Tsar Events Russia DMC & PCO?
The only CMP (Certified Meeting Professional) in Russia. Managing Director & Founder of the company Alexander Rodionov is the only CMP in the country (since 2010)

The first DMCP (Destination Management Certified Professional) in Russia! Managing Director & Founder of the company Alexander Rodionov is the first DMCP in the country (since 2011)

The only CITP (Certified Incentive Travel Specialist) in Russia. Managing Director & Founder of the company Alexander Rodionov is the only CITP in the country (since 2019)

We are the only company in Russia where all project managers are CIS (Certified Incentive specialist) - since 2019

We are the first Accredited Destination Management Company (ADMC) in Russia (since 2015).

We wrote book Russia Survival Guide - first Book-instruction for Meeting planners who is organizing event in Russia. Published in 2013 and available online and in bookstores (sold more than 20 000 books).

We created Russia Survival Guide Vlog – first Russian MICE Theme YouTube Channel with instructions for Meeting planners who is organizing event in Russia (since 2018, more than 300,000 views)

We are winner of 4 (four!) World Travel Awards in category Russia's Leading Destination Management company

Winner of ADME International Recognition Award 2016 in category Destination Management Professional of the Year, won by Alexander Rodionov, DMCP, CMP, CITP, Managing Director & Founder of Company

We are winner of ADMEI Achievements Award 2020 in nomination «Best Tour Program» with incentive BMW Baltics «Dreamland Program» in Moscow

We are finalist of ADMEI Excellence Award 2020 in nomination «Excellence in Meeting Services» with SPIMUN 2019 (St. Petersburg International Model United Nations Conference)

We are finalist of ADMEI Excellence Award 2016 in nomination «Excellence in Entertainment Production» with SPIMUN 2015 (St. Petersburg International Model United Nations Conference)

We are finalist of ADMEI Excellence Award 2019 in nomination «Excellence in Cultural and Tradition Integration» with our event Gala Dinner at Moscow GUM for FIFA World Cup 2018 Coca Cola Global Hospitality Program

We are the first Russian DMC opened Franchised office outside of Russia opening Tsar Events Panama DMC & PCO providing services in Panama Republic

We organized more than 600 events during 10 years of providing MICE services in Russia, CIS countries and Panama

We provided service for more than 90000 clients during 10 years working in Russia, CIS countries and Panama

We are helping to develop MICE industry in Russia collaborating with local Travel universities and colleges providing work places for students and graduates

Our Project Manager Ekaterina Antonova, CIS is the winner of 2019 Linda Thompson Memorial Scholarship supported by ADME International

We are promoting and supporting responsible consuming during planning and program execution process selecting only suppliers and activities answering ethical and ecological requirements

Together with local public schools we are supporting new generation and promoting United Nations values organizing annual non-profit event - SPIMUN (St. Petersburg International Model United Nations Conference) during 10 years already

Our team members never stop personal and professional development regularly participating in global MICE industry educational events like SITE Global conferences, MPI WEC, ICCA Annual congress

Every week we are creating for you new concepts, themes, and activities and select venues vetting and choosing the best suppliers in our destinations

We are small company (only 9 team members) and every projects becomes our "baby" and every clients becomes our family member for life