Hotel Indigo to Debut in Moscow, Russia
13 January 2020
InterContinental Hotels Group, one of the world's leading hotel companies, has signed a management agreement with current partner, JSC «Tverskaya 24», to open Hotel Indigo Moscow — Tverskaya by the end of 2020.
Hotel Indigo was established in 2004 and is growing at pace as one of the leading boutique brands in the world, with a goal of doubling its global presence over the next three to five years. With a current footprint of over 100 hotels across 19 countries, the signing of Hotel Indigo Moscow — Tverskaya brings the upscale brand to Europe's second largest city, boasting approximately 100 guest rooms, a gym and lobby bar.
Just as no two places are alike, no two Hotel Indigo properties are the same. Each hotel draws inspiration from the local neighbourhood, culture and popular trends in food, drink and design to create a warm and vibrant atmosphere. The Hotel Indigo Moscow — Tverskaya will be the second Hotel Indigo property in Russia.
Located along Tverskaya Street, the main street of the city, Hotel Indigo Moscow — Tverskaya is a historical building, that will be transformed into an upscale boutique hotel that is stylish yet approachable. Surrounding the hotel are back alleys and picturesque side streets linking the city together and making major attractions easily accessible. In close proximity to the famous Red Square, The Kremlin and the State Tretyakov Gallery, Hotel Indigo Moscow — Tverskaya is perfectly positioned for travellers to immerse themselves in the history and stunning architecture of the city.
Moscow is the largest city in Russia, and a major economic and cultural hub, which drives the city's hotel demand. The Hotel Indigo brand is perfectly positioned for the market, as the leisure demand continues to grow and the corporate travellers are seeking new experiences to differentiate their stays. The convenient location will provide guests with the opportunity to explore the historical neighbourhood from both inside the hotel and out. text source: https://www.hospitalitynet.org/
Tsar Events RUSSIA DMC & PCO, a Hosts Global Member together with Tsar Events PANAMA DMC & PCO, a Hosts Global Member will have own stands at IMEX FRankfurt. Our team will be happy to tell you everything about Incentive ideas, Conference venues, best options for accommodation in Russia and also give last updates about electronic visa for St. Petersburg, EURO 2020 games and UEFA Champion League Final 2021.
Also we have such a GREAT NEWS that we were waiting for so long. SIMPLIFIED ELECTRONIC VISAS for citizens of 54 countiries, who is visiting St. Petersburg will be available from 1st of October 2019. This e-visa will also be valid for guests from Spain, Sweden, Denmark, Germany, Austria, Norway, Switzerland, Ireland, Island, Finland, Portugal, Greece, Czech Republic, Poland, Netherlands, France, Turkey and Japan and other countries. Now your clients can visit Russia (entering and leaving St. Petersburg) during 8 days just filling in all necessary information on web-site of Ministry of Foreign Affairs (exact link for St. Petersburg will be published later). Now you can check this link https://evisa.kdmid.ru/ — it is already used for applying electronic visa for tourists entering Russia throe Kaliningrad Region) So, starting from 01st of October 2019 you will just need to fulfil all information online and get electronic visa on-line before visiting St. Petersburg. For more information, you can always contact team of TSAR EVENTS RUSSIA DMC & PCO.
By the way, we started our own Vlog on YouTube: Tsar Events' RUSSIA SURVIVAL GUIDE. Please, check it here. Now you can follow us in YouTube and get destinations insights from DMC professionals. We are the first Russian DMC who started YouTube Vlog devoted to Russia and it's traditions.
Vlog will tell about museums, venues, restaurants and dos and don'ts while you are planning your event or visiting Russia! We made it together with famous opera singer from USA Maya Krivchenia who lives and works in Russia for more than 10 years.
We'll download videos with different theme every week. Don't miss them and sign up to our Youtube channel here.
Also you can following on:
Facebook https://www.facebook.com/tsareventsdmc/
Twitter https://twitter.com/TsarEvents
Google+ https://plus.google.com/u/0/b/117433109754771672192/117433109754771672192
Instagram https://www.instagram.com/tsarevents/
LinkedIn https://www.linkedin.com/company/tsar-events-dmc-&-pco/
And of course we will be happy to help you with any requests for Russia, Ukraine, Belarus or Baltic states. Just let us know.
If you need asistance with museum visit or accommodation booking, planning your special event, cultural or incentive program, conference and congress in Moscow or St. Peterbsurg, please, contact team of Tsar Events Destination Management Company & Professional Congress Organizer that provide all MICE services in all Russian cities.
Tsar Events DMC & PCO has become first DMC who wrote book-instruction for tourists and professional travel planners who are going to Russia! New book offers a mesmerizing slice of life in Russia. Alexander Rodionov & Maya Krivchenia shares an informative and enjoyable guide to enjoying the historical and cultural wealth of the world's largest country.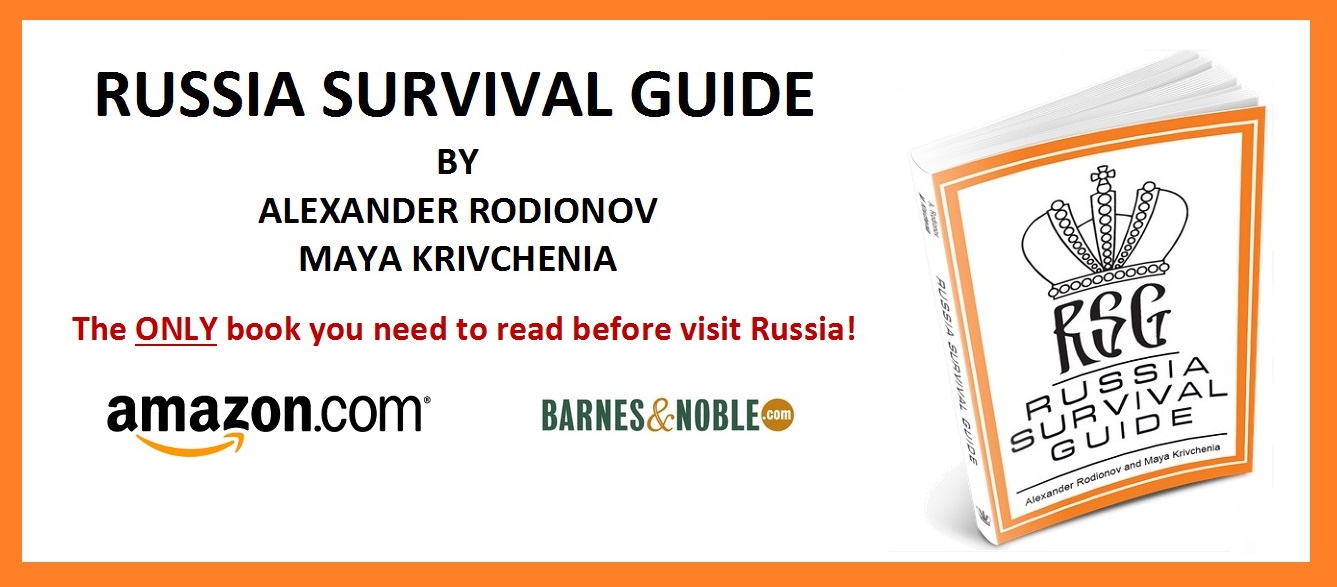 Why TSAR EVENTS DMC & PCO?
1) Tsar Events DMC & PCO has become first DMC who wrote book-instruction for tourists and professional travel planners who are going to Russia! https://www.amazon.com/Russia-Survival-Guide-Alexander-Rodionov/dp/1493125710/ref=tmm_hrd_swatch_0?_encoding=UTF8&qid=&sr=
2) The only CERTIFIED DESTINATION MANAGEMENT PROFESSIONAL (DMCP) in Russia http://www.admeinternational.org/aws/ADME/pt/sp/what_is_dmcp
3) The only CERTIFIED MEETING PROFESSIONAL (CMP) in Russia http://www.eventscouncil.org/CMP/AboutCMP.aspx
4) RUSSIA'S LEADING DESTINATION MANAGEMENT COMPANY World travel awards 2012 & 2013 & 2014 & 2015 WINNER
5) The ONLY Russian DMC to earn Accredited Destination Management Company (ADMC) Designation http://www.admeinternational.org/aws/ADME/pt/sp/what_is_admc
6) The BEST DMC 2011 award winner by New European Economy magazine, UK
7) Winner of ADME International Recognition Award 2016 as Destination Management Professional of the Year http://www.admeinternational.org/aws/ADME/pt/sp/awards
From »concept to reality», our services & events are designed to meet the creative, motivational and budgetary needs of the professional meeting planner or executive. We work with you from concept and design through successful program execution.
Through one point of contact we are proud to provide our clients with:
• Collaborative Creativity
• Consistency in Services
• Destination Communication
• Imaginative Corporate Incentive Programs
• Innovative Theme Parties and Special Events
• Comprehensive Meeting Planning Services
• Ground Transportation Services
About HOSTS GLOBAL: Hosts Global is a strategic partner for meeting and event planners worldwide. We offer full-service destination management solutions in over 300 locations through our global alliance of select Destination Management Companies (DMC). Our clients receive streamlined global planning, dedicated account management and
superior execution of group programs including meetings, conventions, incentive programs and special events.

GLOBAL REACH: Our global portfolio of destinations make us the go-to resource for planners in need of a long-term partner who can monitor spend and ensure consistent quality service worldwide.

LOCAL EXPERTS: Our alliance is comprised of the finest DMCs in the most desirable locations. Alliance members are selected based on stringent criteria to ensure unrivaled local knowledge and quality service for our customers.

DEPENDABLE SERVICE: Hosts' experienced global liaisons serve as a client's single point of contact and provide dedicated account management that results in streamlined planning from destination to destination.

EFFICIENT OPERATIONS: Our Principles of Excellence are the core of our business, ensuring consistent service for our clients at every stage of our
partnership.

THE H FACTOR: It's the DNA of our people. It drives our company culture and unwavering devotion to positivity, our clients, colleagues and our industry.
* Heroes — for each other, our community and our industry
* Honors — we work hard for clients and win together
* Hospitality — Hosts delivers every time, everywhere
* Happiness — we create it and live it
* Hip — fresh, bold, unique
* Heart — for clients and each other
Tsar Events DMC & PCO has become first DMC who wrote book-instruction for tourists and professional travel planners who are going to Russia! New book offers a mesmerizing slice of life in Russia. Alexander Rodionov & Maya Krivchenia shares an informative and enjoyable guide to enjoying the historical and cultural wealth of the world's largest country.
Why ST. PETERSBURG?
The most CULTURAL city in Russia
The 4th biggest city in Europe with the population of 6 million people
City with largest number of palaces and the deepest metro in the world
The cradle of Russian Literature, Art and Education.
Ideal places for Tsar's Events:
— Gala Dinner at Faberge Museum –with biggest collection of Faberge Eggs
— Congress for 1000 guests in Smolny Cathedral
— Lunch at a single long table for 600 persons inside of the biggest Artillery museum in the world
— Exclusive night visit to Hermitage (Winter Palace)
— Transfer from airport by BTR, stretch limousine or Russian Troika
— Gala dinner with Rasputin in Yusupoff Palace
— Water and Fire Fairytale in Peterhoff Palace
— Hockey game against Russian team
— Politburo meeting in Political Dacha K2
Want to hear 1000 more ideas?
Get in contact with Tsar Events DMC.
Why MOSCOW?
— The most DYNAMIC city in Russia
— The biggest city in Europe with the population of 11 million people and a million visitors every day
— The capital of the biggest country in the world
— Business heart of Russian Federation
Ideal places for Tsar's Events:
— Conference in the exhibition hall of GUM on Red Square
— Gala dinner at the underground secret Bunker of Stalin
— Product presentation on the top of one the highest buildings in Europe – Federation Tower
— Exclusive visit to the Russian President's Residence – Grand Kremlin Palace
— Participation in Astronaut training program in Star City space training center
— See legendary Faberge Eggs and the biggest collection of Tsar diamonds in the Kremlin's Armory Chamber and the Diamond Fund
Want to hear 1000 more ideas?
Get in contact with Tsar Events DMC
We are excited to announce that we are growing and spreading our expertise globally. Please, welcome TSAR EVENTS PANAMA DMC & PCO!!! We have opened our new office in Panama City to help our clients with their events in Republic of Panama.
http://www.panama.tsar-events.com/
Panama is quickly becoming a popular destination for holding conventions and international events. A modern infrastructure, which is often cited as the best in the region, direct flights to more than 50 cities in the region and 13 in the U.S, world-class attractions nearby, meeting facilities, hotels, excellent restaurants, a globalized populace, and a vibrant metropolis with more than 100 banks and exciting nightlife, all make Panama the perfect place to host first-class events.
No matter what you're looking for…in terms of climate, budget, convenience, or anything else… Panama is likely to check all the boxes.
Panama is located at the center of Latin America, at the very point where Central and South America meet. It is home to one of the world's fastest growing economies, which is built largely on the country being a primary provider of financial, logistic and commercial services to all the nations of the region. Its central role in Latin America is vested in its being a business friendly nation, and that is complemented by its attractive and comfortable lifestyle.
Panama is a captivating mix of the historical and the modern, the natural and the manmade, the indigenous cultures and the international.
Since Panama is historically a crossroads, people and cultures from all over the world meet and mix here, resulting in friendly atmosphere, fantastic restaurants, galleries and cultural events showcasing the world's best art, cuisine, and more. Panama has none of the disastrous hurricanes and earthquakes that plague its Central American neighbors