Meet Tsar Events RUSSIA DMC & PCO, a HOSTS GLOBAL member at IMEX Frankfurt 2019, Stand #G405
10 April 2019
Let's meet at IMEX Frankfurt 21 – 23 May 2019! You can make appointment with TSAR EVENTS — Russia's Leading DMC to know news and possibilities for your events in Russia.
If you need asistance with museums and exhibitions, hotels and transportation you can always ask team of Tsar Events. Also we can help you with planning your special event, cultural or incentive program, conference and congress in Moscow, St. Peterbsurg or Sochi. Tsar Events Destination Management Company & Professional Congress Organizer provides all MICE services in all Russian cities.
Why TSAR EVENTS DMC & PCO?
Tsar Events Russia DMC & PCO is existing on the market already 9 years and we have very long list of satisfied clients and successful events.
We can help you in RUSSIA, UKRAINE, BALTIC STATES, BELARUS with any MICE needs.
and with planning, organizing and operating of:
• Meeting & Congress
• Incentive Program
• Cultural or Special Interest Professional Group
• Theme Parties & Special Events
• Hotel accommodation
• Transportation and Staff logistics
• Team-Building Activities
• Venues & vendors Selection

We are proud to say that we are:
• The ONLY ADMC (Accredited DMC) in Russia
• ALL our Project Managers are (CIS) Certified Incentive Specialists
• Company is run by the ONLY CMP (Certified Meeting professional) in Russia
• We wrote book-instruction Russia Survival Guide for meeting planners to help organize vents in Russia
• Created First Russian MICE Professional Vlog on Youtube to help client better understand our destination

Tsar Events DMC & PCO has become first DMC who wrote book-instruction for tourists and professional travel planners who are going to Russia! New book offers a mesmerizing slice of life in Russia. Alexander Rodionov & Maya Krivchenia shares an informative and enjoyable guide to enjoying the historical and cultural wealth of the world's largest country.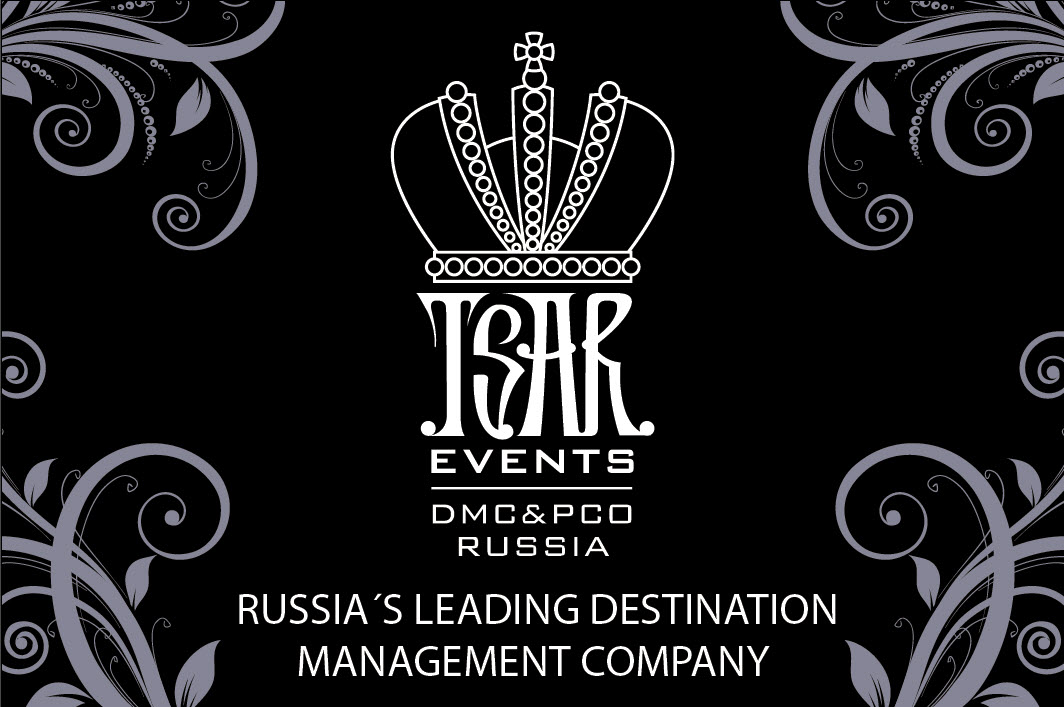 Why ST. PETERSBURG?
The most CULTURAL city in Russia
The 4th biggest city in Europe with the population of 6 million people
City with largest number of palaces and the deepest metro in the world
The cradle of Russian Literature, Art and Education.
Ideal places for Tsar's Events:
— Gala Dinner at Faberge Museum –with biggest collection of Faberge Eggs
— Congress for 1000 guests in Smolny Cathedral
— Lunch at a single long table for 600 persons inside of the biggest Artillery museum in the world
— Exclusive night visit to Hermitage (Winter Palace)
— Transfer from airport by BTR, stretch limousine or Russian Troika
— Gala dinner with Rasputin in Yusupoff Palace
— Water and Fire Fairytale in Peterhoff Palace
— Hockey game against Russian team
— Politburo meeting in Political Dacha K2
Want to hear 1000 more ideas?
Get in contact with Tsar Events DMC.
Why MOSCOW?
— The most DYNAMIC city in Russia
— The biggest city in Europe with the population of 11 million people and a million visitors every day
— The capital of the biggest country in the world
— Business heart of Russian Federation
Ideal places for Tsar's Events:
— Conference in the exhibition hall of GUM on Red Square
— Gala dinner at the underground secret Bunker of Stalin
— Product presentation on the top of one the highest buildings in Europe – Federation Tower
— Exclusive visit to the Russian President's Residence – Grand Kremlin Palace
— Participation in Astronaut training program in Star City space training center
— See legendary Faberge Eggs and the biggest collection of Tsar diamonds in the Kremlin's Armory Chamber and the Diamond Fund
Want to hear 1000 more ideas?
Get in contact with Tsar Events DMC.