28 common superstitions in Russia
20 October 2021
Do you know that Russian life is full of traditions and not-logical and irrational superstitions that play very important role in daily life of Russians. You will be surprised how not just private everyday life filled with it, but also business routine and etiquette cannot be separated from local customs and superstition. You will need to know them in order to avoid awkward situations and don't make "fatal" mistake communicating with Russian friends and business partners.
1. Birthday cannot be celebrated only on or after actual birthday, never before.
2. Never look at broken mirror. If you break mirror, you will have 7 year of bad luck
3. On examination day, never wear anything new – it will bring bad luck
4. If somebody accidentally stepped on your foot, it is common for the person who was stepped on to lightly step on the foot of the person who stepped first. It is said that they thus avoid a future conflict.
5. It is bad luck to talk about future success. It is considered better to be silent until the success has been achieved or to even sound pessimistic.
6. Returning home for forgotten things is a bad luck. If you have to return, look to the mirrow and smile. Otherwise the journey will be bad.
7. In Russian never give sharp objects, like knives or scissors, as gifts.
8. Unmarried people should never sit at the corner of the table. Otherwise they will not marry.
9. A woman with empty water buckets coming towards you is considered a bad luck.
10. Two or more people should never use one towel at the same time to dry their hands or bodies, or it is said to bring conflict.
11. It's good luck to trip on your left foot, and bed luck to trip on right foot.
12. You should not shake hands or give something through a threshold.
13. Never whistle in a house – you will have no money
14. If you feel ears or cheeks are hot, someone is thinking or talking about you (usually speaking ill).
15. If your nose itches, you'll be drinking soon.
16. If your right hand itches, you're going to meet somebody soon.
17. If your left hand itches, you will get money.
18. If you have the hiccups, someone is remembering you at this moment.
19. If a fork or spoon falls on the ground, expect a female guest. If a knife falls, expect a male guest.
20. If someone is not recognized when seen or heard, he or she will be rich. So if someone calls you on the phone and you don't recognize them you can cheer them up by telling them they'll be rich.
21. If someone was talking about you before you entered the room, then you will live a long and rich life.
22. If you spill salt, it's bad luck and is said to bring conflict, but no one will throw salt over their left shoulder.
23. If someone sneezes while telling something, it means he or she is telling the truth.
24. If bird defecate on you or your property (commonly cars), it's good luck, and may bring you riches.
25. If you find a pay leaf in your soup while eating, it means you'll get mail from someone.
26. If you wear clothes (such as an undershirt) inside out, you will get beaten.
27. Accidentally breaking a glass is considered good luck.
28. If you have ringing in one of your ears, ask someone which ear is ringing. If they guessed right, you should both make a wish.
Tsar Events DMC & PCO has become first DMC who wrote book-instruction for tourists and professional travel planners who are going to Russia!
New book offers a mesmerizing slice of life in Russia. Alexander Rodionov & Maya Krivchenia shares an informative and enjoyable guide to enjoying the historical and cultural wealth of the world's largest country.
Tsar Events Team will be glad to help you anything you may need in Russia – it can be assistance with accommodation, transportation logistics & guide or any staff services and any cultural program in MOSCOW and ST PETERSBURG and other Russian cities.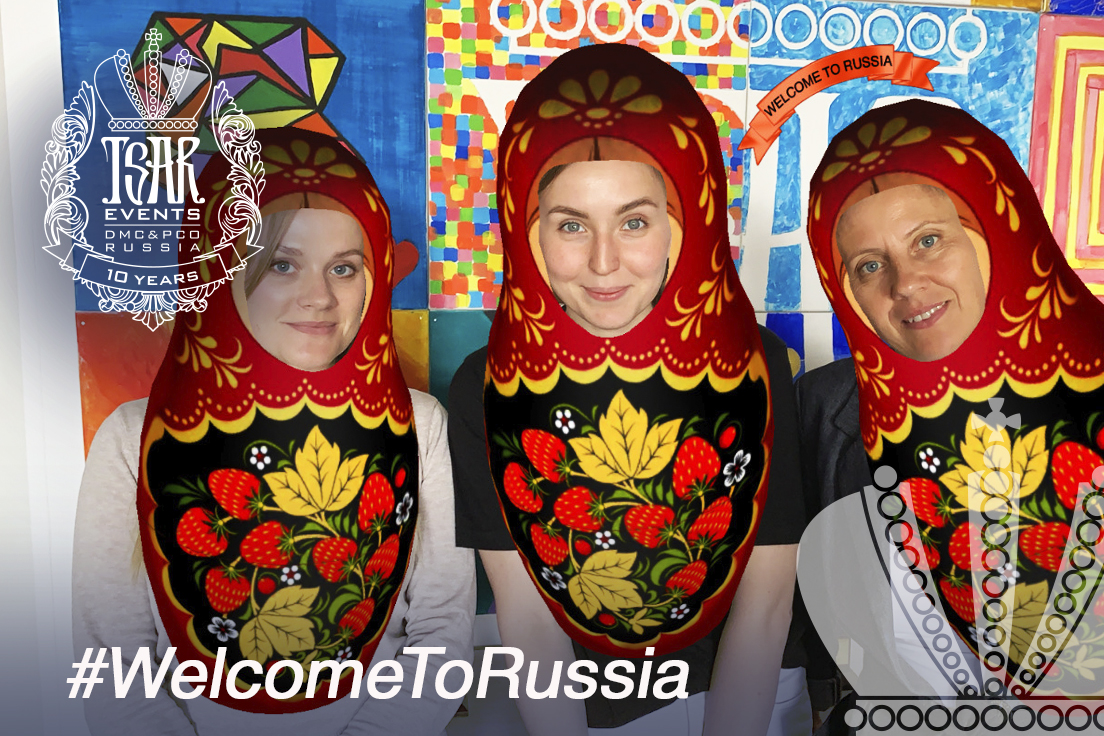 Tsar Events Russia DMC & PCO Team has created Instagram Mask «Welcome to Russia» to raise awareness about Russia Travel Potential and started Instagram flash mob to promote possibilities of Russia for Meetings, Incentives, Congresses, Events and Leisure tourism.
We invite you to become part of our flash mob on Instagram and other social media using our masks and putting hashtag #WelcomeToRussia.
You can add our mask from Tsar Events account @tsarevents to your Instagram camera and upload video or picture to your stories or your feed.
Also, you can follow our accounts in other social media:
Instagram in English: https://www.instagram.com/tsarevents/ (on English)
Instagram in Spanish https://www.instagram.com/tsar.events.espanol/
Facebook: https://www.facebook.com/tsareventsdmc/
Pinterest: https://www.pinterest.ru/tsarevents/
Youtube: https://www.youtube.com/user/TsarEventsDMC
Twitter in English: https://twitter.com/TsarEvents
Twitter in Spanish: https://twitter.com/TsarEventsRusEs
LinkedIn: https://www.linkedin.com/company/1337311/admin/
If you need assistance with getting tickets or private tour in St. Isaac Cathdral or other museums, or hotel accommodation you can always ask team of Tsar Events. Also we can help you with planning your special event, cultural or incentive program, conference and congress in Moscow or St. Petersburg.
Tsar Events Destination Management Company & Professional Congress Organizer provides all MICE services in all Russian cities.
Tsar Events Russia DMC & PCO is existing on the market already 10 years and we have very long list of satisfied clients and successful events.
Also, we can help you in RUSSIA, UKRAINE, BALTIC STATES, BELARUS with any MICE needs. and with planning, organizing and operating of:
Meeting & Congress
Incentive Program
Cultural or Special Interest Professional Group
Theme Parties & Special Events
Hotel accommodation
Transportation and Staff logistics
Team-Building Activities
Venues & vendors Selection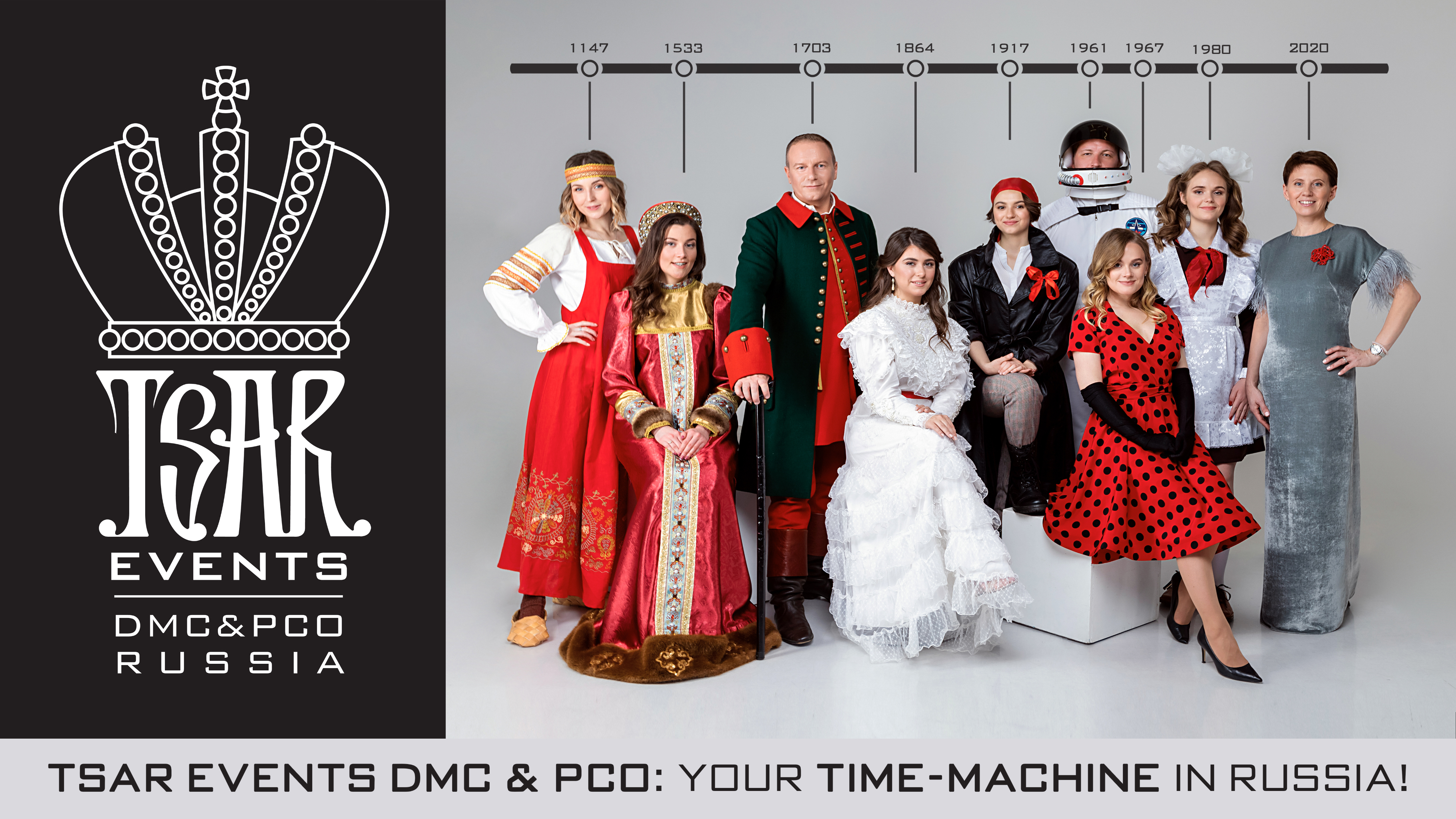 Why Tsar Events Russia DMC & PCO?
The only CMP

(Certified

Meeting Professional) in Russia. Managing Director & Founder of the company Alexander Rodionov is the only CMP in the country

(since

2010)
The first DMCP

(Destination

Management Certified Professional) in Russia! Managing Director & Founder of the company Alexander Rodionov is the first DMCP in the country

(since

2011)

The only CITP

(Certified

Incentive Travel Specialist) in Russia. Managing Director & Founder of the company Alexander Rodionov is the only CITP in the country (since

2019)

We are the only company in Russia where all project managers are CIS

(Certified

Incentive specialist) — since 2019

We are the first Accredited Destination Management Company

(ADMC

) in Russia

(since

2015).

We wrote book Russia Survival Guide — first Book-instruction for Meeting planners who is organizing event in Russia. Published in 2013 and available online and in bookstores

(sold

more than 20 000 books).

We created Russia Survival Guide Vlog – first Russian MICE Theme YouTube Channel with instructions for Meeting planners who is organizing event in Russia

(since

2018, more than 300,000 views)

We are winner of 4

(four

!) World Travel Awards in category Russia's Leading Destination Management company

Winner of ADME International Recognition Award 2016 in category Destination Management Professional of the Year, won by Alexander Rodionov, DMCP, CMP, CITP, Managing Director & Founder of Company

We are winner of ADMEI Achievements Award 2020 in nomination

«Best

Tour Program» with incentive BMW Baltics

«Dreamland

Program» in Moscow

We are finalist of ADMEI Excellence Award 2020 in nomination

«Excellence

in Meeting Services» with SPIMUN 2019

(St

. Petersburg International Model United Nations Conference)
We are finalist of ADMEI Excellence Award 2016 in nomination

«Excellence

in Entertainment Production» with SPIMUN 2015

(St

. Petersburg International Model United Nations Conference)

We are finalist of ADMEI Excellence Award 2019 in nomination

«Excellence

in Cultural and Tradition Integration» with our event Gala Dinner at Moscow GUM for FIFA World Cup 2018 Coca Cola Global Hospitality Program

We are the first Russian DMC opened Franchised office outside of Russia opening Tsar Events Panama DMC & PCO providing services in Panama Republic

We organized more than 600 events during 10 years of providing MICE services in Russia, CIS countries and Panama

We provided service for more than 90000 clients during 10 years working in Russia, CIS countries and Panama

We are helping to develop MICE industry in Russia collaborating with local Travel universities and colleges providing work places for students and graduates

Our Project Manager Ekaterina Antonova, CIS is the winner of 2019 Linda Thompson Memorial Scholarship supported by ADME International

We are promoting and supporting responsible consuming during planning and program execution process selecting only suppliers and activities answering ethical and ecological requirements

Together with local public schools we are supporting new generation and promoting United Nations values organizing annual non-profit event — SPIMUN

(St

. Petersburg International Model United Nations Conference) during 10 years already

Our team members never stop personal and professional development regularly participating in global MICE industry educational events like SITE Global conferences, MPI WEC, ICCA Annual congress

Every week we are creating for you new concepts, themes, and activities and select venues vetting and choosing the best suppliers in our destinations

We are small company

(only

9 team members) and every projects becomes our «baby» and every clients becomes our family member for life