Accor Company will open the first Raffles Hotel in St.Petersburg in 2023
One more good news! We are happy to tell you that more and more International Hotels are openning in Russia. In 2023 St.Petersburg will greet guests by the new high-end luxury hotel Ruffles Marsovo Pole.
Raffles Marsovo Pole Hotel will be opened in the 19th-century building of Pavlovsk Grenadier Regiment barracks located in the historical center of St.Petersburg within walking distance from main attractions as Spiled Blood Church, The Hermitage and Palace Square and others.
The reconstruction project was prepared by the Architectural bureau "Studio 44". Accordingly to the project, the Hotel will include 117 sleeping rooms, 52 apartments, restaurants, conference halls, a fitness and spa center, and underground parking for hotel guests.
The barracks of the Pavlovsky Life Guards Regiment occupy more than half of the quarter's area; they dominate the architectural ensemble of the Field of Mars. They were built in 1817-1821 designed by architect Vasily Stasov. The complex included "quarters of regimental commanders, six staff officers and 34 chief officers", "soldiers' quarters for 3000 people", a church, a hospital, stables, warehouses, kitchens, and other outbuildings. In 1918, the Pavlovsk regiment was disbanded. In 1928, the former Pavlovsk barracks were transferred to «Lenenergo», which occupied them until 2010. Today the complex is an architectural monument of federal significance.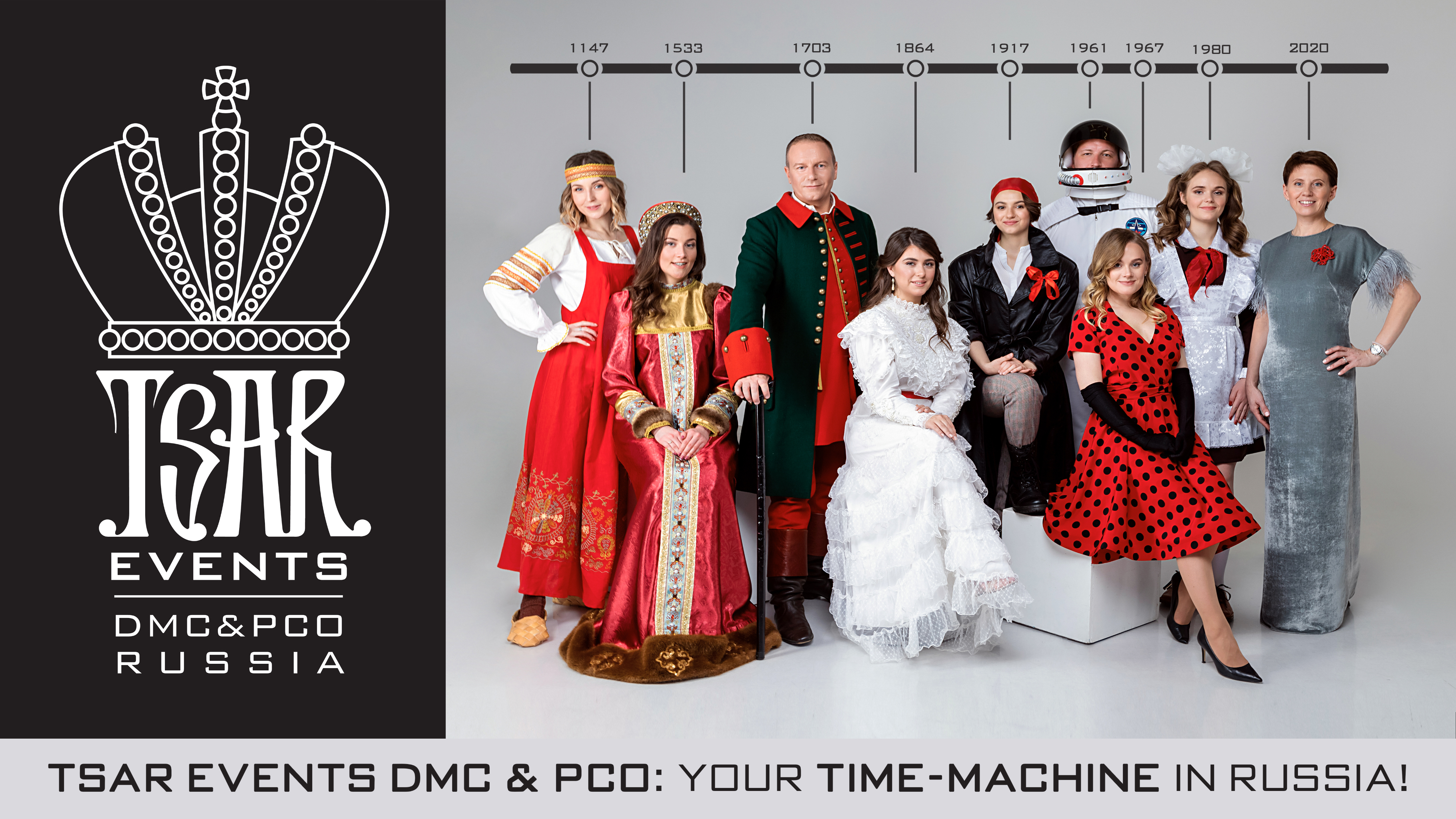 Why Tsar Events Russia DMC & PCO?
The only CMP (Certified Meeting Professional) in Russia. Managing Director & Founder of the company Alexander Rodionov is the only CMP in the country (since 2010)

The first DMCP (Destination Management Certified Professional) in Russia! Managing Director & Founder of the company Alexander Rodionov is the first DMCP in the country (since 2011)

The only CITP (Certified Incentive Travel Specialist) in Russia. Managing Director & Founder of the company Alexander Rodionov is the only CITP in the country (since 2019)

We are the only company in Russia where all project managers are CIS (Certified Incentive specialist) - since 2019

We are the first Accredited Destination Management Company (ADMC) in Russia (since 2015).

We wrote book Russia Survival Guide - first Book-instruction for Meeting planners who is organizing event in Russia. Published in 2013 and available online and in bookstores (sold more than 20 000 books).

We created Russia Survival Guide Vlog – first Russian MICE Theme YouTube Channel with instructions for Meeting planners who is organizing event in Russia (since 2018, more than 300,000 views)

We are winner of 4 (four!) World Travel Awards in category Russia's Leading Destination Management company

Winner of ADME International Recognition Award 2016 in category Destination Management Professional of the Year, won by Alexander Rodionov, DMCP, CMP, CITP, Managing Director & Founder of Company

We are winner of ADMEI Achievements Award 2020 in nomination «Best Tour Program» with incentive BMW Baltics «Dreamland Program» in Moscow

We are finalist of ADMEI Excellence Award 2020 in nomination «Excellence in Meeting Services» with SPIMUN 2019 (St. Petersburg International Model United Nations Conference)

We are finalist of ADMEI Excellence Award 2016 in nomination «Excellence in Entertainment Production» with SPIMUN 2015 (St. Petersburg International Model United Nations Conference)

We are finalist of ADMEI Excellence Award 2019 in nomination «Excellence in Cultural and Tradition Integration» with our event Gala Dinner at Moscow GUM for FIFA World Cup 2018 Coca Cola Global Hospitality Program

We are the first Russian DMC opened Franchised office outside of Russia opening Tsar Events Panama DMC & PCO providing services in Panama Republic

We organized more than 600 events during 10 years of providing MICE services in Russia, CIS countries and Panama

We provided service for more than 90000 clients during 10 years working in Russia, CIS countries and Panama

We are helping to develop MICE industry in Russia collaborating with local Travel universities and colleges providing work places for students and graduates

Our Project Manager Ekaterina Antonova, CIS is the winner of 2019 Linda Thompson Memorial Scholarship supported by ADME International

We are promoting and supporting responsible consuming during planning and program execution process selecting only suppliers and activities answering ethical and ecological requirements

Together with local public schools we are supporting new generation and promoting United Nations values organizing annual non-profit event - SPIMUN (St. Petersburg International Model United Nations Conference) during 10 years already

Our team members never stop personal and professional development regularly participating in global MICE industry educational events like SITE Global conferences, MPI WEC, ICCA Annual congress

Every week we are creating for you new concepts, themes, and activities and select venues vetting and choosing the best suppliers in our destinations

We are small company (only 9 team members) and every projects becomes our "baby" and every clients becomes our family member for life