MEET TSAR EVENTS DMC & PCO TEAM AT WTM 2014, STAND #C98A IN SAO PAULO, BRAZIL
Tsar Events will participate in WTM in Sao Paulo, Brazil 23rd – 25nd April 2014. We will have our own stand #C98a. You can make appointment in advance — we'll let you know link later.
Why TSAR EVENTS DMC & PCO?
Tsar Events DMC & PCO has become first DMC who wrote book-instruction for tourists and professional travel planners who are going to Russia!
RUSSIA'S LEADING DESTINATION MANAGEMENT COMPANY World travel awards 2012 & 2013 WINNER

The BEST DMC 2011

(New

European Economy magazine, UK)
The only CERTIFIED DESTINATION MANAGEMENT PROFESSIONAL

(DMCP

) in Russia
The only COMPANY in Russia run by CERTIFIED MEETING PROFESSIONAL

(CMP

)
Partner of St. Petersburg Government
RUSSIA'S LEADING INCOMING AGENCY World travel awards 2012 Nominee
From «concept to reality», our services & events are designed to meet the creative, motivational and budgetary needs of the professional meeting planner or executive. We work with you from concept and design through successful program execution.
Through one point of contact we are proud to provide our clients with:
• Collaborative Creativity
• Consistency in Services
• Destination Communication
• Imaginative Corporate Incentive Programs
• Innovative Theme Parties and Special Events
• Comprehensive Meeting Planning Services
• Ground Transportation Services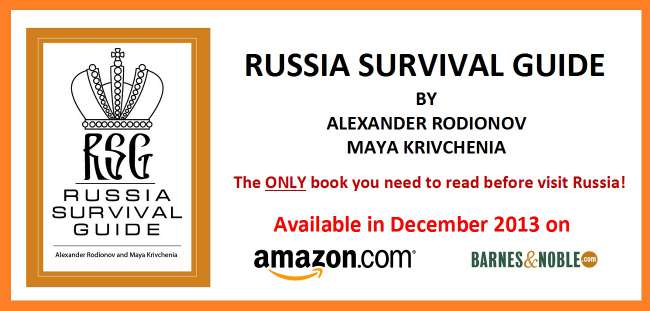 Tsar Events DMC & PCO has become first DMC who wrote book-instruction for tourists and professional travel planners who are going to Russia!
New book offers a mesmerizing slice of life in Russia. Alexander Rodionov & Maya Krivchenia shares an informative and enjoyable guide to enjoying the historical and cultural wealth of the world's largest country
ST. PETERSBURG, Russia – As an expat living in Russia since 2005, Maya Krivchenia knows the different things that make this country remarkable. In December 2013, she and co-author Alexander Rodionov, founder and director of Russia's leading Destination Management Company, published a compelling handbook designed especially for those who want to know more about Russia and make the most out of their travels there. «Russia Survival Guide» has arrived just in time for the upcoming Winter Olympics which will be held in the Russian city of Sochi.

«Russia Survival Guide» is different from other travel guides out there in that it is conversational in tone and is written by two people who live in and have fallen in love with Russia. It is a treasure trove of historical and cultural facts and figures which are made more immersive by the authors' personal stories. It is also a great reference guide for anyone planning to travel to Russia, providing answers to questions regarding the visa process, what to expect upon arriving, the modes of transportation and what cultural spots to visit, to name a few.

«Russia is an exciting, interesting, and dynamic country, but sometimes the differences that people come across are extremely frustrating and confusing,» says Krivchenia, «Our goal is to explain some of Russia's unique qualities so that our friends, clients, tourists, and all others can appreciate this amazing country.»
A must-have for travelers and armchair travelers, «Russia Survival Guide» discusses all pertinent topics – from the country's architecture to the traffic – in a chatty and thoroughly enjoyable manner. For more information on this book, interested parties may log on to http://bookstore.xlibris.com/Products/SKU-0142193050/Russia-Survival-Guide.aspx

About the AuthorsMaya Krivchenia grew up in a small Appalachian town in southeastern Ohio. After attending Eastman School of Music for her undergraduate degree in vocal performance, Krivchenia went on to the Ohio State University to do her master's degree in vocal performance. In 2005 she won a Fulbright Fellowship to come to Russia and study Russian opera and art song at the Mariisnky Theater's Academy of Young Singers. After finishing her master's she returned to St. Petersburg where has been living, working, and singing ever since. Every year Krivchenia gives many solo concerts and returns the United States to give charity concerts when her schedule allows.
Alexander Rodionov is the founder and director of Tsar Events DMC & PCO – Russia's leading Destination Management Company. He graduated from the Far Eastern Federal University, with honors, with a major in Tourism management and was a winner of the Russian President Scholarship program in 2001. With more than 15 years' experience in MICE business, Rodionov became the first Certified Meeting Professional and Destination Management Certified Professional in Russia. His company Tsar Events DMC & PCO is the winner of many internationally recognized awards.