TSAR EVENTS TEAM IS READY TO WELCOME 18TH ST. PETERSBURG INTERNATIONAL MODEL UNITED NATIONS CONFERENCE – THE BIGGEST DURING IT'S HISTORY
This weekend more than 400 participants from 25 countries will arrive to St. Petersburg to participate in the biggest SPIMUN conference during it´s history.
The 18th SPIMUN conference (23—26 March 2014) is organized by Leading Russia´s Professional Congress Organizer TSAR EVENTS and Gymnasium 157 founded by Princess of Oldenburg in 1868 and located in the center of St. Petersburg. SPIMUN is one of the United Nations Models affiliated to The Hague International Model United Nations with the same rules of procedure.
The conference is a three-day-long simulation of the work of the United Nations. The structure of SPIMUN includes the Security Council, the General Assembly (4 Committees), the ECOSOC and the Special Conference. SPIMUN is designed for high school students (14 — 19 years old).
The object of the conference is to seek through discussion, negotiation and debate solutions to the various problems of the world dealing with economic, social, environmental and cultural issues. The young delegates in seeking solutions to these problems can learn to break away from narrow national interests and to develop true international cooperation.
At SPIMUN, students play the roles of diplomats and learn to negotiate and debate in the formal way of the UN. According to the rules, every delegation can represent any member-state of the UN, except their own one. Before the conference participants should research and prepare draft resolutions on the issues of the agenda (from the view of the country they represent). The official language of SPIMUN is English. Therefore, for learners of English as a foreign language a MUN conference gives the opportunity to improve their knowledge.
SPIMUN 2013 brought together more than 500 delegates and teachers from Albania, Taiwan, Kuwait, Cyprus, Mexico, Egypt, Belarus, Germany, Ukraine, Greece, India, Italy, South Africa, Russia, the USA, Turkey and Panama.
Attendance at SPIMUN will mean much more than just doing another MUN. You will be able to discover the splendour of St.Petersburg, one of the world's most beautiful cities.
Conference & Events Schedule
Sunday, 23 March
17.00 — Registration and Orientation Meeting
Monday, 24 March
9.00 — 12.30 — Opening Ceremony
12.30 — 14.00 — Lunch
14.00 — 18.00 — Lobbying
Tuesday, 25 March
9.30 — 16.00 — Committee sessions
12.00 — 12.45 — Lunch
Wednesday, 26 March
9.30 — 13.30 — General Assembly Plenary session
13.30 — 14.30 — Lunch
14.30 — 16.00 — Closing ceremony
19.00 — 22.00 — Disco party for SPIMUN participants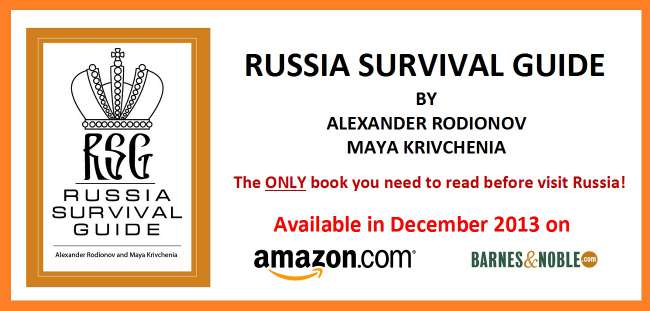 Tsar Events DMC & PCO has become first DMC who wrote book-instruction for tourists and professional travel planners who are going to Russia!
New book offers a mesmerizing slice of life in Russia. Alexander Rodionov & Maya Krivchenia shares an informative and enjoyable guide to enjoying the historical and cultural wealth of the world's largest country
ST. PETERSBURG, Russia – As an expat living in Russia since 2005, Maya Krivchenia knows the different things that make this country remarkable. In December 2013, she and co-author Alexander Rodionov, founder and director of Russia's leading Destination Management Company, published a compelling handbook designed especially for those who want to know more about Russia and make the most out of their travels there. «Russia Survival Guide» has arrived just in time for the upcoming Winter Olympics which will be held in the Russian city of Sochi.
«Russia Survival Guide» is different from other travel guides out there in that it is conversational in tone and is written by two people who live in and have fallen in love with Russia. It is a treasure trove of historical and cultural facts and figures which are made more immersive by the authors' personal stories. It is also a great reference guide for anyone planning to travel to Russia, providing answers to questions regarding the visa process, what to expect upon arriving, the modes of transportation and what cultural spots to visit, to name a few.

«Russia is an exciting, interesting, and dynamic country, but sometimes the differences that people come across are extremely frustrating and confusing,» says Krivchenia, «Our goal is to explain some of Russia's unique qualities so that our friends, clients, tourists, and all others can appreciate this amazing country.»
A must-have for travelers and armchair travelers, «Russia Survival Guide» discusses all pertinent topics – from the country's architecture to the traffic – in a chatty and thoroughly enjoyable manner. For more information on this book, interested parties may log on to http://bookstore.xlibris.com/Products/SKU-0142193050/Russia-Survival-Guide.aspx

About the AuthorsMaya Krivchenia grew up in a small Appalachian town in southeastern Ohio. After attending Eastman School of Music for her undergraduate degree in vocal performance, Krivchenia went on to the Ohio State University to do her master's degree in vocal performance. In 2005 she won a Fulbright Fellowship to come to Russia and study Russian opera and art song at the Mariisnky Theater's Academy of Young Singers. After finishing her master's she returned to St. Petersburg where has been living, working, and singing ever since. Every year Krivchenia gives many solo concerts and returns the United States to give charity concerts when her schedule allows.
Alexander Rodionov is the founder and director of Tsar Events DMC & PCO – Russia's leading Destination Management Company. He graduated from the Far Eastern Federal University, with honors, with a major in Tourism management and was a winner of the Russian President Scholarship program in 2001. With more than 15 years' experience in MICE business, Rodionov became the first Certified Meeting Professional and Destination Management Certified Professional in Russia. His company Tsar Events DMC & PCO is the winner of many internationally recognized awards.