Russia Survival Guide
BLOG
Russian Tradition of visiting someone's home. Part 1
TAGS: CULTURE,  People,  Traditions 
One of the most popular ways  of  spending free time in Russia is visiting your friends. During the Soviet Union it was almost only entertainment as there was a limited number of cinemas, restaurant etc.  Russian people have very long and strong traditions of going to «gosti» (visiting somebody home).  You must remember that if you are invited to somebody's home, it means that you are already among the closest of friends, almost relatives for hosts.
When visiting Russians be prepared that almost everybody lives in small flats (2 room apartments and kitchen – and this considered to be very good conditions, as it can much smaller).
There are some unspoken rules for going  v gosi.
Usually all starters and drinks are on the table family style, and everybody put salads to his own plate by himself.   Russian people don't have aperitif, so people poor drinks and start dinner immediately after first toast. Food allergies are not common in Russia, so if you are allergic to something you may want to inform your host beforehand so that you don't feel awkward by refusing food.
When you visit somebody's home, remember to never arrive empty handed – it is rude and disrespectful. Bring bottle of wine, flowers, something sweet etc.  You should know that you are expected to take your shoes off and you will be offered slippers.
Read more  in later posts. Or in our book.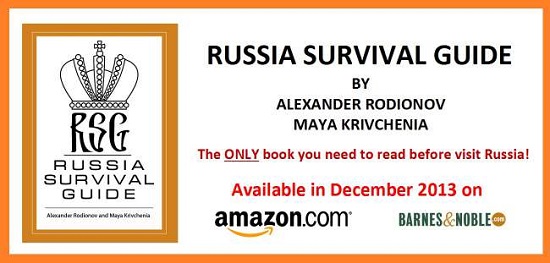 Tsar Events DMC & PCO has become first DMC who wrote book-instruction for tourists and professional travel planners who are going to Russia!
New book offers a mesmerizing slice of life in Russia. Alexander Rodionov & Maya Krivchenia shares an informative and enjoyable guide to enjoying the historical and cultural wealth of the world's largest country.