Russia Survival Guide
BLOG
Why we are doing it?
TAGS: Authors 
The goal of this blog is to help people understand Russia better and to have a better experience while they are here.  We wanted to write something that would help people fall in love with Russia, as much as we have, by sharing our experiences and funny stories about our life as an expat in St. Petersburg (Maya Krivchenia) and travel professional organizer (Alexander Rodionov).
Russia is an exciting, interesting, and dynamic country, but sometimes the differences that people come across are extremely frustrating and confusing.  Our goal is to explain some of Russia's unique qualities so that our friends, clients, tourist, and all others can appreciate this amazing country. Hopefully this will help answer some of the many questions you already have about Russia while planning your trip.  By traveling to Russia you will certainly have a unique experience and hopefully by reading this you will get to experience Russia to the fullest!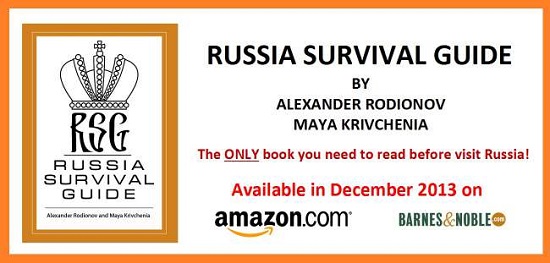 Tsar Events DMC & PCO has become first DMC who wrote book-instruction for tourists and professional travel planners who are going to Russia!
New book offers a mesmerizing slice of life in Russia. Alexander Rodionov & Maya Krivchenia shares an informative and enjoyable guide to enjoying the historical and cultural wealth of the world's largest country.