Lotte Samara is scheduled to open in April 2018
12 January 2018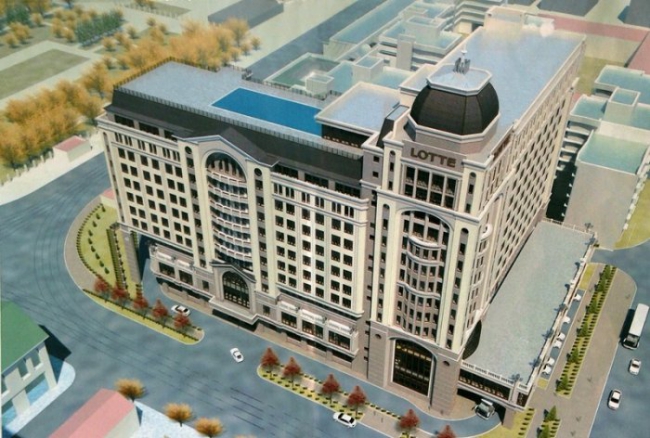 Lotte Samara is scheduled to open in April 2018 just in time to host FIFA WC 2018 guests. First five star hotel in the city will have 192 rooms in 17-floor building.
The hotel will have underground parking, fitness center, spa and a restaurant on the first floors, large transformable conference hall will be located on the second floor with maximum capacity of 200 pax, the space can be transformed into 7 smaller conference spaces. 16th and 17th floors will be occupied with penthouses. The construction is reported to be 90% complete and at the moment workers are finishing façade and surrounding territories.
Samara will host 6 matches during the World Cup at Samara Arena.
Lotte Corporation has purchased Hyundai hotel property in the center of Vladivostok in the past November. Previously Hyundai has built and managed the five star property with 153 rooms for over 20 years and Lotte is planning to renovate the building and schedule to open its hotel in 2019.
Why TSAR EVENTS DMC & PCO?
1) Tsar Events DMC & PCO has become first DMC who wrote book-instruction for tourists and professional travel planners who are going to Russia! https://www.amazon.com/Russia-Survival-Guide-Alexander-Rodionov/dp/1493125710/ref=tmm_hrd_swatch_0?_encoding=UTF8&qid=&sr=
2) The only CERTIFIED DESTINATION MANAGEMENT PROFESSIONAL (DMCP) in Russia http://www.admeinternational.org/aws/ADME/pt/sp/what_is_dmcp
3) The only CERTIFIED MEETING PROFESSIONAL (CMP) in Russia http://www.eventscouncil.org/CMP/AboutCMP.aspx
4) RUSSIA'S LEADING DESTINATION MANAGEMENT COMPANY World travel awards 2012 & 2013 & 2014 & 2015 WINNER
5) The ONLY Russian DMC to earn Accredited Destination Management Company (ADMC) Designation http://www.admeinternational.org/aws/ADME/pt/sp/what_is_admc
6) The BEST DMC 2011 award winner by New European Economy magazine, UK
7) Winner of ADME International Recognition Award 2016 as Destination Management Professional of the Year http://www.admeinternational.org/aws/ADME/pt/sp/awards
From »concept to reality», our services & events are designed to meet the creative, motivational and budgetary needs of the professional meeting planner or executive. We work with you from concept and design through successful program execution.
Through one point of contact we are proud to provide our clients with:
• Collaborative Creativity
• Consistency in Services
• Destination Communication
• Imaginative Corporate Incentive Programs
• Innovative Theme Parties and Special Events
• Comprehensive Meeting Planning Services
• Ground Transportation Services
About HOSTS GLOBAL: Hosts Global is a strategic partner for meeting and event planners worldwide. We offer full-service destination management solutions in over 300 locations through our global alliance of select Destination Management Companies (DMC). Our clients receive streamlined global planning, dedicated account management and
superior execution of group programs including meetings, conventions, incentive programs and special events.

GLOBAL REACH: Our global portfolio of destinations make us the go-to resource for planners in need of a long-term partner who can monitor spend and ensure consistent quality service worldwide.

LOCAL EXPERTS: Our alliance is comprised of the finest DMCs in the most desirable locations. Alliance members are selected based on stringent criteria to ensure unrivaled local knowledge and quality service for our customers.

DEPENDABLE SERVICE: Hosts' experienced global liaisons serve as a client's single point of contact and provide dedicated account management that results in streamlined planning from destination to destination.

EFFICIENT OPERATIONS: Our Principles of Excellence are the core of our business, ensuring consistent service for our clients at every stage of our
partnership.

THE H FACTOR: It's the DNA of our people. It drives our company culture and unwavering devotion to positivity, our clients, colleagues and our industry.
* Heroes — for each other, our community and our industry
* Honors — we work hard for clients and win together
* Hospitality — Hosts delivers every time, everywhere
* Happiness — we create it and live it
* Hip — fresh, bold, unique
* Heart — for clients and each other
Tsar Events DMC & PCO has become first DMC who wrote book-instruction for tourists and professional travel planners who are going to Russia! New book offers a mesmerizing slice of life in Russia. Alexander Rodionov & Maya Krivchenia shares an informative and enjoyable guide to enjoying the historical and cultural wealth of the world's largest country.
We are excited to announce that we are growing and spreading our expertise globally. Please, welcome TSAR EVENTS PANAMA DMC & PCO!!! We have opened our new office in Panama City to help our clients with their events in Republic of Panama.
http://www.panama.tsar-events.com/
Panama is quickly becoming a popular destination for holding conventions and international events. A modern infrastructure, which is often cited as the best in the region, direct flights to more than 50 cities in the region and 13 in the U.S, world-class attractions nearby, meeting facilities, hotels, excellent restaurants, a globalized populace, and a vibrant metropolis with more than 100 banks and exciting nightlife, all make Panama the perfect place to host first-class events.
No matter what you're looking for…in terms of climate, budget, convenience, or anything else… Panama is likely to check all the boxes.
Panama is located at the center of Latin America, at the very point where Central and South America meet. It is home to one of the world's fastest growing economies, which is built largely on the country being a primary provider of financial, logistic and commercial services to all the nations of the region. Its central role in Latin America is vested in its being a business friendly nation, and that is complemented by its attractive and comfortable lifestyle.
Panama is a captivating mix of the historical and the modern, the natural and the manmade, the indigenous cultures and the international.
Since Panama is historically a crossroads, people and cultures from all over the world meet and mix here, resulting in friendly atmosphere, fantastic restaurants, galleries and cultural events showcasing the world's best art, cuisine, and more. Panama has none of the disastrous hurricanes and earthquakes that plague its Central American neigt.