Installation "Firebird Descent" by Poetic Kinetics will be flying high over New Holland Island in St. Petersburg Russia until Sept 30th!
05 June 2017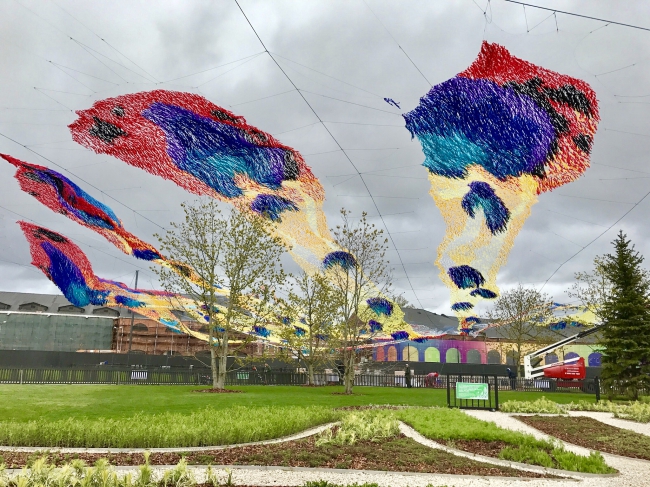 Large-scale art installations was created in the center of St. Peterbsurg on the territory of New Holland Island. Art object was brought to Russia by famous Poetic Kinetics and say there till end of September.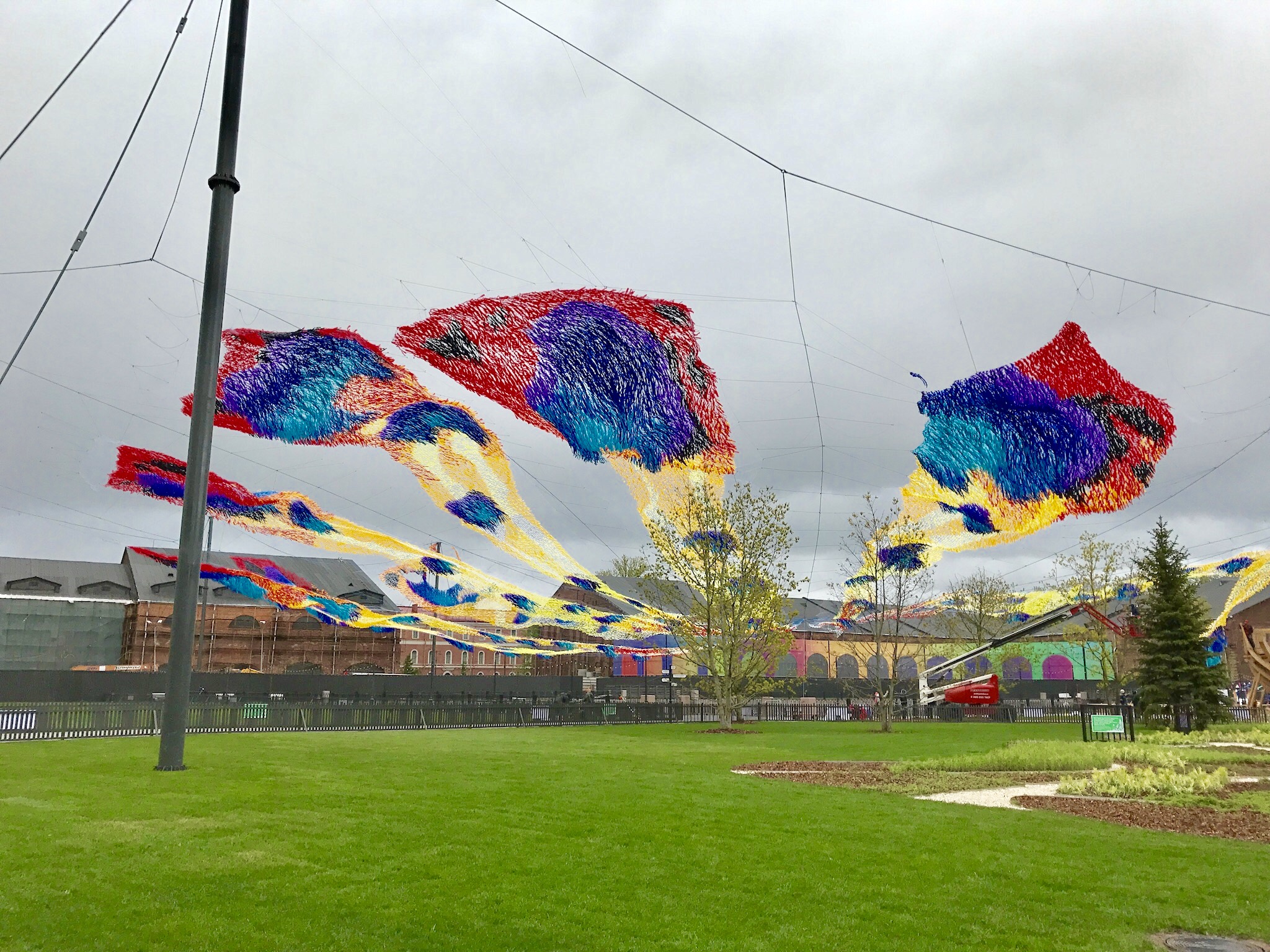 Poetic Kinetics specializes in large-scale art installations and experiential design from concept through execution and beyond. Based in Los Angeles and born from the film, concert/live event, and circus industries, Poetic Kinetics evolved from collaborations between skilled artists in diverse realms seeking new creative expressions. Poetic Kinetics brings an adventurous & enthusiastic spirit, expansive experience with diverse technologies and materials, and a deep commitment to top-notch production value to each new endeavor. We are known for embracing challenges with innovative problem solving and open minded collaboration.
New Holland Island. The island was created in 1719, when the newly built Kryukov Canal and Admiralty Canal connected the Moika River with the Neva. The triangular island took its name after a number of canals and shipbuilding facilities that rendered its appearance similar to Amsterdam. Peter the Great took the opportunity to create a naval port, including a wooden palace for his own use.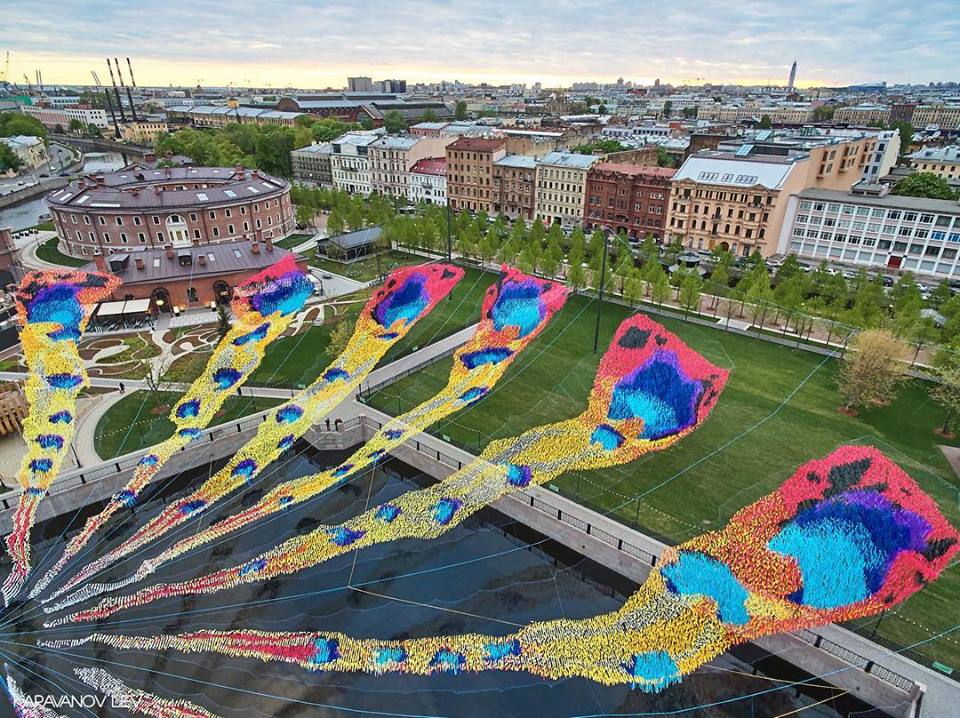 During the following centuries, the island belonged to the Russian Admiralty, which would adapt the plot for its various needs. Originally, there was a minor shipyard for rowing boats. In 1732, the Admiralty engaged architect Ivan Korobov to construct a network of basins and wooden warehouses along the island's perimeter in order to store lumber for shipbuilding.
In 1765, Savva Chevakinsky was ordered to rebuild the warehouses in brick but without customary stucco decoration. By 1788, when the project was halted, Jean-Baptiste Vallin de la Mothe had designed and supervised the construction of a highly pitched Neoclassical arch over the canal. This magnificent red-brick gateway to the island, known as the New Holland Arch, is flanked by massive Tuscan columns of red granite.
New Holland did not achieve its present appearance until the building of a naval prison in 1828–29 and a basin for naval architects in 1893. Aleksei Krylov used this basin for testing new models of ships between 1900 and 1908. The most powerful radio station in Imperial Russia was launched there by the General Staff of the Navy in 1915.
After the Russian Revolution, the 18th-century buildings of New Holland Island fell into neglect, serving time as military barracks, warehouses and (most recently) offices for various commercial enterprises.
On Navy Day in 2000, New Holland was opened to the public for the emplacements project (1997–2000), an art project created by artists Françoise Dupré and Roxane Permar with support from Russian artists, including Lyudmila Belova and Tatyana Nikolaenko, involving over two dozen artists altogether.
In 2004, the Ministry of Defense evacuated the buildings, which were to be refurbished for hotels and clubs to a design by Norman Foster, Baron Foster of Thames Bank, until the consortium running the project ran into difficulties.
In 2010, a new project was established, under the control of Roman Abramovich, with space for galleries and a museum, possibly to house Abramovich's art collection, acquired with the help of Daria Zhukova. The island opened to the public in 2011. Work Architecture Company (WORKac) of New York is working on the project. The planned £256m complex is intended to combine commercial and residential properties with the restoration of monuments that are protected by UNESCO. A branch of the Centre of Contemporary Art (based in Moscow) is also planned.
Tsar Events Russia DMC & PCO will help you to plan your visit to New Holland Island and other Cultural objects in Russia, organize your incentive activities not only in MOscow, but in other Russian cities.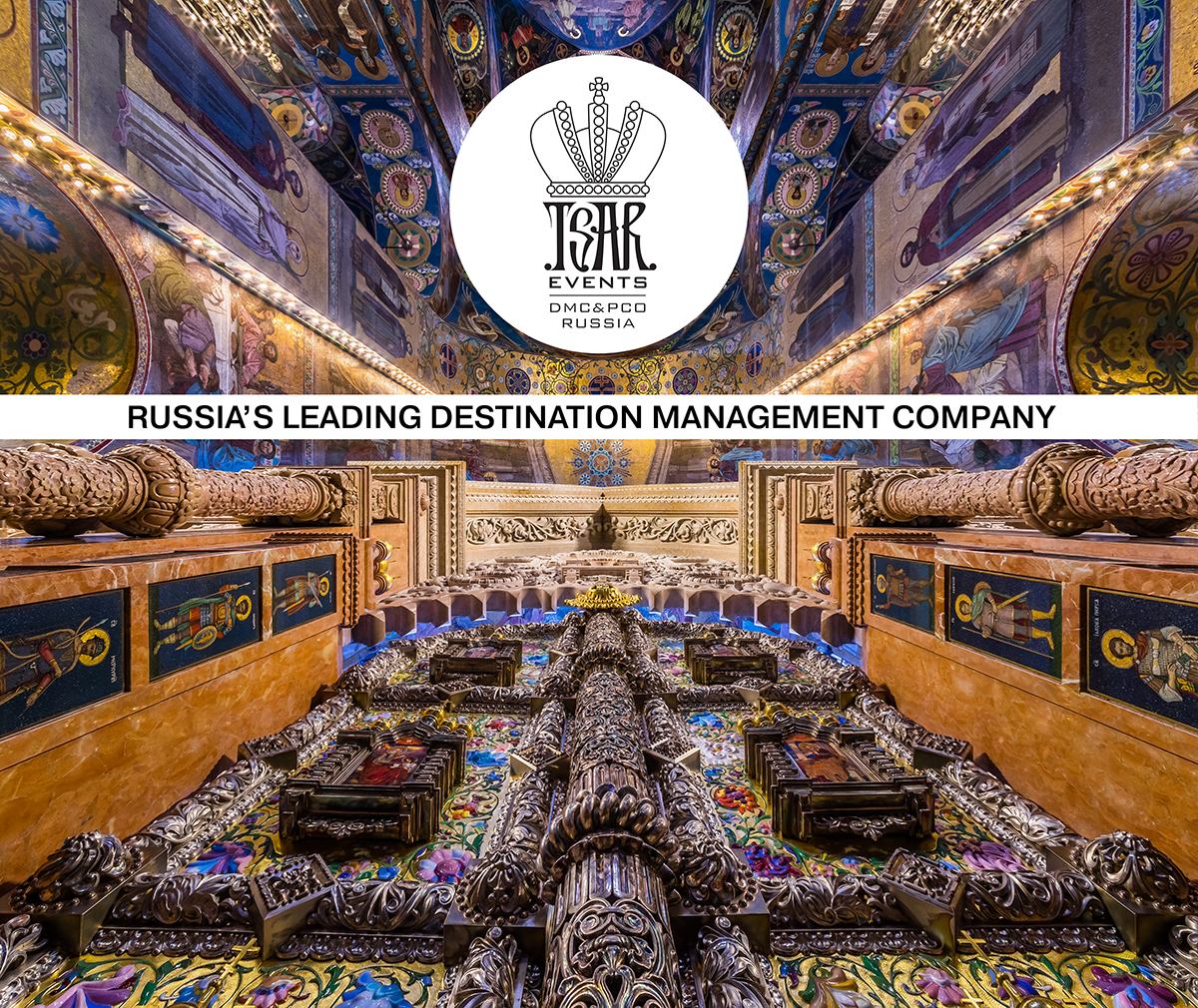 Why TSAR EVENTS DMC & PCO?
Tsar Events DMC & PCO has become first DMC who wrote book-instruction for tourists and professional travel planners who are going to Russia!
RUSSIA'S LEADING DESTINATION MANAGEMENT COMPANY World travel awards 2012 & 2013 & 2014 & 2015 WINNER
The first Russian DMC to earn Accredited Destination Management Company

(ADMC

) Designation
The BEST DMC 2011

(New

European Economy magazine, UK)
The only CERTIFIED DESTINATION MANAGEMENT PROFESSIONAL

(DMCP

) in Russia
The only COMPANY in Russia run by CERTIFIED MEETING PROFESSIONAL

(CMP

)
RUSSIA'S LEADING INCOMING AGENCY World travel awards 2012 Nominee
From »concept to reality», our services & events are designed to meet the creative, motivational and budgetary needs of the professional meeting planner or executive. We work with you from concept and design through successful program execution.
Through one point of contact we are proud to provide our clients with:
• Collaborative Creativity
• Consistency in Services
• Destination Communication
• Imaginative Corporate Incentive Programs
• Innovative Theme Parties and Special Events
• Comprehensive Meeting Planning Services
• Ground Transportation Services
Tsar Events DMC & PCO has become first DMC who wrote book-instruction for tourists and professional travel planners who are going to Russia! New book offers a mesmerizing slice of life in Russia. Alexander Rodionov & Maya Krivchenia shares an informative and enjoyable guide to enjoying the historical and cultural wealth of the world's largest country.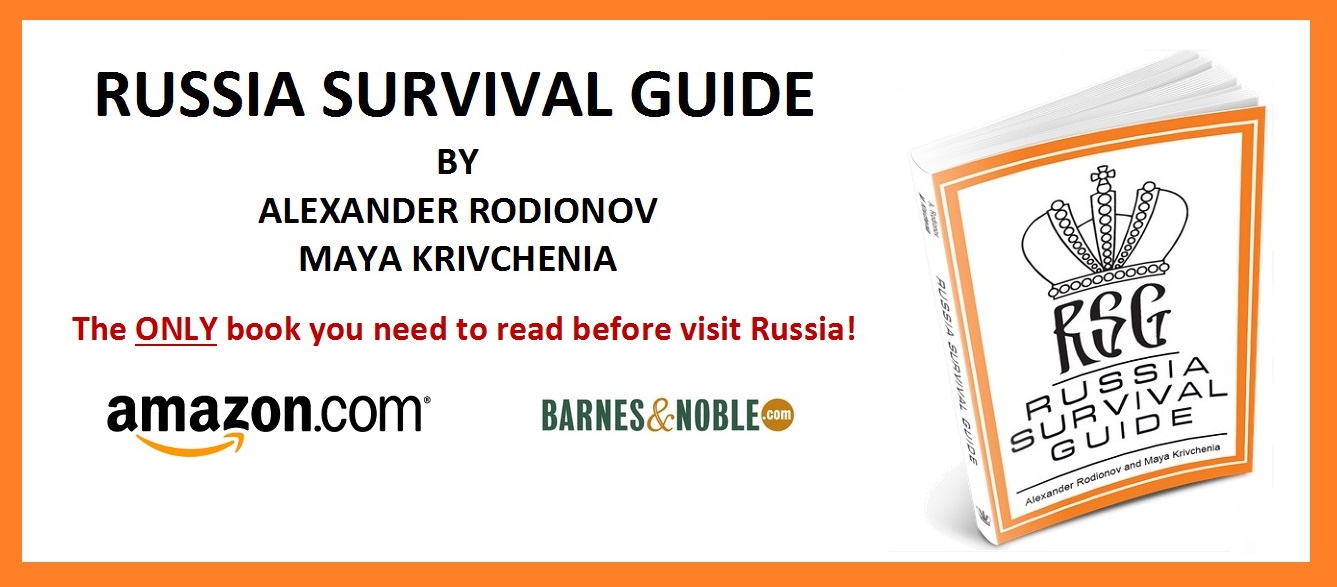 Why ST. PETERSBURG?
The most CULTURAL city in Russia
The 4th biggest city in Europe with the population of 6 million people
City with largest number of palaces and the deepest metro in the world
The cradle of Russian Literature, Art and Education.
Ideal places for Tsar's Events:
— Gala Dinner at Faberge Museum –with biggest collection of Faberge Eggs
— Congress for 1000 guests in Smolny Cathedral
— Lunch at a single long table for 600 persons inside of the biggest Artillery museum in the world
— Exclusive night visit to Hermitage (Winter Palace)
— Transfer from airport by BTR, stretch limousine or Russian Troika
— Gala dinner with Rasputin in Yusupoff Palace
— Water and Fire Fairytale in Peterhoff Palace
— Hockey game against Russian team
— Politburo meeting in Political Dacha K2
Want to hear 1000 more ideas?
Get in contact with Tsar Events DMC.