Industry Updates
8 CONGRESSES IN ST. PETERSBURG TO PARTICIPATE THIS SUMMER
07.01.2015
22nd International Stress and Behavior Neuroscience and Biopsychiatry Conference
Date: 16-19 May 2015
Location: St Petersburg, Russia
Venue: Corinthia St. Peterburg Hotel
Website: http://www.stressandbehavior.com/Years/2015/Stpetersburg/stpetersburg2015.html
XXI Ophthalmology Congress  White Nights-2015
Date: 25-29 may 2015
Location: St. Petersburg, Russia
Venue: TBA
Website: http://www.ocwn.org/en/congress/
XXIV International Banking Congress (IBC-2015)
Date:  June 03-05, 2015
Location: St Petersburg, Russia
Venue: State Research Center of the Russian Federation
Website: http://ibcongress.ru/?lang=en
52nd World Congress of the International Federation of Landscape Architects
Date: 7-15 June 2015
Location: Mosocw, St Petersburg, Russia
Venue: TBA
Website: http://ifla2015.com/en/
31st Edition Fetus as a patient
Date: 11-13 June 2015
Location: St Petersburg, Russia
Venue: Park Inn by Radisson Pulkovskaya
Website: http://www.fetus2015.eu/
2nd International Conference on Aerospace Engineering (ICOAE 2015)
Date: 14-15 June 2015
Location: St Petersburg, Russia
Venue:  Holiday Inn St. Petersburg
Website: http://www.icoae.org/
16th European Society for Dermatology and Psychiatry International Congress
Date:  25-27 June, 2015
Location: St Petersburg, Russia
Venue: Park Inn by Radisson Pribaltiskaya
Website: http://www.esdap2015.org/
16th EVF Annual Meeting Petersburg
Date:  01-04 July, 2015
Location: St Petersburg, Russia
Venue: Park Inn by Radisson Pribaltiskaya
Website: http://www.europeanvenousforum.org/meetings.htm
Tsar Events DMC & PCO — Russia's Leading Destination Management Company and Professional Congress Organizer will help you  with hotel accmmodation, transportation, specila cultuarl program etc.
Why TSAR EVENTS DMC & PCO?
Tsar Events DMC & PCO has become first DMC who wrote book-instruction for tourists and professional travel planners who are going to Russia!
RUSSIA'S LEADING DESTINATION MANAGEMENT COMPANY World travel awards 2012 & 2013 WINNER
The BEST DMC 2011       

(New

European Economy magazine, UK)
The only CERTIFIED DESTINATION MANAGEMENT PROFESSIONAL       

(DMCP

) in Russia
The only COMPANY in Russia run by CERTIFIED MEETING PROFESSIONAL       

(CMP

)
Partner of St. Petersburg Government
RUSSIA'S LEADING INCOMING AGENCY World travel awards 2012 Nominee
From  »concept to reality», our services & events are designed to meet the creative, motivational and budgetary needs of the professional meeting planner or executive. We work with you from concept and design through successful program execution.
Through one point of contact we are proud to provide our clients with:
• Collaborative Creativity
• Consistency in Services
• Destination Communication
• Imaginative Corporate Incentive Programs
• Innovative Theme Parties and Special Events
• Comprehensive Meeting Planning Services
• Ground Transportation Services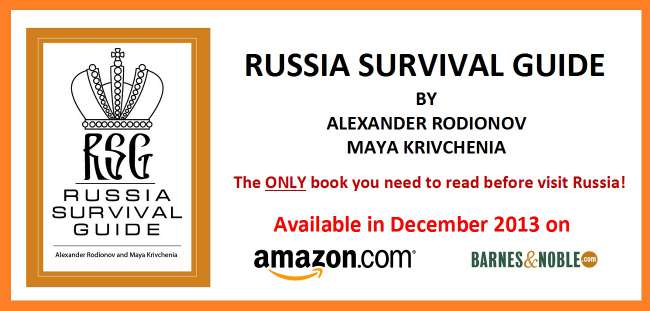 Tsar Events DMC & PCO has become first DMC who wrote book-instruction for tourists and professional travel planners who are going to Russia!  New book offers a mesmerizing slice of life in Russia. Alexander Rodionov & Maya Krivchenia shares an informative and enjoyable guide to enjoying the historical and cultural wealth of the world's largest country
Restaurants,  HOTELS